Very often I have this strange job, of modelling specific objects for a major proyect of a bigger household name or tasks where documentation is scarce, or popular models that need to be rendered as close as possible but with lest geometry possible. This time i would like to share this nice commissioned mesh under 3500 polys in some development states, it's a fair amount of polys for a static model, which actually has to look good with a low hardware consume.
Muy a menudo tengo este trabajo extraño, de modelar objetos específicos para un proyecto principal de un nombre familiar más grande o tareas donde la documentación es escasa, o modelos populares que necesitan ser renderizados lo más cerca posible pero con el fin de que la geometría sea posible. Esta vez me gustaría compartir esta agradable malla puesta en servicio bajo 3500 polys en algunos estados de desarrollo, es una buena cantidad de polys para un modelo estático, que en realidad tiene que verse bien con un bajo consumo de hardware.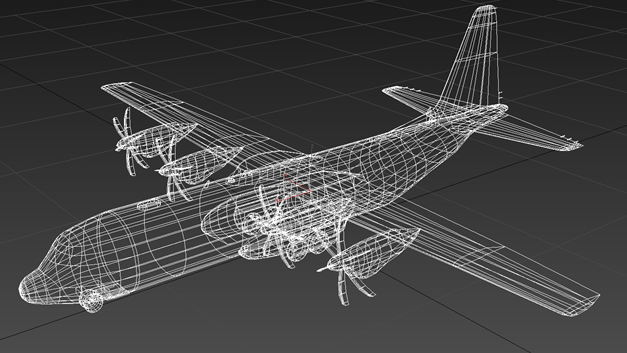 ---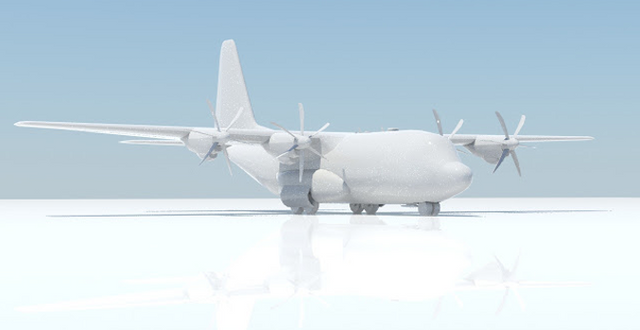 it's easy to realize why military stuff are more documented online by huge fan base and enthusiasts, the herk is very popular throughout the whole world for so many years
Es fácil darse cuenta de por qué las cosas militares están más documentadas en línea por la gran base de seguidores y entusiastas, el herk es muy popular en todo el mundo durante tantos años.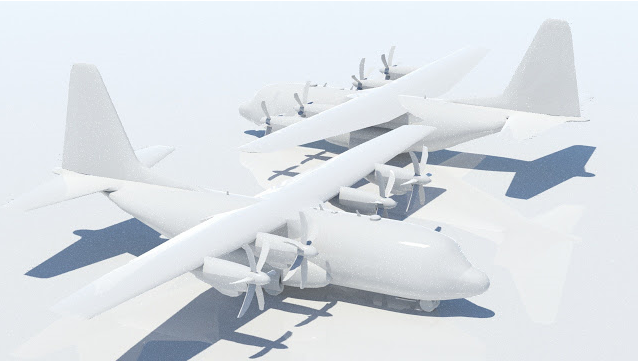 Most of draw views profiles and pictures available around, are in good resolution, that really allows to model and texture conveniently!
La mayoría de los perfiles de vista de sorteo y las imágenes disponibles están en buena resolución, eso realmente permite modelar y texturizar convenientemente!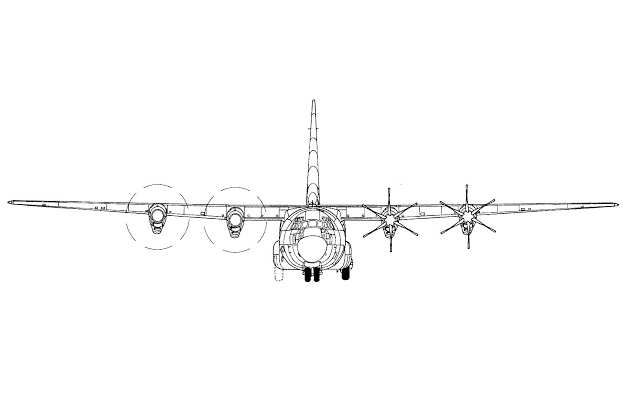 Source
This is how the model looks untextured || Así es como el modelo luce sin texturas: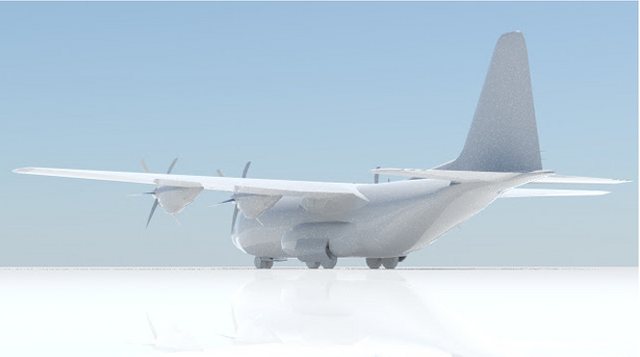 >"The Lockheed C-130 Hercules is a four-engine turboprop military transport aircraft designed and built originally by Lockheed (now Lockheed Martin). Capable of using unprepared runways for takeoffs and landings, the C-130 was originally designed as a troop, medevac, and cargo transport aircraft. The versatile airframe has found uses in a variety of other roles, including as a gunship (AC-130), for airborne assault, search and rescue, scientific research support, weather reconnaissance, aerial refueling, maritime patrol, and aerial firefighting. It is now the main tactical airlifter for many military forces worldwide. More than 40 variants of the Hercules, including a civilian one marketed as the Lockheed L-100, operate in more than 60 nations." –Wikipedia
"El Lockheed C-130 Hercules es un avión de transporte militar turbohélice de cuatro motores diseñado y construido originalmente por Lockheed (ahora Lockheed Martin). Capaz de usar pistas sin preparación para despegues y aterrizajes, el C-130 fue diseñado originalmente como una tropa, medevac y el avión de transporte de carga. El versátil fuselaje ha encontrado usos en una variedad de otros roles, incluyendo como cañonero (AC-130), para asalto aéreo, búsqueda y rescate, apoyo de investigación científica, reconocimiento meteorológico, reabastecimiento de combustible aéreo, patrulla marítima, y combate aéreo aéreo. Ahora es el principal avión de transporte táctico para muchas fuerzas militares en todo el mundo. Más de 40 variantes del Hércules, incluida una civil comercializada como Lockheed L-100, operan en más de 60 naciones ". -Wikipedia
---
(below) This is how the occlusion light rendered base texture looks (with some minor errors)
(abajo) Así es como se ve la textura de la base de la luz de oclusión (con algunos errores menores):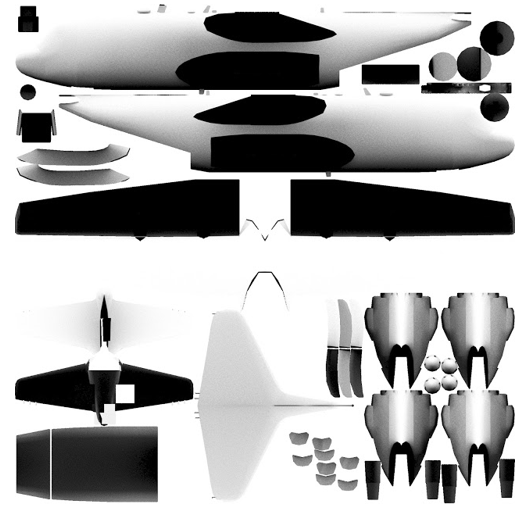 Rendered diffuse map texture (Very useful for selecting areas on your painting on a layered file)
Textura de mapa difuso renderizado (muy útil para seleccionar áreas en su pintura en un archivo en capas)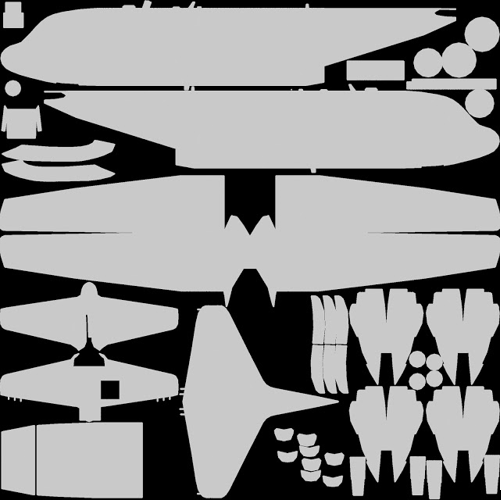 I like to render on different stages because HQ renders can reveal mesh or texture flaws easily this is now a basepaint where panel lines and some marks allow us to check align and mesh spots
Me gusta renderizar en diferentes etapas porque los renders de buena calidad pueden revelar defectos de malla o textura fácilmente, esto ahora es una pintura base donde las líneas del panel y algunas marcas nos permiten verificar las áreas de alineación y malla.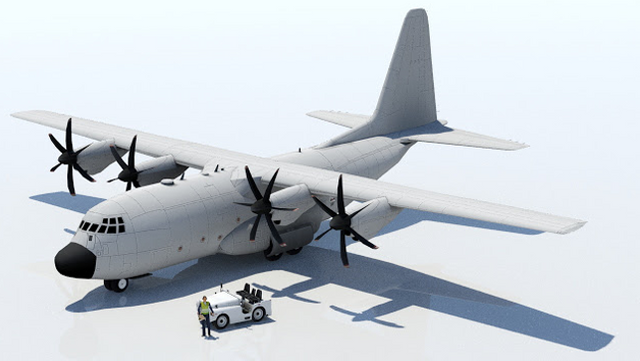 Besides, they are entreteined and cool! There's "Mauxi" a static female character and a Tug MT tractor just for the kicks
Además, ¡son entretenidos y geniales! Alí está "Mauxi" un personaje femenino estático y un tractor Tug MT para darle sazón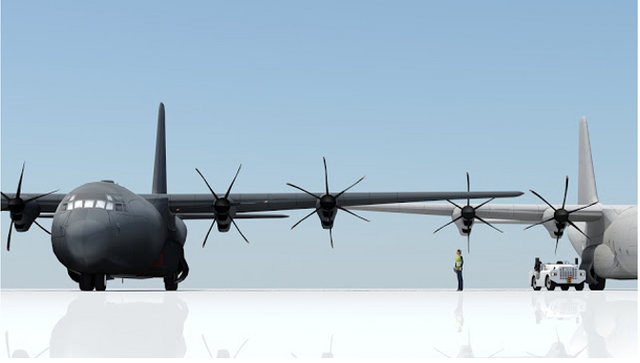 Suddenly, the model required was the -30 version wich is longer… oh no!!! So we stretched the fuse and went on trough the rendering to texture again just on the fuse
De repente, el modelo requerido fue la versión -30 que es más larga ... ¡oh no! Así que estiramos el fuselaje y continuamos a través del renderizado para texturizar nuevamente solo en el fuselaje
---
After some hours of steady editing and adding layers there's pretty much the result
Después de algunas horas de edición constante y agregar capas, el resultado bastante acabado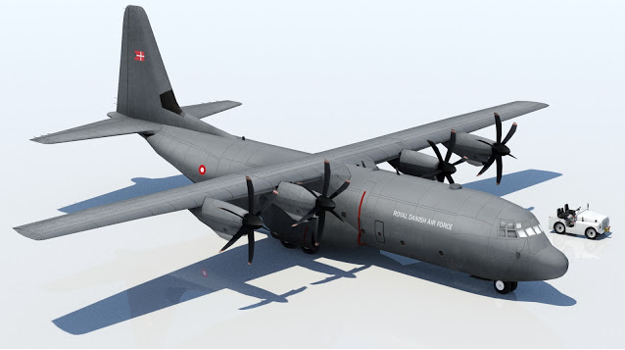 I'm not too confident yet with my paints, but I can recognize a nice effort here!
Todavía no estoy muy seguro con mis pintadas de texturas ¡pero hey! puedo reconocer un buen esfuerzo aquí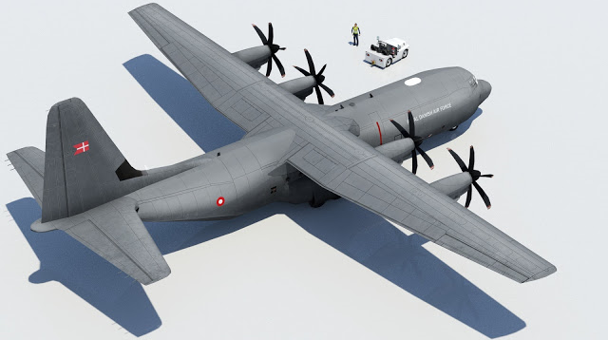 Thanks a lot for passing by! I'm gonna show you more about my work in the next posts. -C.
Gracias por pasarte! Estaré mostrándoles más de mis trabajos en los siguientes posts. -C.
---