Shrill call of an African Fish Eagle (Haliaeetus Vocifer) indigenous to Sub-Saharan Africa is one you will never forget, dubbed the Call of Africa.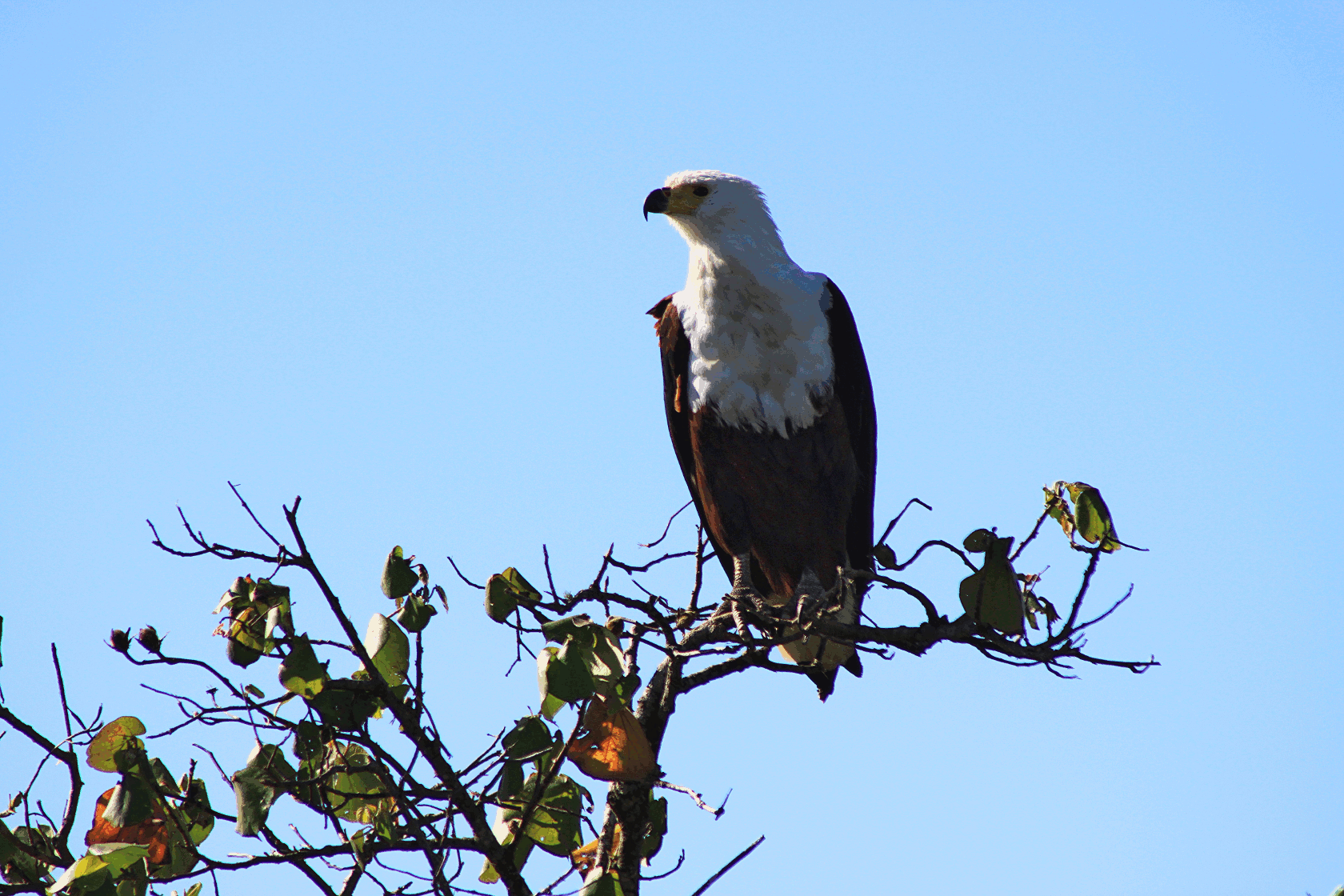 ---
Locally these majestic big birds reside along river banks, throughout our provinces water arteries.
A distinctive call, sending shivers down your spine, or one that leads you into day dreaming of being on massive waterways up in the African bush. Other places we have sighted these majestic birds, or heard their call was in Zimbabwe and in the Kruger National Park.
African Fish Eagle - Mafia of the sky with a wingspan of almost two and a half meters, (females larger than males) with specialized toes with coated sharp barbs to help grasp slippery customers like fish firmly. Apparently they spend minimal time actually hunting about 10 minutes per day, no wonder we hear them yodeling on high quite frequently!
This bird is known to steal prey from other species, Goliath Herons are known to lose a percentage of their catch to the African Fish Eagle (Goliath Heron is not a small bird either, as is evident in the photo below).
What else is on the menu other than fish which makes up 90% of their food, with a preference to fresh they also eat terrapins, baby crocodiles, ducks, frogs, other young birds and will eat carrion from time to time.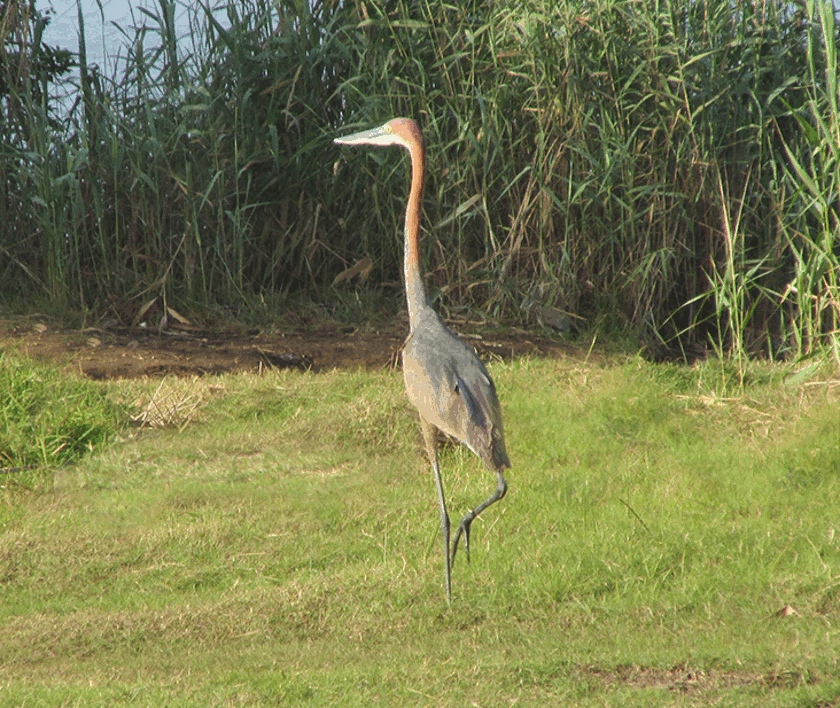 The birds we have seen varied with equisite black, white and brown, some along our river bank more chestnut-brown in colouring making them a lovely bird to photograph on wing or perched up high in trees, from a lofty lookout point over the area they hunt and nest in.
Depending on availability of food their territory will be larger or smaller.
Early mornings are when we normally hear them (I believe their call sounding is something like the American Bald Eagle), settling into tall trees by mid-morning. We have heard a pair of them later in the day, normally if the wind is up and they riding thermals, calling to each other.
What I did not realize is they are closer relatives of sea gulls than to the eagle family, something to remember when we look up to the skies and learn more about African Fish Eagles.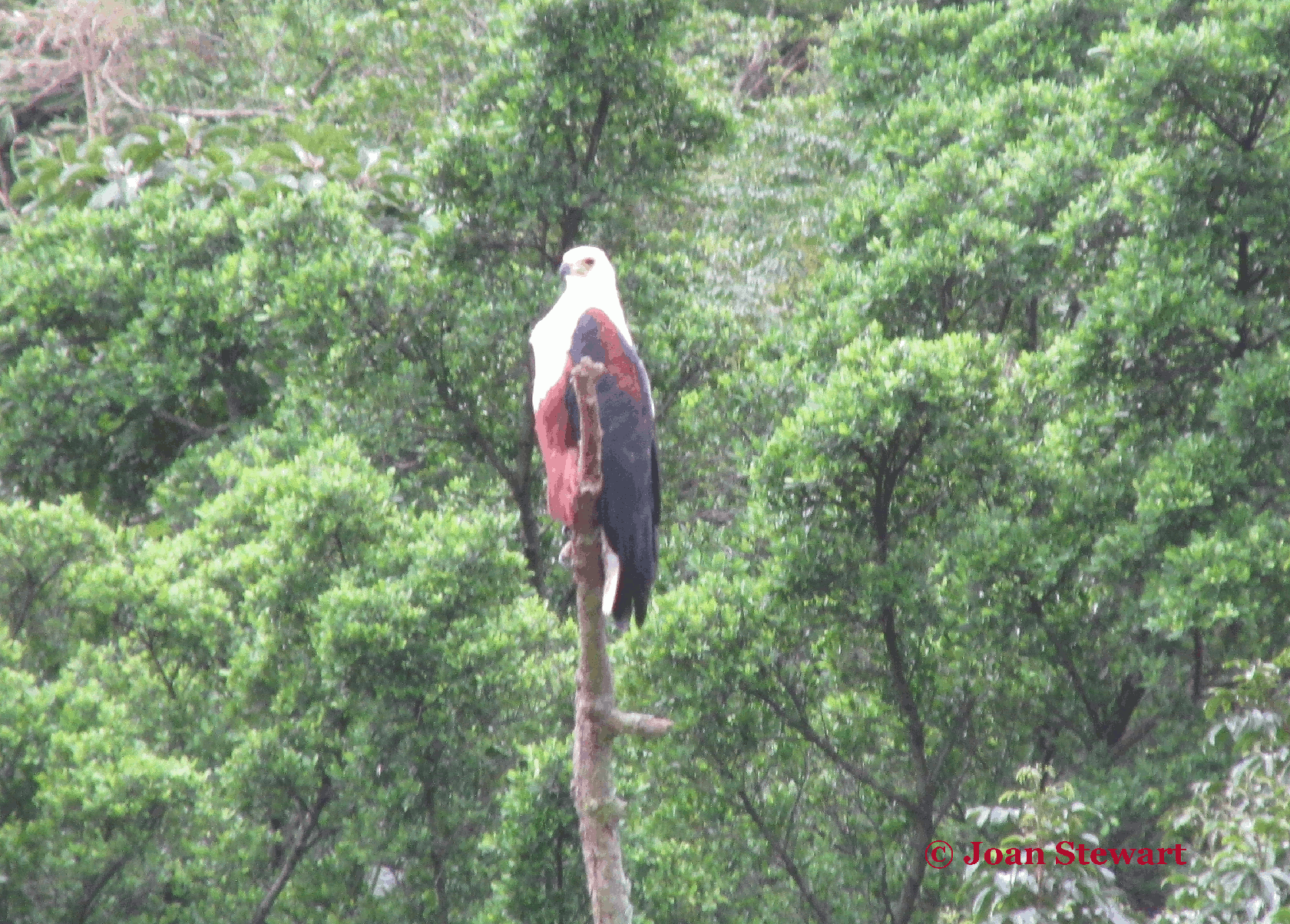 Sound of African Fish Eagle Source YouTube -
---
All photography is my own (please ask permission before you use any of my photography) Photography taken with Canon EOS 500D
Animal Sunday Photography My Contibution @homeartpictures
---
---
Clickable link below - This takes you away from Steemit

---
Communities I Support: #qurator #steemitbloggers #teamsouthafrica #steemitbuilders



Animated Banner Created By @zord189