Anarchaforko Anarchapulco Fork Update: In Case You Missed It Recent News Update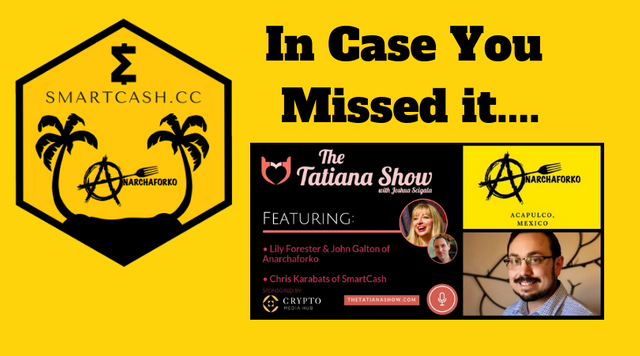 Tonight's post is a recap of recent Anarchaforko news, both from us and from others like Tatiana Moroz and the Smart Cash crew.
John and I appeared on the Tatiana Show recently along with Zaphoid from SmartCash who will both be at Anarchaforko this year. Tatiana plans to perform and Zaphoid will be doing at least one SmartCash themed workshop that will soon be added to the calendar.
Then Tatiana appeared on the Smartcash Radio show, click here to hear. We appeared on this too a few episodes prior, if you missed that one click here.
@larkenrose and @dragonanarchist made this cute and funny infomercial called P.I.S.S.E.D about both Anarchapulco and Anarchaforko. Check it out!
Every day I see the word spreading. If you like what we are doing but cannot come, please share our posts! Our biggest hurdle now is getting the word out there, people want the fork they just don't know it exists!
If you have a podcast and would be interested in hosting us to talk about @anarchaforko, contact us!
Click here to purchase your ticket today and find out how you can get a half priced ticket for just the next 4 days or so!
Check out the links below for more like this one!
Anarchaforko Update: Getting Ready to Fork!
Anarchaforko Anarchapulco Fork Update: Have Questions? Ask Us!!

Anarchaforko Update: Reserve Your Room at Beautiful Hotel Copacabana Today and Get Your Fork Ticket for Half Priced!
In case you missed them, some of my recent posts:
World Carnivore Month: The Difference
World Carnivore Month: Day 24
Anarchaforko Anarchapulco Fork Update: Very Impactful Person Lyn Ulbricht is Coming!

Hi there, if you're new to my blog here on Steemit check out this for more information on who we are and how we got here.