Every month, Hitesh Malviya from ItsBlockchain.com recommends altcoins that should perform well in the upcoming period. But... Are his tips any good? Let's find out!
Meet Roberto Altcoinguayo
Roberto is a kicker. Sorry, WAS a kicker. His club, Napa Bay Pirates, cut him and he failed to sign a contract with the new team as of yet.
But look at the bright side of life!
Now he has plenty of free time and also some savings money. And he's going to put part of that into cryptocurrencies.
Although Altcoinguayo doesn't want to hold Bitcoin (boooooring). Instead of that, he will invest around 1 BTC in few altcoins. Starting in September.
Not the best time to start
Roberto is not lucky. Several days after he got into the game - China happens. And then, Jamie Dimon.
However, excuses won't change anything. That is true in both football and crypto.
Results are in
Even thought Altcoinguayo profited on Basic Attention Token (#BAT) and Waves (#WAVES), other altcoins turned red.
His initial investment - 1 BTC ($4309) became 0,76 BTC ($3307).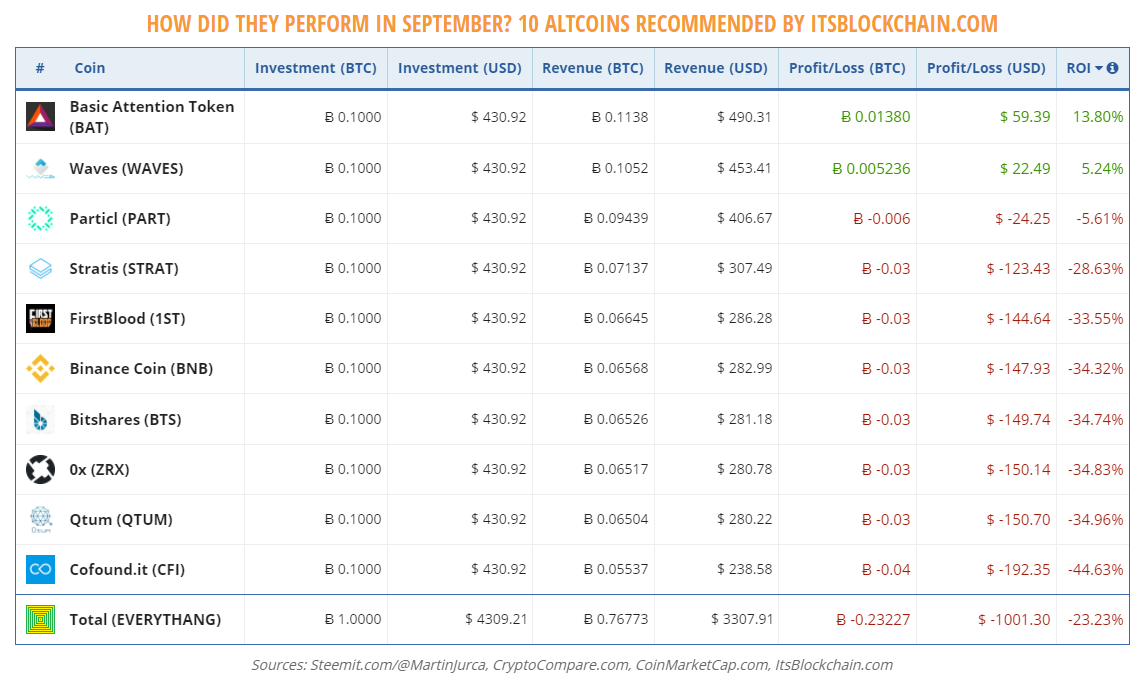 Comparison with Bitcoin and Ethereum investments
Roberto Altcoinguayo is not happy. And it's not only because he lost 23% of what he put in. It's the fact that he could protect his capital way more if he chose BTC or ETH.


Data sources: CoinMarketCap.com, CryptoCompare.com
---
PS: Do you follow other serious people/websites that give tips on a monthly basis?