The Alexandria's Library Project – Plan of Action
---
---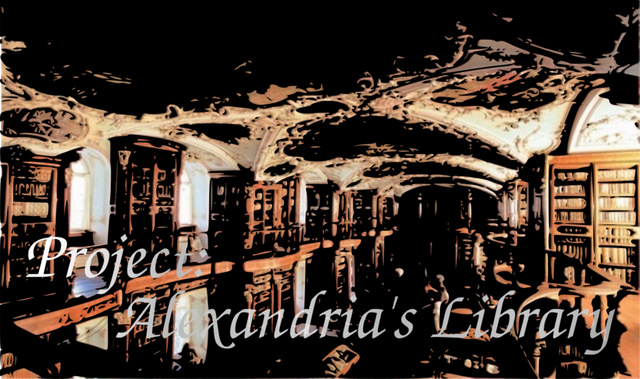 ---
---
Plan of Action
---
---
Writing Contest
The Alexandria's Library Project team has agreed that one of the most effective ways to promote this project is by making a contest through which Steemians from all around the world will be given an opportunity to write about different subjects related to the main topics: Philosophy, History, Science, and Literature.
To reach a bigger audience, we will promote the contest through the following tags:
#alexandria-philosophy, #alexandria-history, #alexandria-science, #alexandria-literature, #alexandria-america, #alexandria-europe, #alexandria-asia, #alexandria-africa and #alexandria-australia.
Those tags were developed to facilitate the search for content. That way it will be easier for us to find outstanding blog posts in this giant ocean of content.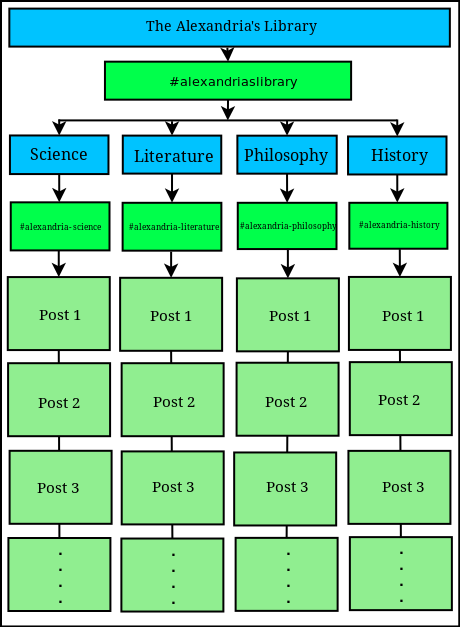 ---
---
Translations into different languages
To reach a bigger audience, members like @ihansunrise and @maxiemoses-eu will translate every post related to @alexandrias-lib. That way Nigerian and Indonesian communities will be aware of the periodic updates to come. @jhnmunoz has decided to translate Alexandria's Library related content from English to Spanish, so the Hispanic community is able to read and understand our mission and vision for the project. Respectively, @leebaong and @lindahas will be the ones promoting the project in Asia and Europe.
We want to make sure Alexandria's Library becomes something that works in a global scope, so many outstanding Steemians, from every corner of the world, are supported and rewarded by this project.
---
---
Discord Server (A debate forum covering the main topics)
Members of Alexandria's Library have come to a conclusion that a discord server is needed to build a community like this. We want to incentivize the content creators to give feedback that could influence and encourage other users. We will open six channels that will function as open forums for Philosophy, History, Science, Literature, General discussion, and Alexandria's Court. In these channels, all present Steemians will be able to discuss topics related to their relative fields. A debate in which the search for conclusions, knowledge, empathy, and resolution of problems will be prioritized and evaluated. Alexandria's Court will be the Channel in which the posts searched by Scholars(curators) will be discussed.
---
---
Mission
"To search, reward and gather in the STEEM blockchain quality content in matters of Philosophy, History, Science and Literature; under the shelter of an organized community," Team cordinator @jhnmunoz said.
Vision
"To consolidate a system of archived information in the STEEM blockchain that evokes what was supposed to be the majestic Library of Alexandria: the greatest storehouse of valuable knowledge in ancient times," Team cordinator @jhnmunoz said.
---
---
Call for Delegation
To fulfill our goals to curate outstanding posts, The Alexandria's Library Project needs support. Members of Alexandria's Library will make a call for delegation soon.
---
---
Alexandria's Library Trail
A curation trail will be created, so all individuals willing to help can join the project.
---
---
Scholars and Librarians
This is a democratic curation system in which objectivity and interaction will be the main priorities.
Every library needs scholars and librarians. We will be looking for competent and professional individuals to fill each field.
Scholars will be professional users adept in one of the main fields; Philosophy, History, Science or Literature. they will have to find the most outstanding content of this huge ocean of Steemit, and then post it on the Alexandria's Court Channel. The scholar who submits the post will not have the last word when it comes to curating his chosen post, they will have to wait for the majority approval of other scholars and librarians. Both scholars and librarians, will review the post, then deliberate to decide if it will be approved or rejected. After that, Alexandria's Library Trail will curate the post if the verdict reached is positive. Since the vote of the scholar who submits the post is considered as a positive one, it is strictly necessary that at least two more approving votes are cast. Then the post can be curated.
Librarians will be professional members adept in one of the main fields; Philosophy, History, Science or Literature. Besides being involved in the voting process, to approve or not a post, they will have to store all the approved posts and showcase them through a Bibliographic Exhibition. They will congregate all the outstanding posts found by Scholars, by posting a summary of each one of them daily, weekly, monthly and annually, in the corresponding exhibitions. They will also moderate every channel, and in Alexandria's Court, they will be the ones who will close to feature or not a post if it already will have the necessary amount of votes to get approved or rejected.
Alexandria's Library will be looking for Scholars and Librarians to join the curation project in the future. The payment will be a certain percentage of income, yet to be determined depending on the rewards of the official account. If you are interested in becoming one of us, leave a comment and the members of Alexandria's Library Project will contact you at a future time.


---
---
Watchers
The watchers will be the first members of Alexandria's Library, they will oversee the contents created in the continent corresponding to their nationality.
@jhnmunoz (Venezuela/Peru): Watcher of #alexandria-america tag,
@lindahas (Latvia/Germany): Watcher of #alexandria-europe tag,
@leebaong (Philippines): Watcher of #alexandria-asia tag,
@maxiemoses-eu (Nigeria): Watcher of #alexandria-africa tag,
@ihansunrise (Indonesia): Watcher of #alexandria-australia tag.
We will be checking for plagiarism, reposting, spam, and scamming. The corrupted content will be reported to the responsible channels. The watchers will make sure everything goes according to ethical standards in their corresponding community.
---
---
Official Guidelines Updates
TALP Official Guidelines will be updated periodically, that way our standard of quality will be constantly improving. You can read about our guidelines here.
---
---
Weekly, Monthly and Annually Bibliographic Exhibitions
The bibliographic exhibitions will be posted every day. Additionally, all the outstanding posts will be gathered into a weekly, monthly, and annual edition. Those editions will use tags concise to their corresponding date. For example, the bibliographic exhibition of the first week will feature the "alexandria-week1" tag. Posts of June 2018 will showcase the "alexandria-june2018" tag. Those of the year 2018 will have the "alexandria-2018 tag. That way, all the outstanding content will be perfectly stored and organized through those tags.
---
---
"sndbox-library" Account
If @sndbox approves our project, they could create the account "sndbox-library" that would witness everything about this project. The promotional campaign, events that involve either @sndbox or Alexandria's Library Project, and the posts that will be created with tags like #alexandriaslibrary or possibly #sndbox-library. @sndbox would also have the opportunity to join their team members with our team and let them be involved in this initiative.
---
---
Future Applications
---
---
Professional Designs
This is an optional goal, but it would be wonderful if we found the support of a professional designer to help customize elements of our project.
---
---
Alexandria's Library Advanced Search Engine
To facilitate the hard work that scholars will implement in this initiative, we want to design an advanced search engine.
---
---
Bots
A bot that counts the positive and negative votes on each post submitted to the Alexandria's Court Channel would be an amazing and helpful tool for both, Scholars and Librarians.
---
---
Website
An organized website with information about the project would be marvelous. We would require the help of web designers and developers.
---
---
STEEM Blockchain Platform
An official platform based on STEEM Blockchain can be one of our most ambitious goals.
---
---

Read more about this project here: