I grew up in Oregon, but never managed to find my way to Crater Lake National Park until this summer. The verdict? Just go!
---
Crater Lake is the deepest lake in the United States at 1,949 feet, filling a 2,148 foot deep volcanic crater (or caldera).
The lake was formed when super-volcano Mount Mazama collapsed inwards on itself about 7,700 year ago. No other bodies of water connect to the lake, it is entirely self-contained inside the remnants of the volcano, sustained by rainfall, snowfall, and natural evaporation. It's estimated that the water is entirely replaced through this natural process every 250 years.
---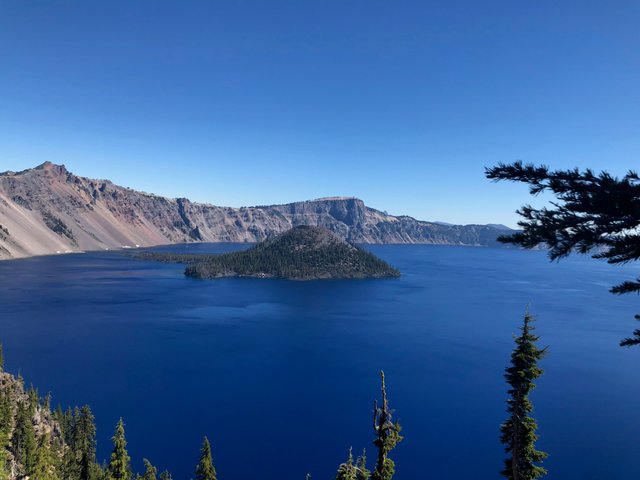 ---
Here is a map of the lake and surrounding park.
As you can see, there is a road that runs around the rim of the crater (there are also several hiking trails). Driving the rim makes for an excellent day-long adventure, with plentiful pullouts and scenic lookouts to explore. You could also opt to take a boat tour of the inside of the crater, if you want to get up close and personal with this icy cold water.
---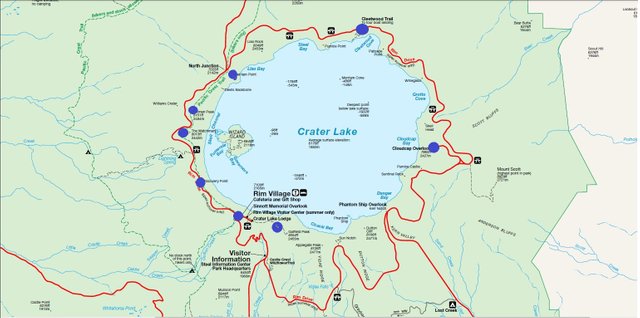 Image from Free Maps Worldwide.
---
After driving 4.5 hours from Portland, OR you'll find yourself at Crater Lake National Park.
Founded in 1902, this is the 5th oldest National Park in the country. There are a few campgrounds nearby - we stayed at Mazama Campground which proved to be a great basecamp with good privacy and nice campspots. We also drove by Lost Creek Campground which is nearby - it looked a little less private but it was smaller and a bit more removed from main roads. Campspots will cost you about $30-$40 a night if you're wondering.
---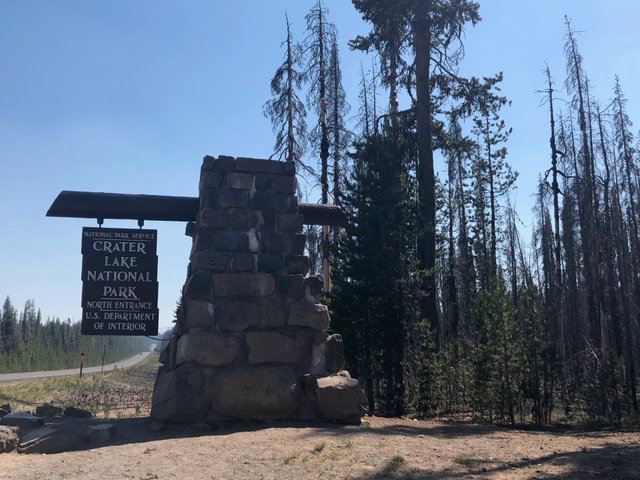 ---
After the first night we were up bright and early to explore the rim.
We stopped right away near Rim Village to take in this amazing view. Would you believe that there is no filter on this photo? The color of the water must be seen to be believed - it is truly incredible. The island you're seeing is called Wizard Island - more on that soon!
---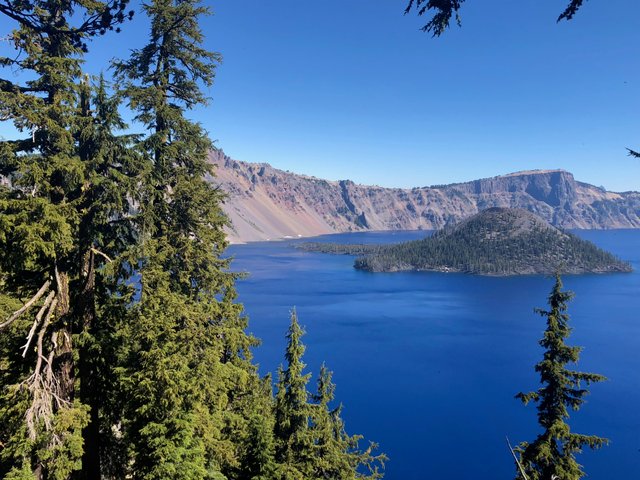 ---
We heard that Watchman Lookout was a great place to see a panorama of the lake, so that was our second stop.
Here's the trailhead leading up, it's an easy hike, about 1.5 miles roundtrip and around 300 feet of elevation gain . At the top, there's a watchtower and viewing platform giving you a birds eye view of the region.
---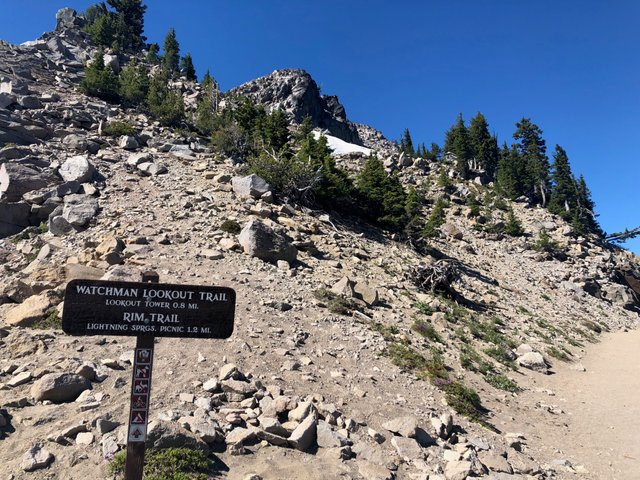 ---
Had to stop to snap these purples beauties.
I love finding spots of vibrant color in desert terrain, this was a lovely little color-pop.
---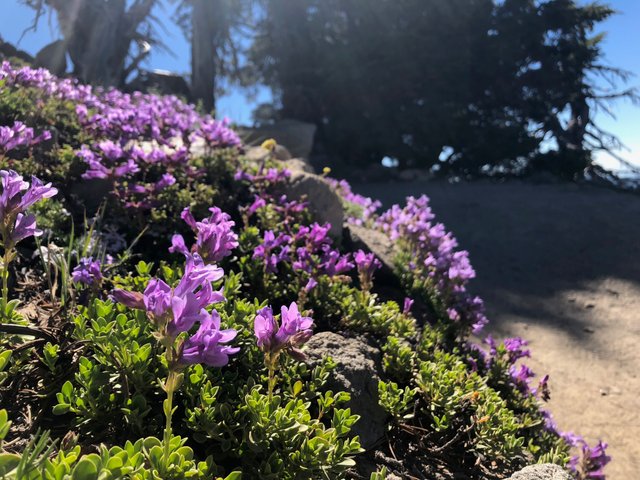 ---
A view facing away from the crater.
The landscape surrounding Crater Lake is dry, and spotted with patches of evergreen and desert shrubs. The distinct architecture of the land is beautiful, and makes for some incredible views outside of just the lake. A variety of activities take place on this landscape, its the playground of mountain bikers, through-hikers, cross-country skiers and many others as the seasons turn.
---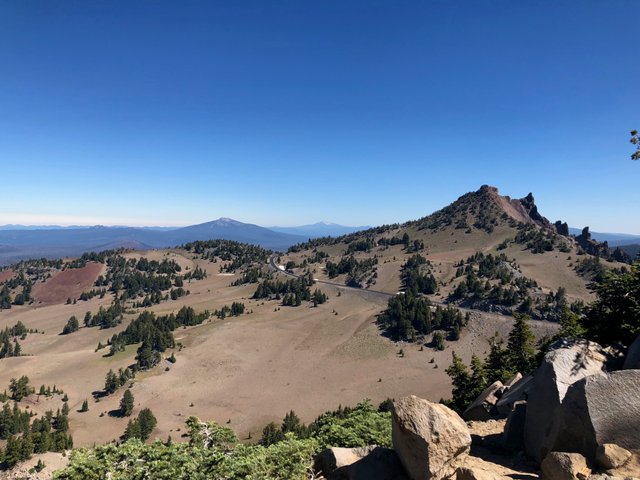 ---
And here, Crater Lake in all her glory.
The view from the top of the trail was pretty amazing. It's an awe-inspiring experience to see this lake.
---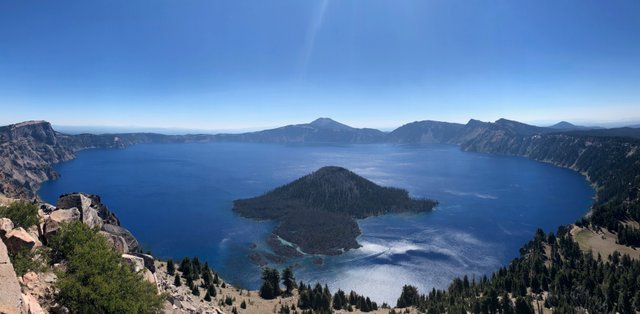 ---
This region used to have incredible volcanic activity.
Millenia ago, hundreds of volcanoes erupted over and over again. As the ash built, the region rose, and eventually Mount Mazama was built - constructed on the skeleton of smaller, dead volcanoes. Each of these structures was hollow, having spewed its contents, so eventually the mountain simply collapsed inwards inside of itself creating this lake.
---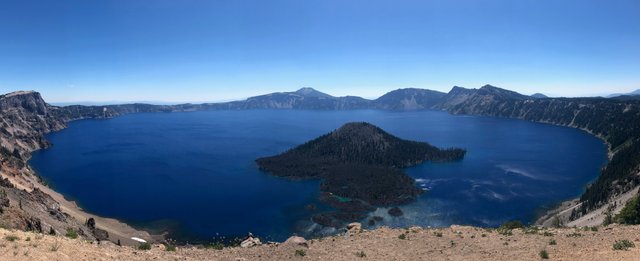 ---
Wizard Island is the very top cone of the entire volcano, suspended as a dominant feature in the middle of the lake.
If you opt to take one of the boat tours mentioned above, you can be dropped off on Wizard Island and are able to hike to the top to get a very different view of the crater.
---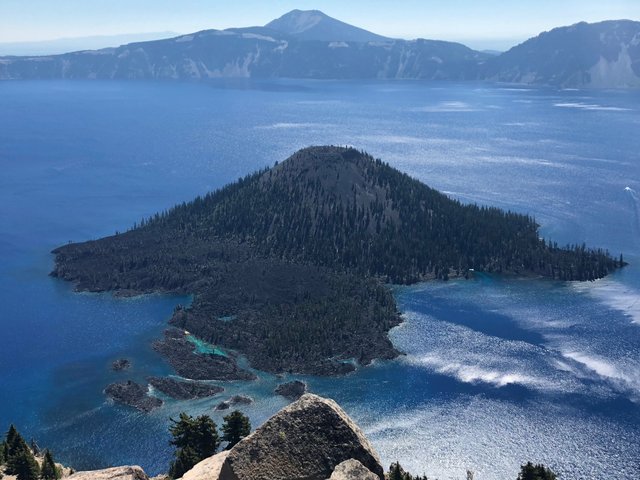 ---
The park is dotted with other volcanic features, including The Pinnacles.
These incredibly interesting geological formations were created as sheets of hot pumice flowed through the region, before Mazama collapsed. As the pumice cooled, gases from underneath needed to find a way out and escaped through steam holes to the surface. Over thousands of years, nature has worn away much of the pumice and ash - but the sediment around the steamholes has remained intact creating these shapes - known as The Pinnacles.
---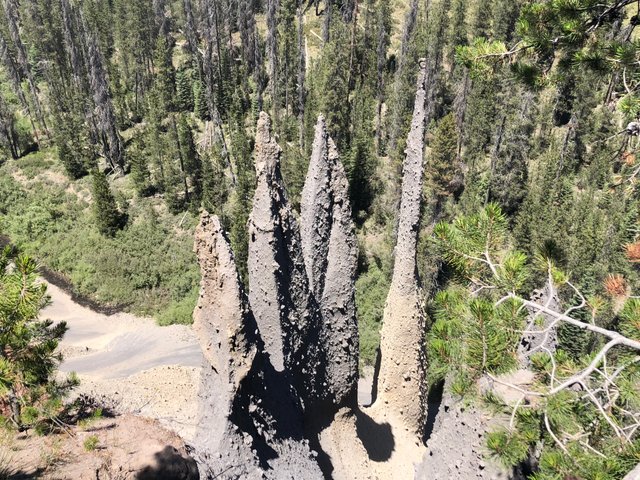 ---
You can hike along The Pinnacles for several miles.
We opted for a 2-mile loop that allowed us to see the extent of these formations and marvel a bit at their history and scale. Many of the pinnacles were 20-50 feet tall. In the riverbed below the trail, we could see another trail wandering the creek that would allow an adventurer to get up close and personal with these interesting structures.
---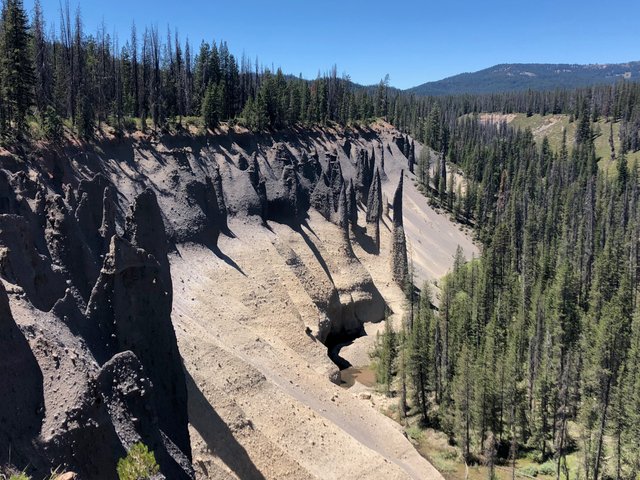 ---
We also stopped to check out Plaikni Falls.
This simple, 2-mile trail gently meanders through a forest, before taking you alongside a creek to reach the falls. They are small, but the moisture and greenery is very welcome after spending time in the heat. After a hot day, this trail helped to cool us off and relax us a bit before heading back to camp.
---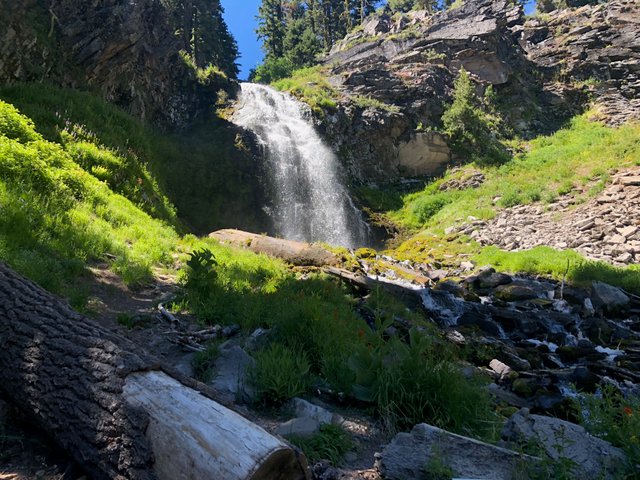 ---
BONUS: Butterflies.
I suppose it was the right season, but we encountered hundreds of blue butterflies at the waterfall. I've never seen so many butterflies in one place before, it was a lovely and unexpected surprise.
---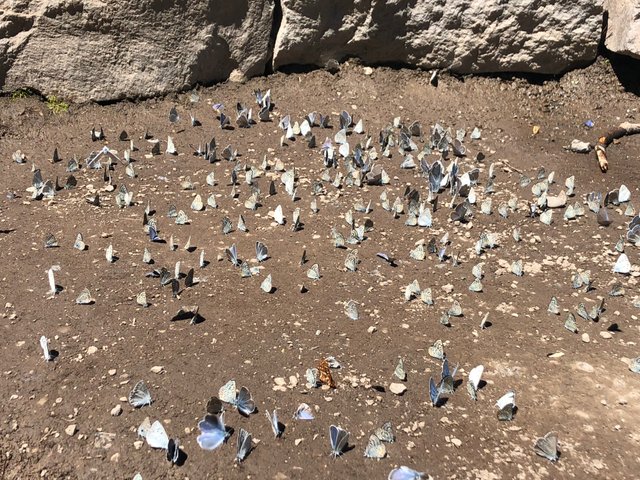 ---
And there we are - having some fun in the sun.
This trip was one of the highlights of this summer. I've never been to Crater Lake, but I'm so glad we made the time and trekked down - I highly recommend it. <3
---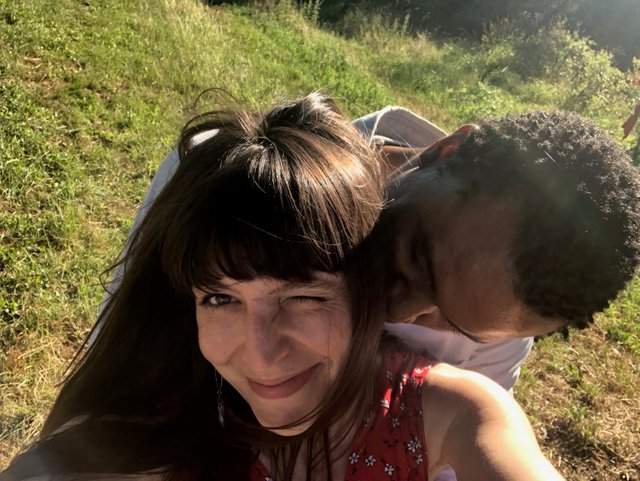 ---
---
Check out more of my work @lilyraabe and below:
Exploring Ruby Beach on the Olympic Peninsula | Photo Album
A Summer's Worth of Adventures | Photo Album
Offering an Explanation
How I Got Here: a poem about existence
---

---
All photos shot by me on my iPhone 8
---
Thanks for stopping by!
BIG LOVE, Lily