Stało się tak jak przewidziałem wczoraj, dobrze, że żadnych planów treningowych nie robiłem na ten dzień, bo musiałbym je porzucić. Rano byłem umówiony u fryzjera, a jak tylko wróciłem do domu zapadła decyzja, że jedziemy na zakupy do Lille we Francji.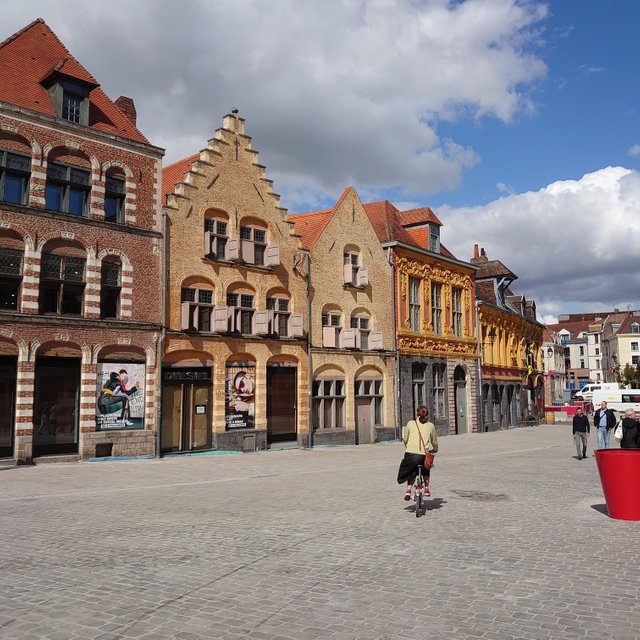 Mimo tego, że wiąże się to zwykle z odchudzeniem portfela, to jednak bardzo lubię nasze wyprawy do tego położonego nieopodal belgijskiej granicy francuskiego miasta, właściwsze by było określenie metropolia, bo centrum miast jest świetnie połączone z otaczającymi je innymi miejscowościami w obrębie około 25-30 km od centrum Lille.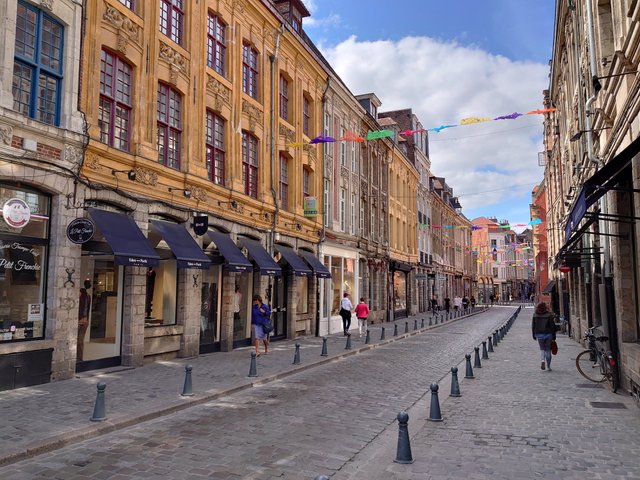 Po nasyceniu zakupowych potrzeb ciągnie nas najczęściej do urokliwych uliczek starego miasta, dziś nieco bardziej pustych niż zwykle gdy pełno jest tam turystów i mieszkańców Lille w poszukiwaniu spokoju i wytchnienia z dala od Place Charles de Gaulle, chociaż jest to tylko kilka kroków od niezwykle tłocznego placu.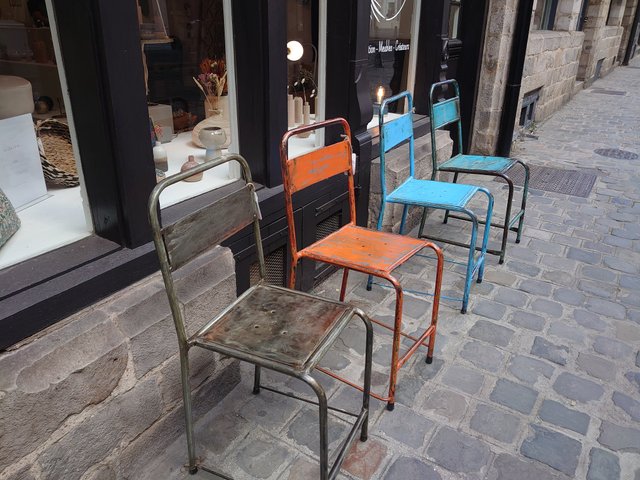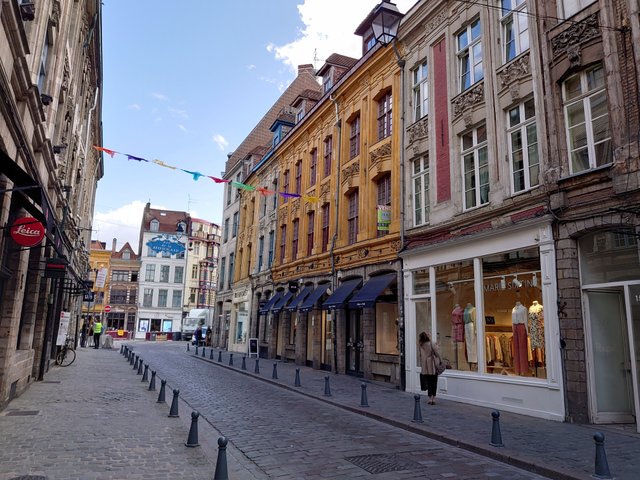 Dziś wyjątkowo przez szybę oglądaliśmy smakołyki serwowane w "Aux Merveilleux de Fred", tutaj Merveilleux smakują najlepiej. W Brukseli również jest filia tej cukierni, ale to w Lille trzeba odstać w długiej kolejce, żeby posmakować rozpuszczających się w ustach Merveilleux.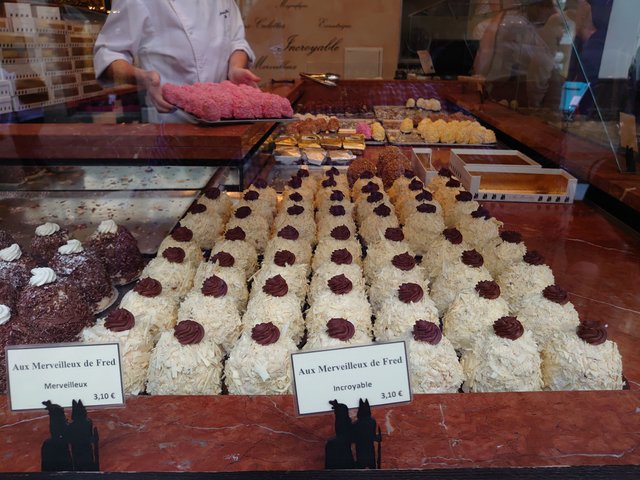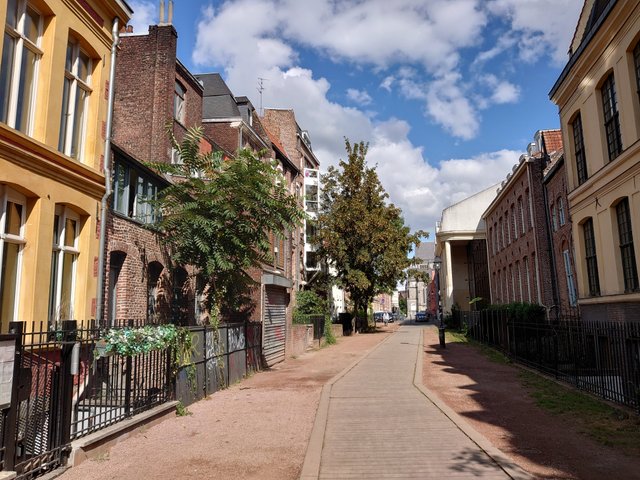 Charakterystyczna dzwonnica na Placu Teatralnym vis-a-vis Opery.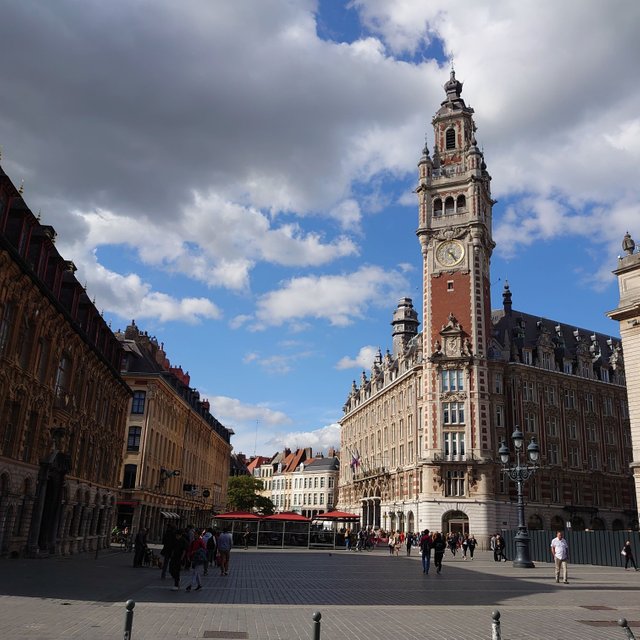 Na Rue Faidherbe, która łączy dworzec kolejowy w Lille z Placem Teatralnym i ustawiono około dziesięciu rzeźb nawiązujących do panamerykańskich wierzeń, jest to część ekspozycji "Eldorado", która prezentowana jest od wiosny do późnej jesieni w metropolii Lille.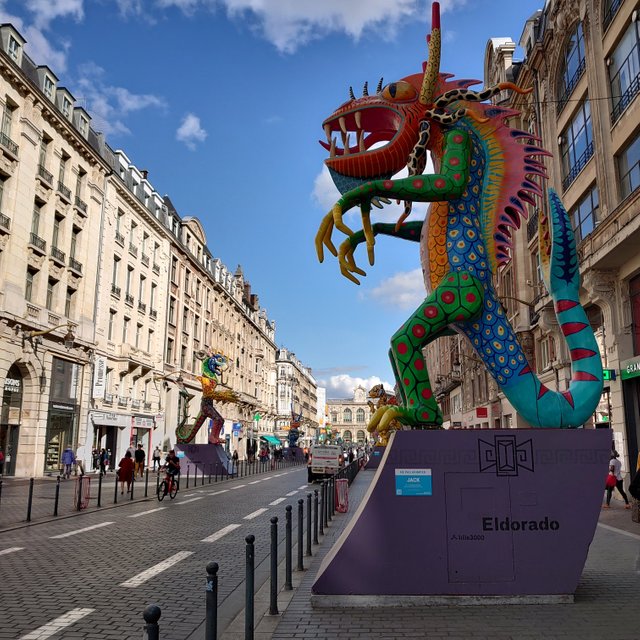 Po tak ciężkim dniu pozwoliłem sobie wieczorem na relaks przy piwie "Rince Cochon aromatisée au Whisky", czyli mocnym belgijskim piwie z aromatami Whisky. Osobiście nie wyczułem tych aromatów. Z piwem Rince Cochon wiąże się pewna anegdota, gdy dwa lata temu odwiedziła nas siostra żony z rodziną, to również wybraliśmy się do Lille, i tam w sklepie z piwem siostrzeniec żony wybrał sobie właśnie te piwo. Wieczorem, gdy siedliśmy ze szwagrem do konsumowania różnego alkoholu, młodzieniec dołączył do nas z tym piwem. Nawiązując do etykiety zaczęliśmy żartować ze szwagrem, że to piwo ze świni, młodzieniec zaczął więc wąchać i stwierdził, że rzeczywiście "wali świnią" i on tego nie będzie pił. Mieliśmy ze szwagrem niezły ubaw i dodatkową butelkę do skonsumowania :P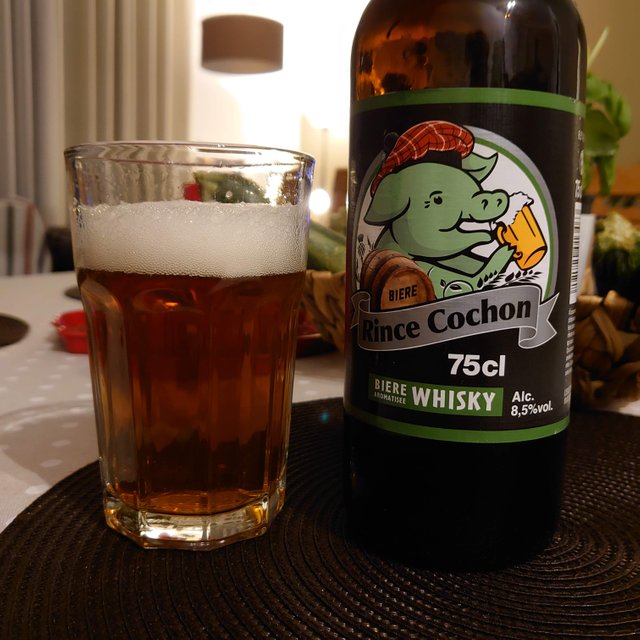 My 2019 stats: total distance 4526,49 km (+ 11,79 km)
Sport
Distance
Difference
Walking
1864,80 km
(+ 11,79 km)
Cycling
2086,82 km
Running
534,98 km
Rowing
30,72 km
Elliptical
20,96 km
***
| Current Actifit User Rank: | 55.00 (+1.01) |
| --- | --- |
| | |
| Current AFIT Balance: | 64453,599 |
| Current AFITX Balance: | 10,1 |
| | |
Don't stop me now! Keep going!
Link do postu "Actifit dla Bystrzaków" w którym opisuję krok po kroku jak zacząć aktywne życie z aplikacją @actifit, polecam lekturę zainteresowanym.
Polecam korzystanie z Discorda społeczności Actifit https://discord.gg/BFk3NV, gdzie codziennie w nieregularnych porach organizowane są konkursy, które polegają na poświadczeniu zakupu w czasie trwania konkursu (zwykle około 20 min) 100 tokenów AFIT oraz posiadania co najmniej 1 AFITX, gdy spełni się te dwa warunki, pod postem o konkursie umieszcza się screeny poświadczające i link do ostatniego swojego postu z aplikacji Actifit. Jeżeli warunki zostały spełnione to post ten zostanie 'podbity' 100% głosu z konta actifit.reward, wartość głosu to około 0,30$, więc warto się schylić i podnieść :) A co zrobić z kupionymi tokenami AFIT? Ja natychmiast odsprzedaję te tokeny, czasami jeszcze w czasie trwania konkursu, po zrobieniu screenów z zakupu, w tym czasie zdarza się, że cena idzie w górę, więc można jeszcze na tym zyskać.


22223

Daily Activity, Shopping, Walking