Długo czekałem na ten dzień, po raz pierwszy od powrotu z Polski w lipcu mam teraz normalną przerwę między moimi zmianami w pracy, mam nadzieję, że będę mógł trochę odpocząć. Żeby za długo nie odpoczywał dbają moje panie, jeszcze gdy byłem w pracy dostałem wiadomość od córki, że w samochodzie zapaliła się taka dziwna kontrolka, jakby wanienka z wykrzyknikiem. Od razu zrozumiałem, że jest to czujnik ciśnienia w oponach. Po powrocie do domu poszedłem jeszcze zobaczyć samochód, którym córka jeździła i zobaczyłem, że w jednej z opon nie ma powietrza. Normalnie to by była typowa "guma", tylko, że ona prawdopodobnie nieświadoma przejechała bez powietrza kilka kilometrów, o czym świadczyły zniszczenia opony.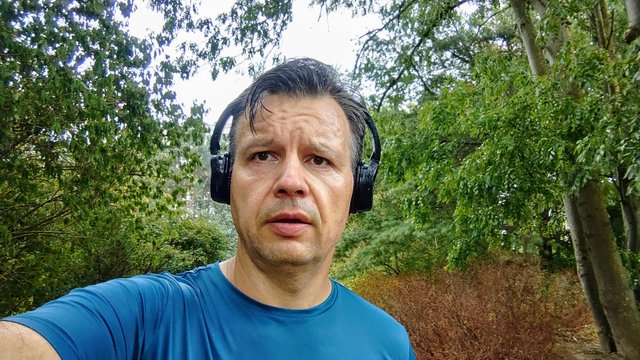 Ostrzegłem tylko żonę i córkę, żeby nie brały samochodu i położyłem się spać po nocy. Natychmiast po tym jak wstałem około południa to poszedłem z córką, żeby zdjąć koło i pojechać z nim do wulkanizatora, ale po zdjęciu koła i dokładnej diagnozie okazało się, że opona nie będzie nadawała się do naprawy. Postanowiłem, więc tymczasowo założyć drugi komplet kół z oponami zimowymi, bo samochód jest im potrzebny. Przy okazji okazało się, że jeszcze jedna opona jest znacznie uszkodzona, postanowiłem więc zamówić nowy komplet opon, te już swoje przejechały przez sześć lat.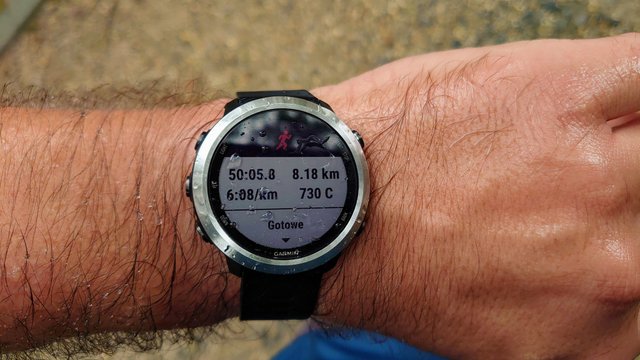 W ostatnim poście pisałem, że pogoda się zmienia, więc dziś ciąg dalszy zmian. Po południu jak już ogarnąłem sprawę opon wyszedłem zrobić swój dzisiejszy trening. Plan na dziś zakładał trzy ośmiominutowe interwały w tempie około 5:10 min/km, poprzedzone spokojnym biegiem na rozgrzewkę. Kiedy zacząłem biec szybkie interwały poczułem, że zaczął kropić deszcz, ale tylko parę kropel, podobnie było na drugim interwale, ale w połowie trzeciego zaczęło już porządnie padać stąd te szybsze tempo biegu :)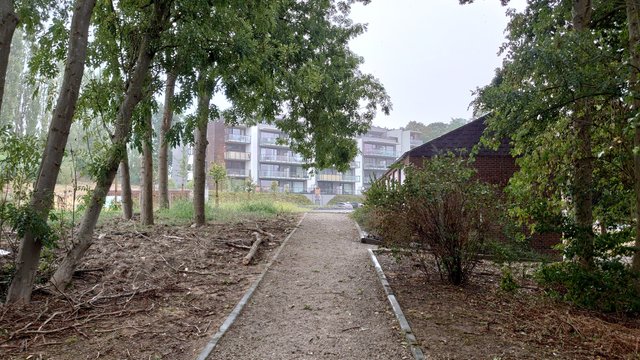 Wracałem do domu cały mokry, ale szczęśliwy, że udało mi się zrealizować dzisiejszy plan, przed biegiem obawiałem się, że mogę mieć problemy z utrzymaniem odpowiedniego tempa, co się nie sprawdziło. Nie wiem co będę robił jutro, na pewno nie będę biegał.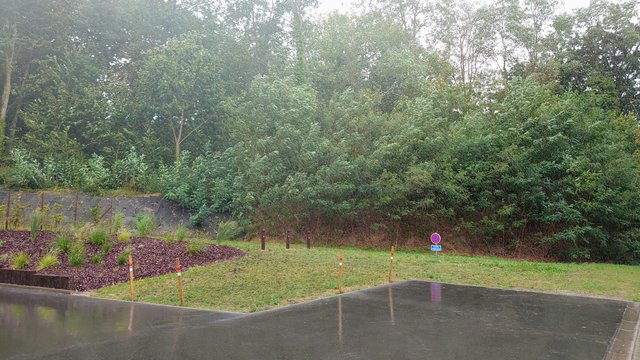 My 2019 stats: total distance 4526,49 km (+ 12,86 km)
Sport
Distance
Difference
Walking
1853,01 km
(+ 4,68 km)
Cycling
2086,82 km
Running
534,98 km
(+ 8,17 km)
Rowing
30,72 km
Elliptical
20,96 km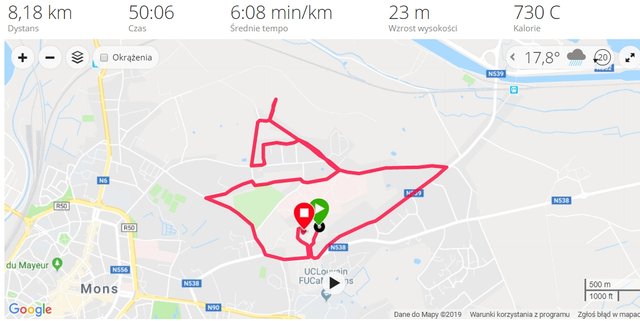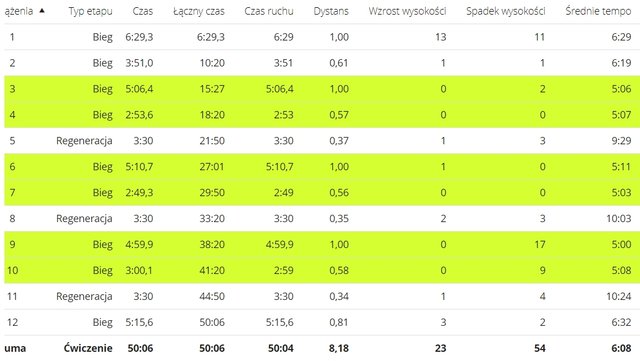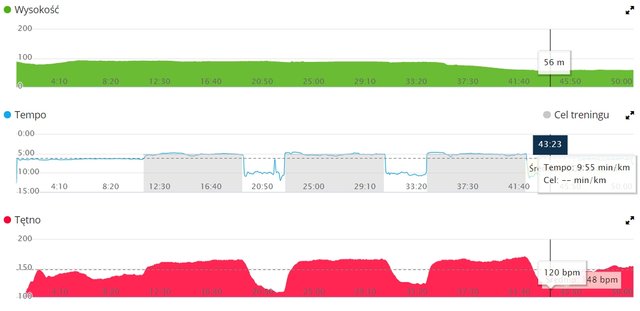 ***
| Current Actifit User Rank: | 55.00 (+1.01) |
| --- | --- |
| | |
| Current AFIT Balance: | 64319,027 |
| Current AFITX Balance: | 10,1 |
| | |
Don't stop me now! Keep going!
Link do postu "Actifit dla Bystrzaków" w którym opisuję krok po kroku jak zacząć aktywne życie z aplikacją @actifit, polecam lekturę zainteresowanym.
Polecam korzystanie z Discorda społeczności Actifit https://discord.gg/BFk3NV, gdzie codziennie w nieregularnych porach organizowane są konkursy, które polegają na poświadczeniu zakupu w czasie trwania konkursu (zwykle około 20 min) 100 tokenów AFIT oraz posiadania co najmniej 1 AFITX, gdy spełni się te dwa warunki, pod postem o konkursie umieszcza się screeny poświadczające i link do ostatniego swojego postu z aplikacji Actifit. Jeżeli warunki zostały spełnione to post ten zostanie 'podbity' 100% głosu z konta actifit.reward, wartość głosu to około 0,30$, więc warto się schylić i podnieść :) A co zrobić z kupionymi tokenami AFIT? Ja natychmiast odsprzedaję te tokeny, czasami jeszcze w czasie trwania konkursu, po zrobieniu screenów z zakupu, w tym czasie zdarza się, że cena idzie w górę, więc można jeszcze na tym zyskać.


15041

Jogging, Running, Walking