Actifit ISO Completed Successfully! 12,000+ STEEM Volume + 240,000 AFIT Tokens Sold. Sale still Open! Increased Daily AFIT Exchanges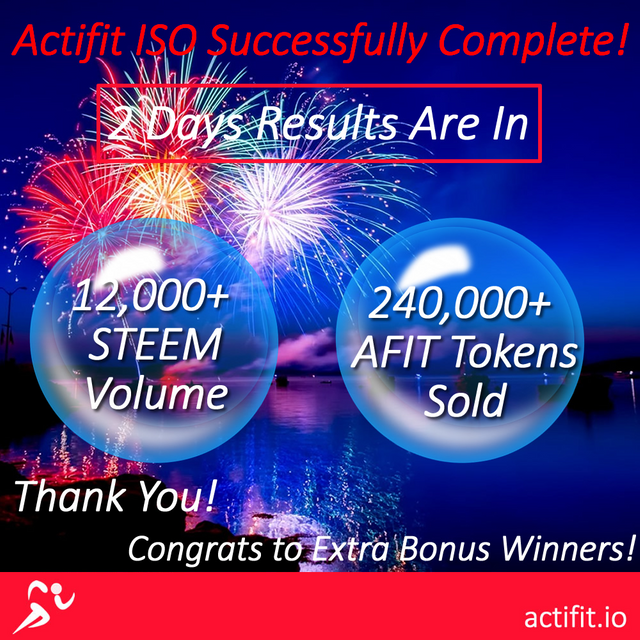 Actifit ISO Completed Successfully!
We are thrilled to announce the completion of the first ISO on the Steem blockchain, ran on top of Steem-engine, to a great success!
As of today at 1:00 PM GMT, the event came to conclusion, and we took a snapshot of transactions and token holders as a result of the event to ensure no post event transactions affect the rankings and bonuses.
At completion time, the starting numbers of the event actually doubled! whereby we started off with 6,200 STEEM and 110,000+ AFIT tokens at Friday 1:00:01 GMT, and reached 12,073 STEEM volume and 241,462 AFIT Tokens sold at Sunday 1:00:00 GMT.
Those funds come at the right time to help our project prepare for its upcoming IEOs & marketing efforts, paving the way for future development, growth and plans for mass adoption.
We are quite thankful for the amazing participation by the community, the firm belief we saw and see everyday in our project and vision, and also to steem-engine team for helping with the support across this event, namely @aggroed and @yabapmatt who were there to assist across.
Bonuses
Now the long awaited news! :)
As promised, we had several bonus tiers for the participants. Below are the winners for the different tiers:
Top 10 Buyers
For the top buyer part, competition was very fierce! Results actually changed in the last few minutes with last minute buy orders coming in :) Below are the winners of the top 10 buyers bonuses:
| Rank | Winner | AFIT Tokens Bought | Bonus |
| --- | --- | --- | --- |
| #1 | @ervin-lemark | 26993.00000000 AFIT | 40,000 AFIT |
| #2 | @onealfa | 26039.22000000 AFIT | 20,000 AFIT |
| #3 | @roger5120 | 20500.00000000 AFIT | 10,000 AFIT |
| #4 | @hauptmann | 20001.00000000 AFIT | 5,000 AFIT |
| #5 | @jedigeiss | 11820.00000000 AFIT | 2,500 AFIT |
| #6 | @profquax | 10005.00000000 AFIT | 2,500 AFIT |
| #7 | @neoxian | 10000.00000000 AFIT | 2,500 AFIT |
| #8 | @nournajjar | 9464.40000000 AFIT | 2,500 AFIT |
| #9 | @parisfoodhunter | 7050.00000000 AFIT | 2,500 AFIT |
| #10 | @aggroed | 7000.00000000 AFIT | 2,500 AFIT |
100$ Value Buyers (AFIT + ENG Rewards)
Due to the fluctuations in STEEM price over the last week, we made our calculations based on prior STEEM price at 0.49, at around which we set the original pricing. Based upon this, the minimum amount we accepted for the rewards was at 4,100 bought AFIT tokens.
Accordingly, below are the winners who managed to earn for winning extra 3,000 AFIT tokens + 20 ENG tokens.
@ervin-lemark, @onealfa, @roger5120, @hauptmann, @jedigeiss, @profquax, @neoxian, @nournajjar, @parisfoodhunter, @aggroed, @hodolbak, @mcoinz79, @wil.metcalfe, @michealb, @torrey.blog, @aniestudio, @kenny-crane, @stimp1024, @rosatravels, @ali.awada, @nateaguila, @sumatranate, @sumit71428, @definethedollar, @rani.barbir.
Congrats to all the extra bonus winners!
AFIT bonuses will be sent out to your Actifit wallet in the coming 2 days! We will also coordinate with Steem-engine team for sending over the ENG rewards.
Can we still buy AFIT tokens?
Due to many requests by the community, and since many were unable to take part in purchasing AFIT tokens due to short notice, nor had the time to power down and take part, and to keep the door open for anyone considering to buy in at the discounted pricing and also to support Actifit...
The sale order for the AFIT tokens will remain in place so as anyone looking to still buy AFIT tokens at discounted pricing can still do so.
This order will remain in place for the coming 1-2 weeks.
Increased Daily AFIT Exchange Transactions
Due to recent amazing increases in SP delegations to our Actifit account (more on that under delegations section below), we went ahead yesterday and increased our daily AFIT exchange transactions from the prior 60 count, to now manage 70 transactions per day!
This enables us to process more daily exchange transactions, and speed up the process for STEEM upvotes, while minimizing the queue wait time. This number is continuously prone to increase as our Actifit account receives further SP delegations.
Top Daily Actifitters
Out of 519 activity reports submitted yesterday, our latest voting round included 505 rewarded activity reports.
Below are the top 20 actifitters from this round. Well done guys !!
A kind reminder to all actifitters: some versions of esteem app still cause issues when used to edit your reports, via removing essential info Actifit uses to identify proper reports. This prevents related reports from receiving rewards.
Until this issue is officially fixed via the esteem team, we advise that you use other Steem interfaces for editing, including our own actifit.io, steemit, busy or others.
Doubled UP Rewarded Actifitter
Today's Random Double Up Reward went to @runridefly!
This lead to doubling up the AFIT token rewards and the STEEM upvote value, but also to leading the list of daily rewarded actifitters.
Congrats!
| Rank | Actifit Member | User Rank | Activity Count | AFITs Rewarded | @actifit Upvote | Post Link |
| --- | --- | --- | --- | --- | --- | --- |
| #1 | @runridefly | 54 | 10192 | 140 Tokens | 3.33% | post |
Will your rewards get doubled UP tomorrow? :)
Our Newest Actifitters
In case this is the first time you see this section, essentially it aims to introduce new actifitters to our amazing community.
During the last voting round, we were happy to welcome the below new actifitters, joining more than 2,500 unique users who had posted an actifit report.
Our recent joiners are: @lucost, @josephace135, @acidmaster, @chrisbarth, @tommybigballs, @orcheva, @tartuga and @quitterer.
Feel free to check out their recent reports and welcome them to the Actifit community!
Delegation Status
Yesterday we've had amazing increase in delegation and support to our Actifit project, this lead to an increase in around 60,000 SP altogether. We would like to extend special thanks to @goodnewworld, who delegated 41,000 SP to Actifit, as well as @cool191 with 10K SP.
We also received additional large delegations from other members. Thanks to everyone who is extending their support to Actifit. Below is the recent delegation updates' list:
@cool191(10,390 SP)
@jwolf(4,200 SP)
@bluengel(438 SP)
@movingman(1,000 SP)
@onealfa(3,050 SP)
@trayan(99 SP)
@hotbit(250 SP)
@liberyworms(500 SP)
@sumit71428(992 SP)
@stats-generator(168 SP)
@von-doom(67 SP)
@krevasilis(630 SP)
@goodnewworld(41,002 SP)
@walktoheaven(2,000 SP)
@jasonbu(50 SP)
@kokadi(1,000 SP)
@c-diamond(12 SP)
@stefannikolov(20 SP)
Accordingly, @actifit account is now at 469,491 SP
Thank you to all delegators for the wonderful support! To see the list of all our delegators, check out actifit.io/delegators
The amount of delegated SP has a large influence over not only the daily/weekly delegation reward, but also on the amount of rewards the actifitter receives on daily reports, as it constitutes a key element in User Rank.
Which is why being an Actifit delegator now has more influence on your rewards, coupled with number of AFIT tokens and other factors highlighted before.
Delegators share a max cap of 100K AFIT tokens according to their delegation amount, and also earn a 5% beneficiary reward from actifit posts' beneficiary earnings.
Since many ask, here we describe again an easy way to calculate your AFIT tokens for a full day of delegations:
(Your Delegated SP) * 100,000 AFIT MAX / (Actifit Account Delegated SP - without account own SP and any delegators who opted out).
So for instance if you had delegated 100 SP, your daily earnings would be around:
100 * 100,000 / 447,000 = 22.37 AFITs
We are appreciative of more delegations to be able to better award actifitters and support our project, so thank you for doing that !
When you are looking to increase your delegation, you need to use the new total amount as the delegation amount, and not only the increased amount. Otherwise only the new amount will be used, and the remaining amount will be undelegated.
---
@actifit Team

To delegate to Actifit, you can use any of the following links:
10SP, 20SP, 30SP, 50SP, 100SP, 250SP, 500SP, 1,000SP, 5,000SP, 10,000SP, 20,000SP, Custom Amount
Make sure you have at least 15 SP left on your account.
consider voting for Actifit as witness
Our Top Delegators
An additional big thank you to some of our top supporters
@cryptomancer | @freedom | @goodnewworld | @fitat40 | @oldtimer | @humanearl | @cool191 | @selfvotejustice | @supergiant | @taskmaster4450 | @dmoons.kim | @wil.metcalfe |

Our wonderful ambassadors
@akomoajong | @alexvanaken | @ervin-lemark | @flauwy | @jaraumoses | @jasonshick | @moncia90 | @rosatravels | @taskmaster4450 | @toocurious | @pearlumie

Our amazing moderators
@alfamano | @alokkumar121 | @ashikstd | @ciuoto | @ckole | @definethedollar | @katerinaramm | @kpreddy | @priyanarc | @rabihfarhat | @rogernfl | @stats-generator | @thereikiforest | @vishalsingh4997 | @sumit71428

Thanks to @katerinaramm for the daily image design
Haven't downloaded Actifit yet? download it from the playstore or from the app store and start your journey to fitness and rewards!