Hey, everyone!
For the few of you who read what I put out here, I'm a software dev that got interested in crypto some years back. I'm a big EOS fan and I hacked this https://steemit.com/eos/@nadejde/eos-key-generator which some people in the EOS community have found useful. I even got an upvote from @dan himself! Very proud of that:P
Anyway, this is just to make clear that I am not some shill or a bot as I will probably be accused down in the comments:)
In the last few months, I've discovered @haejin through some friends who've started following his teachings and trading on his recommendation. These friends of mine were doing very good and they learned a lot. They are making a killing now. I did quite well myself even though I don't have the time to really get into it as my firends had, so I'm very thankfull for that. This is not to brag but to underline how I got to @haejin.
I started to pay attention and can say that I traded, watched the videos and generally started to care about trading from that point on. I grew as a trader a lot lately because of him. Not only because I started to learn from him but also because I started to read more to satisfy my own curiosity. I did not blindly follow a stranger online - though if I did, I'd have made a killing anyway - but actually LISTENED. @haejin always says the ultimate goal is not to feed us info but to teach.
Imagine my surprise when I started to read about this attack on the man himself. I started to wonder: WHY? Am I missing something?! What's going on here.
Let me tell you what's going on here: It's an abuse of power and example of hate.
It started as a normal flagging campaign. I say normal cause I understand @dan's view on flagging and voting. Please read https://steemit.com/steem/@bitcoindoom/why-down-votes-and-flags-are-an-unavoidable-consequence-of-game-theory to understand what I mean. A negative vote is a way to keep the things fair. There's a reason why flagging exists and why the posts take days to pay. To give everyone time to vote on the outcome. One way is to refrain from voting ( not giving money to something) secondly: to "flag". I think that flagging is a bad word for this tool and the fact that it affects your rep means it's not be used lightly.
But flagging was actually thought as a tool to regulate rewards. As it is, it's @berniesanders' right to flag and even his right to call for more people to join him. You see something wrong in the world, you write about it. I agree, I'm doing this myself here.
But then!!! It fucking stopped being that when he started to attack his fans, followers and anyone who was against it by flagging them to 0 and calling them bots, shills and other. Wtf is that? Just because someone's at rep 25 is a shill bot now?! He's clearly wrong even, just look at the view on each of @haejin's posts!! But anyway...Look at every one of @haejin's re-steemed posts! All of those, killed by him, his friends and his bots. Well... this is not longer a disagreement about payout.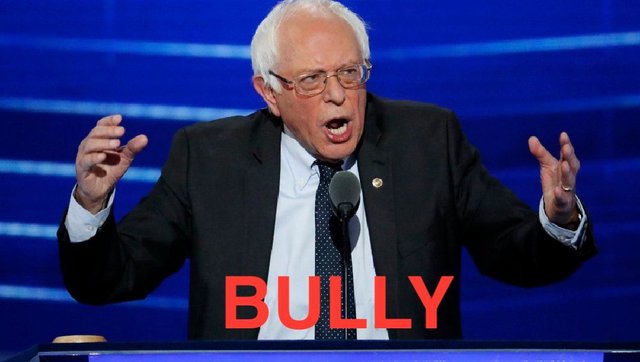 THIS IS BULLYING!
I plan to write more about this in the coming days and if this continue, the coming weeks. FUCK THIS SHIT!
I have three things to add to this:
@haejin if you read this, please re-steem me. Let the bully kill this too.
I'm thinking of a way for all of us to show gratitude and to be on his side with a tag. Maybe #haejinteam or #stopbernie? I'm taking suggestions!!
@haejin, had this campaign been fair and flagging used just as a disagreement over rewards and not as a full on attack on you and your dollowers, what would you have done differently to address it?
PS: Please read this on how to flag responsibly: https://steemit.com/steemit/@dantheman/why-i-flag-ozchartart