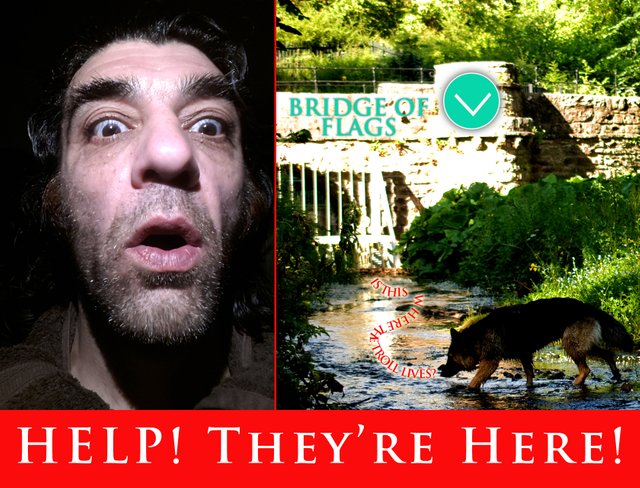 Yesterday I posted a piece on gratitude and positivity. A little later, @ginabot informed me that someone had downvoted the post.

Hmm
@bestwebmaster
, what got you worked up I wonder, what was so offensive or controversial? Let me check your
profile on steemit
and your
profile on steemd
to see if I can get any clues: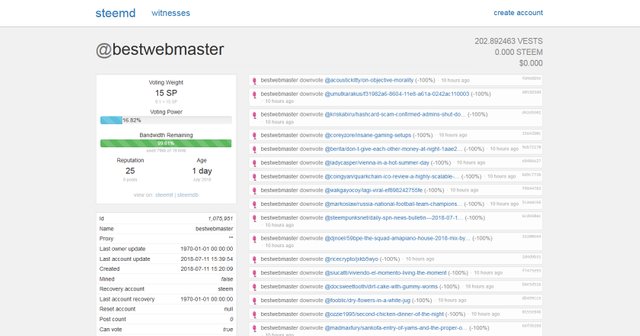 The following information is revealed:
this is a brand-new account, only one day old
@bestwebmaster has not blogged or commented yet, nor have they received any replies
the name on the home page is BotAntiTrolls
the description on the home page says: Flagging the abusers and their fans!! You want to know why you are flagged?
'location' is Steemit anti trolls
@bestwebmaster follows 5 accounts (4 of which are resteem services) and is followed by 10, none of whom I recognise or have had interactions with
on steemd, the only activity of this account is to downvote, the last of which was 10 hours ago. The account voting power is currently down to less than 17% (oops 😱)
The account has a reputation of 25 and very little SP. Thus there is no real damage done through the downvote, but the situation is interesting.
@bestwebmaster declares on their banner "Flagging the abusers and their fans!! You want to know why you are flagged?" - well yes indeed I do @bestwebmaster and that is why I am writing this post :D.


If I were to speculate, I would think the following scenario possible/probable: A Steemian has become pissed off at a user/number of users and has created or commissioned a bot to downvote a list of these users and their 'fans' (followers).


The terms abuse and trolling can easily be used subjectively and irrespective of fact.
I do not see how abuse could apply to any action of @barge on steemit, assuming this refers bot or self-voting 'abuse'. I have on occasion challenged the viewpoint of a post, but this has been done relatively softly IMO, see for yourself 😌.
Regarding trolling, there are two occasions when I have intervened in a conversation in a manner that might, at a stretch, be considered the activity of a troll. The first one was decidedly trollish, but unlikely to have resulted in such a response as described here. The second instance however, concerns the Truth Troll and a conversation that I butted-in on after reading this post of his. It may be possible that this is a backlash from there. As stated, this paragraph is my best-guess speculation as it describes the only possible connection between my activity on Steemit, and this downvote that I can think of. It would be telling indeed if the Truth Troll had also been downvoted by @bestwebmaster, but TT has not had any activity for a couple of weeks, longer than this account has been around.
I am unable to query the blockchain in a manner that might reveal more about this, but I am rather intrigued and would be delighted if someone can be bothered to delve a little further. It may be random bot activity and nothing to do with my wild and dramatic speculations of course! @abh12345, as the one skilled and approachable person I know, would you consider this at your convenience?
Finally, a word of gratitude and positivity in the direction of @bestwebmaster (or his/her human master :), for we have made a connection through this uncertain and crazy tangent of words and possible hurt feelings (not mine, I don't take the downvote to heart). Thank you BotAntiTrolls for enabling me to publish a kind of post on the blockchain that I have never before attempted. And of course, thank you for taking my downvote virginity, I hope it was as good for you as it has been for me!
🚣
Edit: I just came across a post by @pirateofthedtube which discusses the 'Steemit Defense League' in which this appears: "As many of you know, there is a guy who basically decided to rip Steemit apart by creating 70+ accounts and downvoting tons of, at times random, people." Interesting, there seems to be a discussion of this going already and the post links to other articles which I am about to read...
Edit 2: Ok, I see a post by @themarkymark from a month ago which details the end of the Steemit Defense League. Also another very recent post by @guiltyparties which talks about the Flag Ring, in which the SDL reappear.
Hmmm maybe they're back again!
FINAL Edit: Yes it seems to be the case that I was Struck By A Smooth Criminal (to continue the vague 80s music theme :) of the infamous Steemit Defense League. @bestwebmaster seems to fit the pattern and the discussion on the Flag Ring appears to confirm this. I will know if @guiltyparties adds this account to the 'SDL' list.
[Update]:
Therefore @abh12345, dunno if there's a need to delve any further, but thank you anyway 🔆 . As for my wild and dramatic speculations, at least I didn't point any direct fingers, and I guess the linked comments and discussions do hold some entertainment value for the curious reader 😂 .