Three Bad Movies: A YourTop3 Entry Post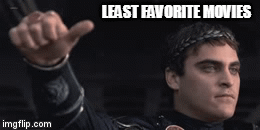 ---
Before I get to my contest entry post let me tell you a little about the YourTop3 contest.
What is YourTop3?
@yourtop3 is a monthly contest that has gained in popularity. Each month a new topic is put forward and participants are asked to pick their top 3 of said topic. For example this months (March 2020) participants of #yourtop3 contest are asked to pick three of their least favorite movies.
---
How To Enter The Top 3 Contest


1 - Create a blog post with your top 3 nominations along with your reasoning behind them. Entry posts must have:
(A) Minimum of 250 words total and
(B) The #yourtop3 tag MUST be one of the first five tags
2 - Put a link to your blog post in the official YourTop3 Contest Post.
3 - Set your post payout to 50/50. You keep the SP and then transfer the STEEM and/or SBD (whichever is paid out at the time) to @yourtop3 with a link to your blog post entry in the transfer memo. This is the minimum entry fee, but you can add as much as you like to it! The more you add, the more you can win. There is no maximum entry fee.
For more information about the #yourtop3 challenge such as how prizes are divided click anywhere here on this highlighted area.
---
Three Of My Least Favorite Movies
***Disclaimer: I haven't watched 2 out of three of these movies. I haven't watched a movie that I couldnt' at least get some enjoyment out of so I went with some I knew were bad but didn't watch.
Tommy Wiseau's 'THE ROOM'
This movie is so bad its good. I'm not sure I can give any description to describe the bad acting in this movie so instead I will just share a youtube clip that hopefully captures the foolishness of this movie. Admittedly I havent' watched the full movie but some of what I did watch and the many gifs I seen from this movie is hilarious.

---
BATMAN & ROBIN (1997)
This 1997 version of Batman & Robin is widely considered the worst batman movie ever created. I don't remember much about it other then Arnold Schwarzenegger played MR.Freeze in it. The movie currently has a 11% rating on rotten tomatoes. There's a long list of reasons given by a wide audience on why this movie sucks which include but not limited to bad casting, bad acting and a bad script.
---
"Showgirls" (1995)
I haven't watched Showgirls myself but I have heard about how horrible the movie is. I have seen it referanced many times online (not in a good light). It takes allot for a movie to be so bad that someone who didn't even watch it can claim its a bad movie.
At the time of its release the main actor Elizabeth Berkley was a very well known actress, mainly known for her roll as Jessie Spano in the television series Saved by the Bell. Its likely the movie banked on Elizabeth Berkley popularity but this was one time Jessie Spano couldn't get Saved By The Bell.