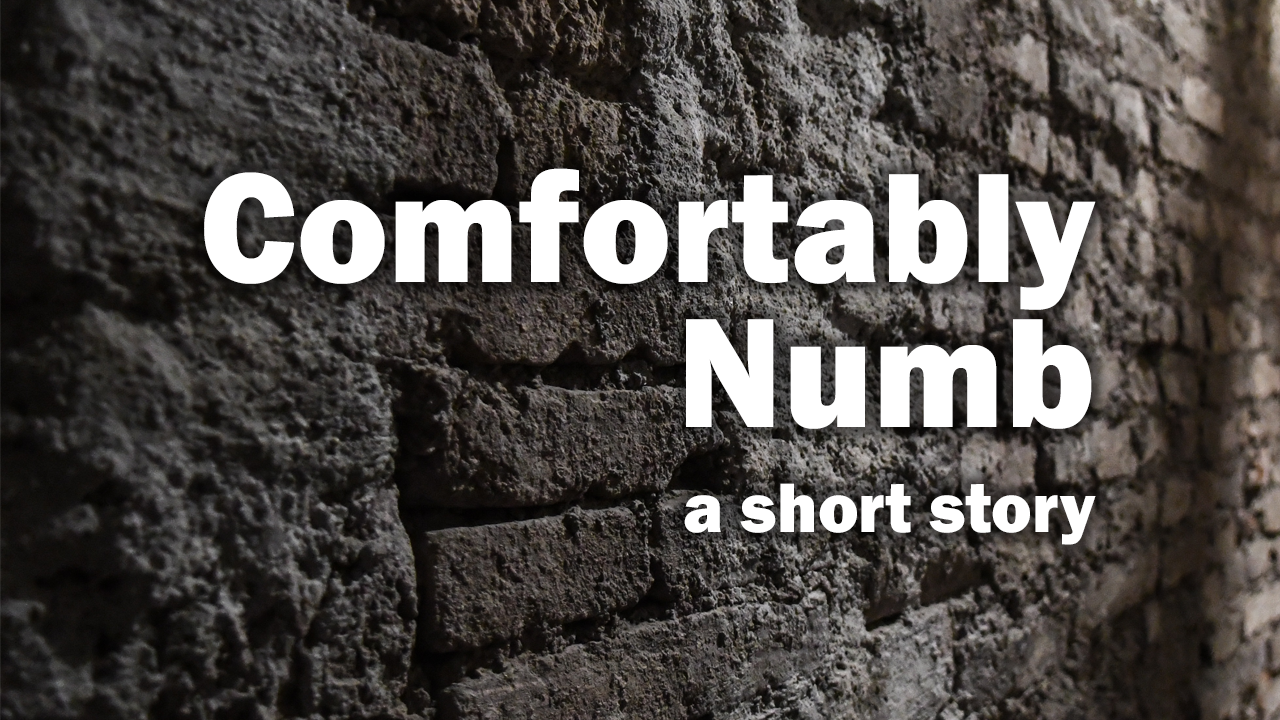 ---
Comfortably Numb
---
Noah shot himself. Again.
The words made him smile through the fresh numbness, even though he probably looked like a fool with that big dopey grin on his face. Not that it mattered, of course. Not anymore. He had bigger fish to fry. Everyone here did. Some of them already were fried, or frying, or roasting. In hell, maybe. Probably.
Noah might have laughed then if his mouth wasn't so dry. It was like the orange clay of Oklahoma, dusty and thick. It got on your clothes and your feet and your face, and if you were sweaty you looked like a pumpkin, or near enough as to make no difference.
He wished he was back home now with his little sister, Mona. She was so annoying, and so smart, which made her so annoying. He closed his eyes, thinking of her, the smile still on his face.
Well, maybe his eyes were closed, or he was blind, or it was just really dark, but in the end that didn't matter anymore either. He couldn't remember.
He thought of Mona playing hopscotch, her sky blue dress flashing about her like little birds, as she corrected him on some fact or another, or to tell him how things really were, or just talking to hear herself talk. He always listened.
Noah coughed. He could smell smoke now, maybe just dying embers or maybe some new hell preparing to burst into life. In the distance, he heard machine gun fire, and the low drone of plane engines, down and up and down again. Something collapsed nearby, then settled into an uneasy peace with whatever it had fallen upon.
How much time had passed? Since he shot himself last? Had he slept? No way to know, but the pain in his trapped legs had returned. He tried to resist, to ration the morphine out, but what would be the point?
He grabbed another morphine syrette from the cart to his right. His shaky hand stuck the pin through the seal and drove the needle in, only missing once—a fact that any of the nurses might be impressed by, if there were any—then stabbed the needle at a low angle into his belly. He couldn't feel the pinprick anymore, and had to use his fingers to make sure the needle was actually in his flesh.
Noah pressed the tube flat, shoving more short-term salvation into his flesh, then tossed the used syrette over his shoulder with the rest of the empties.
He wasn't sure how many he had left in the box on the cart. He hadn't had the courage to count.
From somewhere in the wreckage of the church sanctuary that had served as a field hospital came a faint voice, a man's shout. Words he did not know, but by now sounded very familiar.
Three years in the war made a man familiar with a good many things about the enemy.
He wasn't sure what he had accomplished in those years. There was no measuring stick or chart or medal that could really tally what was won and lost by any man who was asked to kill other men.
In the end, he had gained nothing he could name, but he had most assuredly lost something. Oh, sweet lord above, that much was certain. The bomb that had flattened the cathedral had seen to that.
He was afraid to move his hands below his beltline, as if the act of discovery itself would make real a man's worst fear. His body already knew, however, and was trying to keep the secret from him.
Noah coughed out another laugh then tried to silence himself. His mind was foggy, but he was pretty sure it would be best if the other man in the dark didn't find him. He focused on being still.
Not like I'm going to run away.
It was harder to stifle the giggle this time, and the tensing of his body made his legs ache.
The scent of smoke became rich and acrid. Might he simply burn to death where he lie? That would be a dramatic way to go, and he pursed his lips, considering, then decided. Once he could feel his flesh burning, he just might use up the rest of his morphine and die numbly. He kept that option in his back pocket.
I don't think I can even wear pants anymore. No pockets for me. Overalls, maybe? For the front chest pockets. That would be cool. Mona would probably put flowers in them. Less cool, but still pretty cool.
More debris fell amidst a nearby flaring of fire, the whooshing sound unmistakeable. His body was numb, but his fingers still tingled.
He explored down past his belt with the touch of a nervous lover, but everything there was unfamiliar and shapeless. Oh, God. He whimpered. His fingers reached where his strong farmboy legs were, where his legs should've been, brushing over the torn flesh, the exposed pointy shards of bone, the soggy mess of muscles, and the huge, rough timber of the cathedral that had crushed him. It was holding his guts and blood in. It had killed him, but was keeping him from dying.
The morphine ebbed as if the knowledge of his injuries eroded the foundation of its power.
Once more? For old time's sake? Sure, ma'am, don't mind if I do.
He reached for another syrette, just as the voice spoke from somewhere in front of him, just above him, guttural syllables dancing on the edge of his understanding.
The box of syrettes he had been drawing from tipped over, empty.
The last one was in his hands.
'Tis fine. Only needed the one. If the guy's aim is off, at least my death will be painless. Sorry, Mona. Couldn't make it back.
A scuffling sound crested the mountain of rubble above him, and harsh phrases in German cascaded down to him like stones before an avalanche. Noah tried to pick out the words through the soft cotton blanket draped over his mind, but it was like sifting sand from sugar.
There was a shift in the wreckage, then an aborted curse, and a meaty weight tumbled down to his left amidst a shower of plaster and wood and roof tiles. Rubble pattered against his face and dust settled on his dry lips.
"Hello?" Noah croaked, suddenly wishing for nothing more than for the other man to respond.
"Verlor meine hände ... wie kann ich eine waffe benutzen." A cough, then a suppressed cry of pain and tears.
Lost...his hands? Can't shoot a gun? Something like that. Poor bastard.
"No gun here either. I think our shootin' days are over, Tex."
"Es tut verdammt weh..." The other man's voice was a sob now.
"Yeah, the pain sucks, I hear you there."
Noah swung out his left hand across the rubble and flailed for a moment, then caught a sweat-soaked collar and tried to pull the man to him. He felt something in his guts tear, and he winced more at the sound of it than the pain. Morphine, don't fail me now.
He pulled harder, then got his hands under the man's armpit and hauled him another foot closer. He ran his hand along the man's arm to his forearm, stopping at the mess of wet flesh.
"Mein gott!" The man screamed.
"You weren't kidding, buddy. Gonna be a bitch to take a piss." But you're better off than me. He reached out and pulled on the man's coat, popping a few buttons with the effort, but dragged the smaller man to lie by his side. Noah's lower half felt like it was coming loose from his upper half, and a queer queasiness flooded him.
Swallowing hard, he patted the man's shoulder, and felt the other man's clumsy elbow close around his, a pale imitation of a handshake that was the best either could do.
"Guten abend," the man said between deep breaths.
"Good evening to you. Hell of a pickle here." Pickles. Mona. His sweet, sassy little sister Mona. She liked pickles. His mind was slipping away from him, blurry and numb, but he clutched at it before it escaped entirely. Noah was breathing heavily now. "Tell you...what I'm gonna do. Deal of the day."
Noah unwound the long bandages from around his ruined face and eyes—the reason he had been in the makeshift hospital in the first place—and felt for the stubs of the man's arms. He looped the strips of bandages around one, knotted it, then stretched painfully to the other and used the remaining cloth to do the same.
Noah prepped the final syrette of morphine, lifted the man's shirt, and stuck it into his belly. He held it there until his own numbness was finally complete and his hand fell away.

This is a contest entry for @jonknight's First Fiction Contest - Armistice.
Image Credit for title image. Edited by @negativer
Story title borrowed from Pink Floyd's song of the same name