Books You Should Read Because You Should Read Books - Part 3 (I-R)
dear Steemses,
good afternoon :-) and welcome to part 3 of "Books You Should Read Because You Should Read Books". today it will be the turns of authors I through R, and those guys and gals really knew what they were doing. anyway, if you're here, you're here for the list, therefore, without further fluffing...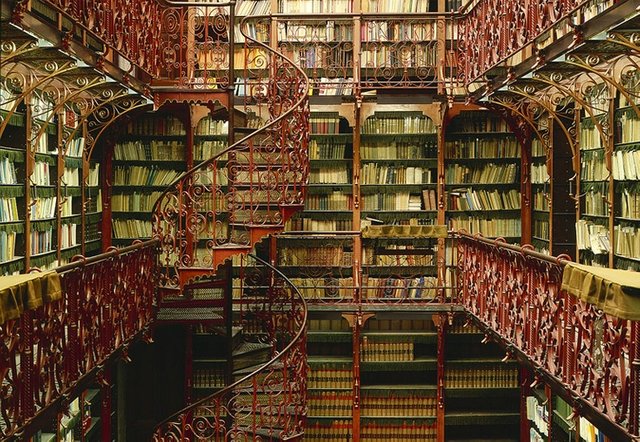 the library - more fun than a kindle
I
A Prayer for Owen Meaney by John Irving
J
Ulysses by James Joyce
Storm Of Steel by Ernst Jünger
K
The Metamorphosis & The Trial by Franz Kafka
L
Trillium by Jeff Lemire
Mad Dog: The Rise and Fall of Johnny Adair and C Company by David Lister & Hugh Jordan
M
The Prince by Nicolo Machiavelli
The Executioner's Song by Norman Mailer
Life of Pi by Yann Martel
Atonement by Ian McEwan
Moby Dick by Herman Melville
Watchmen by Alan Moore & Dave Gibbons
The Torah (The Law) by Various (credited to Moses)
1Q84 by Haruki Murakami
N
The Time Traveller's Wife by Audrey Niffenegger
O
1984 by George Orwell
Akira by Otomo Katsuhiro
P
Fight Club by Chuck Palahniuk
The Republic by Plato
Parallel Lives by Plutarch
Moralia by Plutarch
Nevi'im (Prophets) by Various (Credited: Prophet each is named after)
The Godfather by Mario Puzo
R
All Quiet on The Western Front by Erich Maria Remarque
The Dice Man by "Luke Rhinehart" (actually George Cockcroft)
The Men Who Stare at Goats by John Ronson
American Pastoral by Philip Roth
see what i mean? part 4 - the last one - coming very soon.
missed the first 2 part? that's ok, you can find them here and here!
have fun,