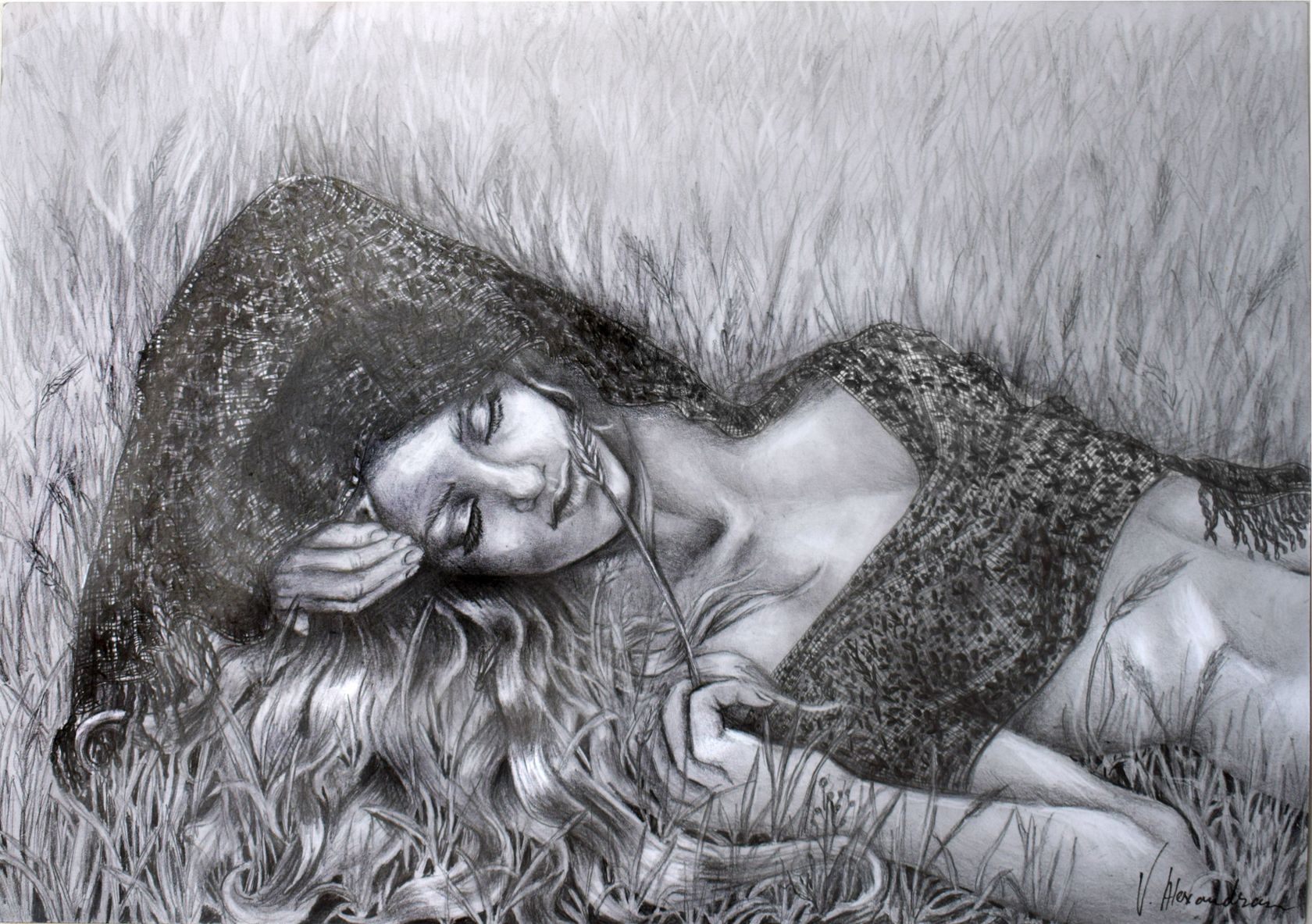 The urge to itch was too much. Ania, however, was a professional. She was lying down in a designer dress made from an extremely unpleasant material, leftover rugs, if she were to guess. To top it off she was smelling wheat. She hadn't had carbs in over a month. Not counting that impulsive fortune cookie, she'd gorged on last month. It had warned of hard times to come, and it didn't get harder than laying in a wheat field, on the verge of tears.
There were flashy lights on her face but the light had left her eyes. Her detached eyes looking at the world from the outside. There were people everywhere, but she wasn't there. The faraway dreamy look was characteristic of the great Ania. Her high cheekbones, and lustrous blonde hair, the svelte figure were a legend in the modelling world. She had dated tycoons, race car drivers, princes of obscure nations.There had been songs dedicated to her beauty.
After the usual goodbyes and well dones were said, she went home. The darkness and the loneliness gnawed at her. She fell into a delirious sleep dreaming of hot buns her grandmother used to make .The buns became very angry and started attacking her. A tiny hand pulled her away.
She woke up covered in cold sweat, packed her bag in a frenzy and set towards the airport, running away from it all. She reached the airport and reality struck a mighty blow for truth is an ugly pugilist.
Her mind was blank as she faced a thoroughly irritated woman. "Where do you want to go?".
She managed only one word. "India." That was where Lucy lived.
Lucy, her younger sister. They had been close once, but their interests and paths in life digressed. Lucy was the apple of their parent's eyes. Lucy eclipsed everything in Ania's life. A fifteen-year-old Ania landing her first modelling contract, the day Lucy got into college. Ania landed her first cover of Vogue, Lucy became a doctor. Ania's face was plastered on billboards everywhere, Lucy was getting married. Ania collapsed on the ramp and was taken to the hospital, Lucy was having her baby.
She did love her sister but it also brought on a wave of bitterness. She wished she were a better person. She had given Lucy's tuition fees, had bought that first stethoscope, gave her a wedding dress and named her baby.
---
Her first impression of India was of a swarm of life drowning humanity. There were people everywhere, as far as the eyes could see. Hypocrisy in every frame. She saw a Mercedes being blocked by a wandering cow, people living on the side of the road beside palatial bungalows. Yet she couldn't fathom who was happier. The paradox tugged at her mind.
She was tired. The liveliness of it all made her feel weary, somehow. She reached Lucy's address, she'd had it with her a while and remembered it like a talisman, her only saving grace.
As she was nearing Lucy's house, she saw the whole family outside playing with the garden pipe. Lucy's daughter spraying water on their parents and the helpless parents giggling away. The clover shaped necklace that had been her mother's, glinting on Lucy's neck.
Ania ran away. There was a stream at the end of the road. It was thin, trickling against the enormous stones, listlessly. So little was the impact of water that the stones weren't wet. Like it didn't matter. Suddenly she fell and was holding on to a branch but the branch kept trying to get away from her.
She didn't know how long she stood there. But suddenly she felt fingers around her arms. She tried to fight it but more hands came to grab her, holding her back.
1 day later
Ania looked at the white padded cell, the clover stamped scars on her hand, the stale piece of bread, and laughed.
---
---
The beautiful artwork was created by @alexandravart. Thanks to the @thewritersblock and @nobyeni for the editing.