I was in a different neighbourhood this morning for a meeting. In between said meeting I got a chance to take a walk in a local park. The lake in the centre of the park was partially frozen, which made me think of my post from yesterday.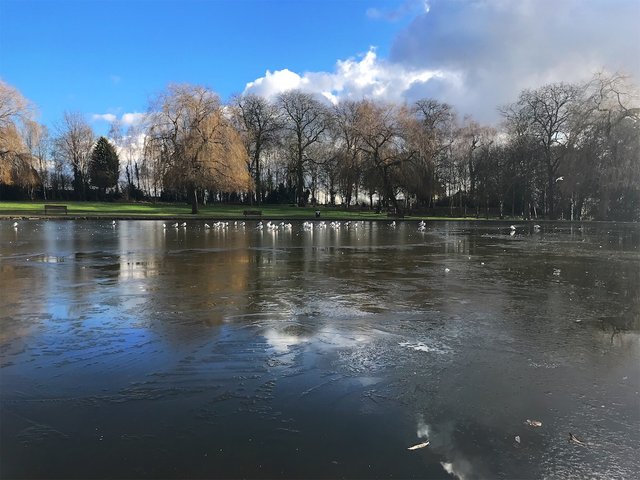 ---
Something about a brisk walk in nature on a freezing cold day that gets the mental juices flowing. I've been thinking about this platform a lot and what I'm doing here. I've been a content creator for a while now. In fact, I don't quite remember why I started creating content; i.e., blogging/vlogging. Many people can point to a certain reason why thy started doing it, but I can't.
Having a why is quite important. Those people that have that clarity often do better than those that don't as they're seldom affected by external factors and naysayers.
At some point though, it became an avenue to make extra income. I remember blogging about topics that were 'popular' in order to get the traffic, which then translated to money. I did make a few pennies, but I soon lost interest because I was blogging outside my passion.
Then came the video making, which quickly became centred around a passionate hobby of mine. I stuck with that one even though it was costing me money. I still do it today, and it does derive income, but it's still a net loss because the videos cost more to make than how much revenue they bring in. Having said that, I would still be doing the hobby regardless, so at least the videos help halve the cost.
So, Steem. What am I doing here?
I discovered this platform from someone I'm subscribed to on YouTube. I'm not going to lie, I was sucked in by the large dollar figures I saw next to posts. It was during the all time high period that I joined Steem, so you can imagine how things were. Of course, I didn't make a single dime for weeks, so I was just here to see other people make thousands of dollars, and the price of Steem slowly slide down to today's levels. Of course, eventually, I started making money here, but that took a lot of networking and fiat investment on my part.
So, going forward, my why here is evolving. I'm looking to leverage Steem as the backbone of my online presence. I mentioned yesterday about looking for ideas in terms of website. I have decided to give @engrave a good go, just to see if it's a viable thing. What I'm after is a presentable public face that is more flexible and adaptable than Steemit or Busy, but powered by Steem. My original thought was to go to a Wordpress based website with a Steempress plugin.
However if Engrave can give me what I need, then I'd be supporting a pretty cool project that actually has the potential to bring users unto the platform in a big way. Imagine if Engrave started to compete with the likes of Squarespace and Wix with the advantage of having an inbuilt monetisation system. That could be something!
That really could be something!
---
Shoutout to Anja (@connecteconomy) for reminding me about @engrave
---
Peace and Love ✌🏿
Adé
All copy and photos are original content by me.
© adetorrent.com