Campaigning again! But I would rather be building.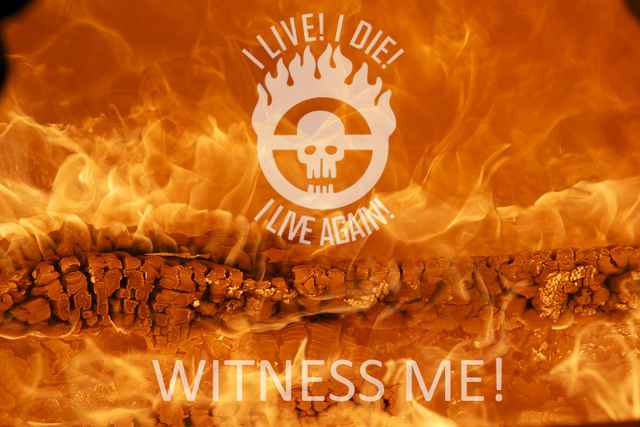 Much like @aggroed; today I noticed that I dropped out of consensus witness position, which is that among the top 20 witnesses. I am now just outside at number 21.
I am known for often saying "First we kneel, then we rise!", today I kneel before you, my community once again and ask for you to help me rise again, this is not something I can do on my own but only with your help.
Being a consensus witness to me is a position of honour, one that I cherish and hold with pride, when I was first elected into the top 20, tears came to my eyes because I felt lifted up and honoured. To me it is strategic position to be able to be an effective ambassador of Steem with a degree of authority, for example in the recent listing of Steem on the Paytomat.com merchant point of sale gateway I was able to use my position as consensus witness and CEO of BuildTeam to be taken seriously in negotiations to get Steem listed on Paytomat.
I have been on Steem since June 2016, one month before the live launch and have dedicated much of my life to Steem and its community. I continually try to think of use cases where Steem can be applied and am the humble builder that co-ordinates teams and gets stuff done. I don't often promote anything as my personal accomplishments; but rather as that of our team. Without a team and without a community, a single person cannot move mountains and effect change.
How am I a servant for Steem?
I bring a business mind and a level head to the table, I always put the needs of the community first in all consensus discussions, I think of Steemians first, no matter how much Steem they hold. I stand and I fight for Steem even at great personal cost. I bring mediation, empathy and diplomacy to the table in all situations.
My story is often untold in my servanthood of Steem, many things happen humbly in the background, in my younger years I loved to be in the spotlight, but today I have changed ... I love to build and to serve and see the Steem ecosystem grow, hence I would rather build in the background rather than campaign in public, which is not efficient, my choice to remain in the background has just today led to me slipping in position.
In recent events surrounding the Steem fork discussions, I found myself in a situation where many disgruntled stakeholders were voicing their discontent with the status quo, rather than risk a loaded gun being triggered in an unplanned and amateur manner, I decided to rally everyone together and get all disillusioned parties organised in one place, talking and coming up with solutions. Communication and teamwork I believe is the best way to direct energy in the correct manner for the greater good.
My natural ability to lead and take charge of situations was the catalyst to get more than 60 people in one place discussing and agreeing that our ecosystem must undergo radical change in order to remain relevant in the crypto space. Steemit Inc did not take much notice of the individual voices until such time as I rallied them all together for nothing more than a discussion and exploration of options. It is not well known that as a result Ned made first contact with me and indicated he was prepared to come to the table and was interested in discussing a foundation proposal and cede some of the Steemit stake. I was elected as one of the first committee members to engage directly with Steemit inc to negotiate better terms for the Steem ecosystem.
The outcome of my fire and passion to unite people, even at my own personal cost, helped lead Steem out of a stagnant situation of decline to a brighter future with some short term wins whereby Steemit Inc. has undergone a leadership change, where it is now communicating regularly in a manner that has previously never been experienced, Hivemind and Rocksdb have been expedited, SMT's and Steemit.com development are back on the roadmap, @blocktrades is well on the way to being contracted to develop a worker proposal system for Steem, and a new Steem Alliance has been formed as a potential community organisation to become the recipient and steward of a large stake from Steemit Inc as a step to decentralise development and stake to ensure Steem remains safe from any regulatory concerns.
Building the Future
As CEO and co-founder of @buildteam, it is my pleasure and my passion to be a part of building on the Steem ecosystem.
BuildTeam is proud to have developed or incubated the following great projects:
GINAbot
Many of her 8000+ registered users know and love GINA, the notification assistant that lets you know what is happening on the Steem blockchain via Discord. Developed by the talented and good-natured, @neander-squirrel, GINA has made the lives of many Steemians that much easier and more informative.
GINA was on the verge of being shutdown due to rising server costs during the bear market, but BuildTeam stood up and took her under our wing as we recognised the value she brings to our community. Since then she has received a visual upgrade in her personal appearance and has several improvements under the hood, including warnings if you receive hyperlinks from bad actors from various blacklists, we will continue developing GINA and hope to give her a landing page and revamped settings frontend along with a host of new features including reminders for PAL live shows so you don't forget to attend the shows that you subscribe to.
DLease and MinnowBooster Delegation Markets
The MinnowBooster Delegation Leasing market was the first ever delegation market conceptualised by myself and built by the amazing team that is BuildTeam, under the guidance of our talented CTO @reggaemuffin. I recognised his amazing talent early on and teamed up with him and co-founder @cryptomancer to bring cutting edge services and concepts to the Steem ecosystem. MinnowBooster has to date serviced over 19 Million in Steem Power worth of leases and soon will hit its 20 Million SP hallmark milestone.
We have been quietly developing an institutional friendly interface for the MinnowBooster leasing market, with a more professional external brand that will be DLease and hosted on the Dlease.io domain once released. DLease will be a specialist Steem Power leasing app that will be advertised to external investors looking for passive returns while remaining in full control of their digital assets. Below are some screenshots of what is to come very shortly.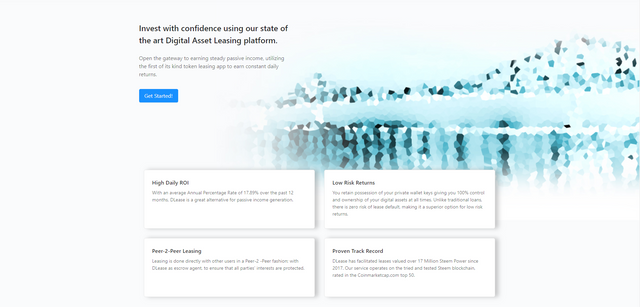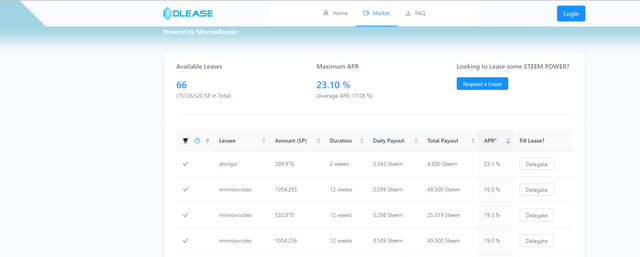 Quicksteem.com
Quicksteem.com is perhaps one of the easiest to use apps to purchase a Steem account anonymously using a variety of crypto payment options. In fact, it is so easy to use that the operator of dapp.com approached us asking if he could list it as he had a very positive experience using it, see the listing here https://www.dapp.com/dapp/quicksteem
TokenBB
Tokenbb is a project conceptualised by veteran Steem stakeholder, @cryptoctopus to be a platform for Steem powered forums, and a strong contender for distributing many forum UI's, infiltrating every niche and sector imaginable. Where there may be a need for incentivised bulletin boards and targetted communities, Tokenbb can rise to the occasion and fill that need and be the best use case of mass adoption of Steem devised to date. BuildTeam is proud to have taken over this project at a stage where it was no longer feasible to be developed and we will ensure it will achieve its purpose. For more info visit the @tokenbb Steem blog and check out our alpha testnet at https://test.tokenbb.io
Steemvoter
Long since having been the mainstay of automation on the Steem platform since 2016, Steemvoter is a trusted app having served thousands of Steem users to easily support their favourite content creators. We have revamped Steemvoter in the new beta facelift https://beta.steemvoter.com and added guild functionality for better community voting automation. New features include triggers on comments, upvotes and resteems for added automation flexibility.
Techinvestor.io Blockchain news aggregator
Techinvestor.io is a news content site that scours various media channels for the latest cryptocurrency news, in addition to this, it also pulls content via RSS feed from certain key Steem blogs such as @steemitblog. We are currently experimenting with an adserver and are nearly ready for an official launch, some users have already stumbled across this news site and have followed and liked the automatic Tweets. If you are interested to advertise your project on Techinvestor via banner ad or via a targetted article pulled from your own Steem blog, please contact me, @thecryptodrive.
BuildTeam Single Sign-On (SSO)
BuildTeam will soon be launching one of the most flexible and intuitive Steem sign-on portals for best-in-class access to our apps and services, allowing users to login with their choice of Steem Keychain, Steemconnect, Facebook, Google or personal email methods. I have had the pleasure to have been part of designing this interface and working alongside the amazing developer talent of @eonwarped and @reggaemuffin to make this possible. Look out for this brand new login interface coming to BuildTeam apps soon!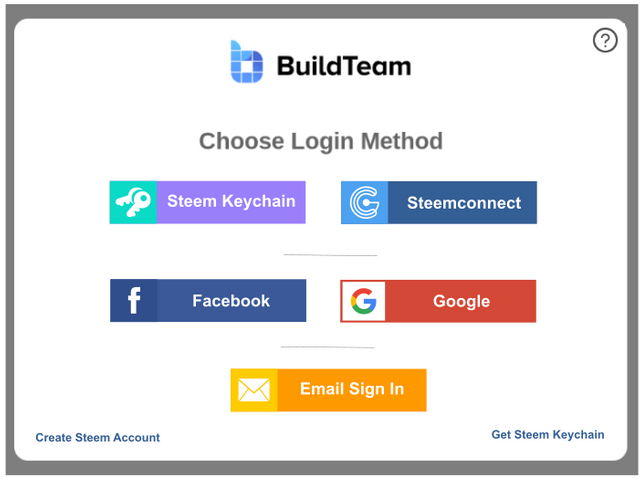 BUILDTEAM token as a SMT concept
We were one of the first to conceptualise and simulate a pre-smt token with the same staking period as Steem Power. The BUILDTEAM token is a tokenised representation of the success of the BuildTeam ecosystem and was designed to reward stakeholders with revenue emissions on their staked tokens. We had added simulated staking features to the ordinary Bitshares tokens to get our tokens to behave as closely as possible to powered up Steem in terms of staking and powerdown. More details about our token can be seen on our recent token post and links therein to our initial token announcement.
My application for the Minnow Support witness vote
In response to the latest Minnow Support post I hereby tender my replies for consideration for the Minnow Support vote as follows:
What are you pledging to do to support the Steemit Community?
I support the Steem ecosystem through developing business and innovative ideas and use cases for Steem. I am always an ambassador for Steem and help secure the consensus of the chain with witness, my reputation and integrity.
What are you pledging to do to support the Minnow Community?
I pledge to continue developing services that empower minnows and allow them to flourish, build communities and gain visibility for their content.
What are you pledging to do to support the Minnow Support Project?
We are already allied with Steem Monsters and are currently building out a Tokenbb forum for the Steem Monsters community. Furthermore I will be engaged on air on shows such as SOS Forums, hosted by @pennsif, in which I have already appeared twice. I am also available as a sounding board to the minnows of MSP who wish to discuss business ideas or need advice.
Final words
In addition to the above, BuildTeam runs its own private RPC servers and exerts no load on the Steemit api's, there are many not so well known services on the minnowbooster.net site such as the Steem Monsters card reselling bot and discounted pack sales. We are always innovating and have made our home on Steem, and I have made my home on Steem and hope you have enjoyed all the varied services we have brought to the ecosystem.
Due to the bear market, our service revenue closely covers our server and microservices costs and my witness revenue has been the only thing still allowing me to remain building on Steem on a full-time basis.
I humbly ask all my past, present and future freinds on Steem to consider voting me for witness if you have not already done so, help lift me up so that I may help lift up Steem to rise again! Thank you and God bless.
Vote for thecryptodrive with this vote link: https://steemit.com/~witnesses
Or use the quick SteemConnect link: https://app.steemconnect.com/sign/account-witness-vote?witness=thecryptodrive&approve=1