First of all, shout out to @reazuliqbal for providing the open source code. My https://yehey.org website will not be live without it. Thank you.
The Claim Discounted Account is the fast and easy to create account for friends and family using your existing resource credit (RC). This is one way of helping the STEEM blockchain to bring new users to the community.
1st step, claim a discounted account using your STEEM account (or HIVE).
Enter your username and ACTIVE key, click the STEEM button.
Next, is to enter the username you want to create.
REMINDER: Make sure you copy the password provided to you.
Enter your creator account (used from the 1st step).
Delegation (15 optional, it's up to you)
Enter your ACTIVE key.
Lastly, click the STEEM Create Account button to finish.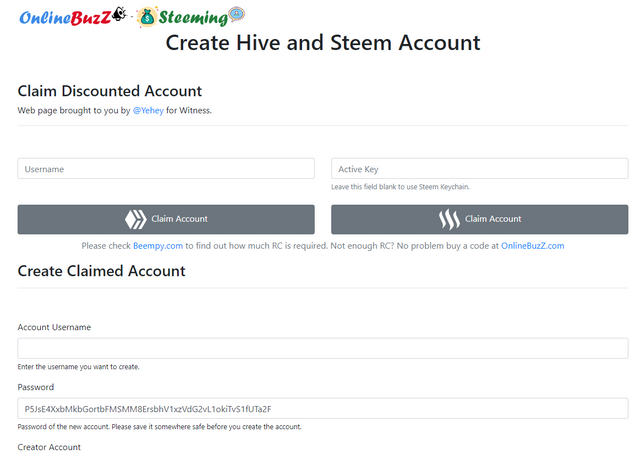 Image source: https://QUE.com
I'm still building another website (https://SteemAccount.com) to buy discounted account. I plan to charge 2 STEEM to buy a code and use it to create STEEM account so I can maintain the website and pay the monthly recurring fees of hosting. I barely produce a block as Witness.
Hopefully will be live this week.
Upvoting authors from different walks of life.
According to SteemWorld.org my Voting CSI is 93.6 ( 0.00 % self, 1136 upvotes, 692 accounts, last 7d ). That's not bad considering I'm only using my own investment to upvote authors with good content.
I applied for Community Curators by @steemitblog, but not good enough to be selected. No worries, I continue to upvote Authors with good contents, so keep steeming.
https://steemit.com/the100daysofsteem/@steemitblog/100-days-of-steem-day-19-community-curators-project-update
I will continue to build our infrastructure so when a good opportunity comes in we are ready to serve the community.
Not to bore you with my plans, here's a brief summary.
Continue to create websites to help the STEEM blockchain growth. I managed https://Steeming.com website, another front-end website to interact with the blockchain. It has its own community token (PESOS) that I plan to use for a game project. When the SMT is ready, I will move the PESOS token.
I created a discord and purchased https://SteemChat.com domain name to easily remember it. This is running for 3 years and counting. I need help, moderators, etc. so I can turn over the responsibility to anyone willing so I can concentrate on development projects.
With limited SP, I can only support 5-10 authors every 2 hours. They are selected by member moderators.
To help new members, tribes of STEEM regions/countries representatives to upvote their curation trails. Due to my SP limitations, this project HALTED indefinitely 'till I receive some SP delegation.
Maintain https://Yehey.org website to make it easier to create STEEM account to help grow the community.
Develop https://SteemAccount.com to create STEEM account and accept crypto currency for payment.
And I am a Witness 3 yrs and counting.
Vote @YEHEY as one of your Witness.
Go to
https://steemit.com/~witnesses
URL address then scroll down, type "yehey" and Vote.

Thank you for reading.
@Yehey