My earnings are $0 after 28 days of being a Steem Witness.
Only 96 folks got a block in this time. The list only grew by two further people in the last 2 weeks ago, suggesting anyone say below 150 in the rankings will never ever get a block.
Of the hundreds of Steem Witnesses paying $50-$200 a month to support the network only 96 have got any reward with 90% of those who earned anything receiving very little or nearly nothing.
My conclusion is POS (Proof of stake) is a horrible system open to an ocean of abuse. Proof of stake is the dark side of the cryptocurrency coin dynamics. Beware!
I could write screeds on it but I'll just say POS creates Oligarchs and peasantry. You don't have to stretch your metaphors very far to see that.
If you want to live under that yoke, enjoy, but don't expect it to be fair or to prosper. Its a continuation of the old system of money goes to money.
The below is a chart of the STEEM Witness Oligopoly.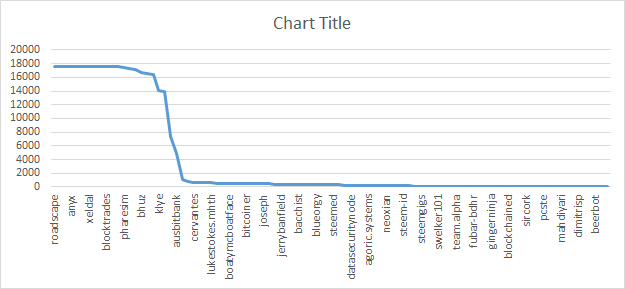 This is how the top witnesses get on:
There are many 'WITNESSES' below with no reward, 'supporting' the 'system.'

If Steem wasn't marketed as a 'get paid for your efforts' thing, I wouldn't mention it.
People shouldn't be lured into wasting their time in an activity with no possible chance of financial success. Now I'm posting this because new users need to know before they go punting out hundreds of dollars out only to discover there is no chance of success.
A Steem witness is not like a Masternode. My Masternodes cost way less and pay-out every day. There is no practical way to get a return from a 'Steem Witness.'
Full-time STEEM booster, the delightful @jerrybanfield has still not made it in to the oligarchy even though he puts his 'mighty all' into the Steem system and prostrates himself mercilessly to get votes out of the community to climb the slippery pole.
So if you are being lured into trying to be a "STEEM WITNESS," be prepared to blow $1000 of your hard-earned for nothing.
Meanwhile vote for @jerrybanfield, because as far as I know he is not a STEEM insider and really does deserve his slot as an Oligarch.
I'll keep an eye of this 'game' for now. I'm pretty amazed that less than 100 people have made anything from this system after over about a month. That is pretty weak and people need to know.