Latest Patch For https://steemgigs.org & "steemgigs" Witness Update.
For weeks now, we have been trying to figure out why posting on SteemGigs, have many times failed to publish to the steem blockchain but there is some good new..... "we have finally found out the root cause and we are about to implement a solution".
This took weeks to find out even though, the solution ended up being very simple. 
We rely on feedback from users and analytics based on their use to our UI, to ascertain where enhancement is needed as well as to determine the root cause of errors (issues) and possible fixes. This time though, anytime we got feedback related to "inability to post successfully", we would to try these editors from our end and coincidentally, our attempts to post to steem happen successfully
This led us into looking for deeper solutions than was required. 
But the community came to our aid and after series of chats, discussion and tests by our members of our growing SteemGigs development team, we were able to ascertain the cause of "failed posts" and proffer solution.
Note that, we have increased our developer-base to include more teams and this will help us drastically in completing the UI of SteemGigs and attain resolutions faster and more efficiently. 
If you are a developer/coder and you have some interest in the SteemGigs organization, consider joining us on our Slack server.
The cause of failed posts
Before now, images where directly uploaded from the PC (files) etc without any form of compression. Thus, many of posts that have failed to publish on steem, from https://steemgigs.org have contained large images, constituting eventual post-sizes, bigger than the block-size allowed by the steem blockchain.
e.g if a blocksize on steem is 256 KB, a SteemGigs post (especially those with large images) with an eventual size of 300 KB, would fail to publish to steem.
Ultimately, since text or characters don't constitute much in terms of size, whenever we had tried to test for  "errors" with a post containing only text/characters, it was very likely to publish successfully. 
Coincidentally too, we would try posts with small-sized images and these would pull through too. What this simply means is: "we needed to compress images" or apply the same method "steemit" uses with their editor, where images are hosted externally, returning only "a simple image URL" which is embedded into posts. 
This enhancement is now being worked on and will be available on https://steemgigs.org really soon and this is such huge relief for us and great news for SteemGigs users.
We want SteemGigs to be reliable for users and convenient to use!
While the patch hasn't been fully implemented yet, we created a "temporary solution" that currently allows you to post successfully to steem, by simply paste the URL for your "image location" directly into the body of your SteemGigs post 
e.g if you use IMGUR as host for your image, simple visit https://imgur.com, upload your image on there straight from your PC files and when the image has uploaded, right click on the image and copy the "image location URL", usually ending in ".jpg or .png" and paste it into the body of your post on https://steemgigs.org and you will now notice that the image loads up during "post preview" and your post will now publish successfully.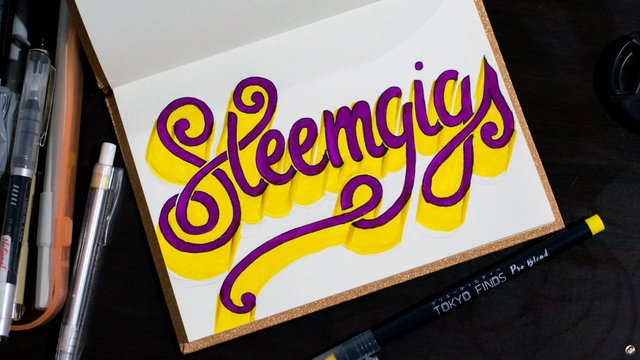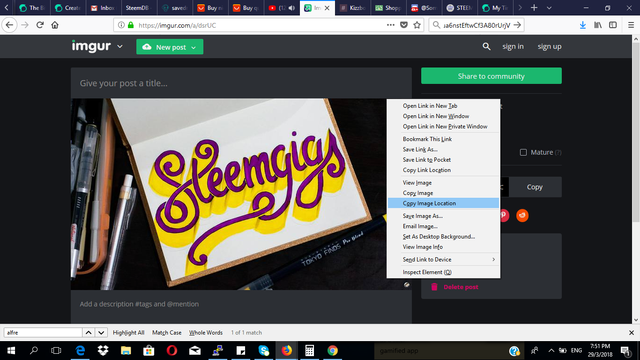 Look at the screenshot below, assuming you want to try out our "untalented editor" in creating your next enviable steemit post: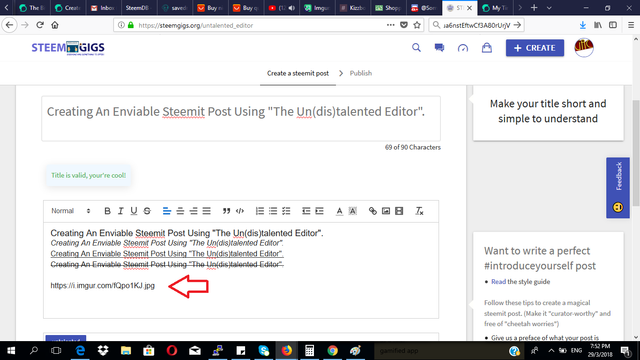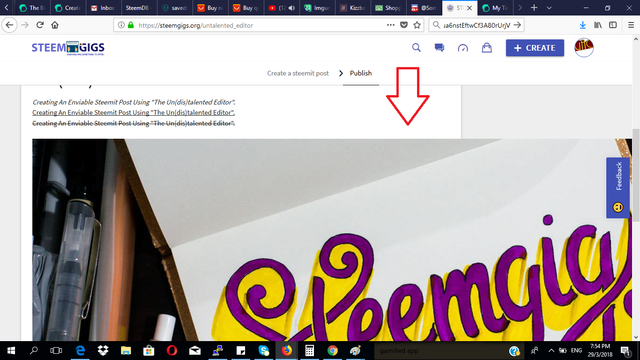 For now, anytime a post refuses to publish, simply remove the image if it was directly uploaded and insert an image location URL instead and the post will publish successfully.
Don't worry, this is temporary because in a few days, when we eventually implement an auto-image compression algorithm, you will be able to directly upload images from your PC files, without needing to visit IMGUR etc, which will be more convenient.
Another good news is:
We have now implemented GIF capability on https://steemgigs.org. 
Yes, it is now possible to insert GIF(s) into the body your posts, using any of the editors on https://steemgigs.org, having these GIF(s) appear in your eventual posts both on SteemGigs and Steemit etc.
Even on steemit, for GIF(s) to appear successfully in your posts, you will have paste the URL of your GIF directly into the body of your post as text and the same applies with any of the SteemGigs editors.
See screenshot: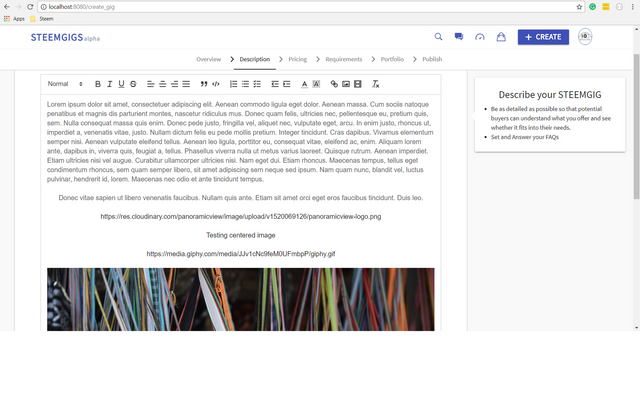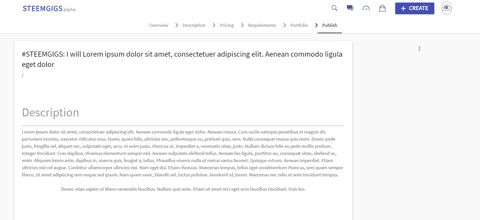 Witness Update:
Note: anytime we talk of the "steemgigs" witness having an update etc, it has nothing to do with https://steemgigs.org
The steemgigs witness is simply one of the many servers ran, to maintain the steem blockchain. 
The "steemgigs" witness have missed several blocks in the past few hours and this is an issue from @privex, the hosting provider that we use. 
@privex is handled by a reputable steemian and is very popular here on steemit and among steemit witnesses.
Unlike them, we weren't informed this time of any impending downtime etc. Basically, we aren't able to access the witness server currently inorder to disable it temporarily, incase it needs some fixes but we have sent several emails to @privex with dire hopes that they tend to us ASAP.
It may just require some tweaks or a reboot from their end for the witness to be back up and running as they don't offer a UI portal that we can manage, this tweak is likely going to happen from their end. 
If you support the "steemgigs" witness, please consider sticking with us as we will work hard to reduce the frequency of occasions like this. 
We recently migrated to a 64GB RAM VPS to sustain the steem growth requirement and as soon as necessary, we will not hesitate to increase RAM or server capability, to sustain more growth. However, this current downtime is one where we have to wait on @privex to fix.
Thank you alot for all the support and patience at times, when the going is challenging.
 If you are coder or developer, kindly look the code for SteemGigs on Github. It is open-source, both front-end and back-end. We writing updating the Github constantly with a list of tickets and we need many hands as we want SteemGigs to be built by "everyone".
 This is a screenshot of how the repo looks: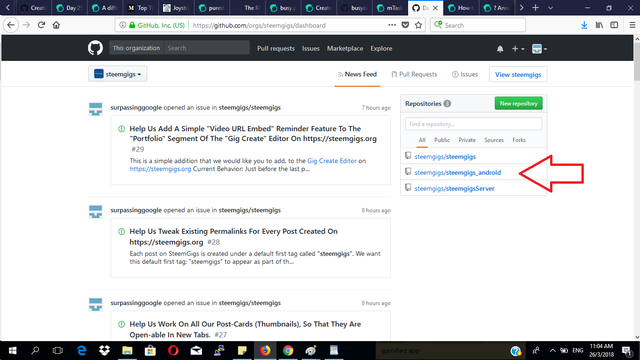 We are seeking coders/developers to help, by means of utopian or  direct contributions. I would like to invite all coders/developers, to  show up on our SteemGigs development channel.
Kindly visit and use our steem-based website today
https://steemgigs.org
Note that on SteemGigs, "everyone has something to offer". At the very least, you can update your profile on our website to open yourself up to more potential possibilities and improve your general reputation even  within the steemit community.  
To create awesome steemit posts, try our "untalented editor".
Read our detailed FAQ & Answers 
I do need strength
Dedicating My Entire Steem/Steemit Journey To My Mum
If you want to support an extra witness and you support mine "steemgigs", it will be really helpful. 
To vote my witness, simply visit https://steemit.com/~witnesses and type in "steemgigs" into the first search box for witnesses or simply click Here to do it on one click! 
If you want me to make witness voting decisions on your behalf, simply visit https://steemit.com/~witnesses and type in "surpassinggoogle" in the second box for proxy.       
Let's Go!!!
Offer a service under hashtag "steemgigs". Attempt out-of-the-boxness on hashtag (untalented). 
Join the Steemgigs Community on discord: https://discord.gg/CGuPyyT  
"Everyone has something to offer!" Why not?