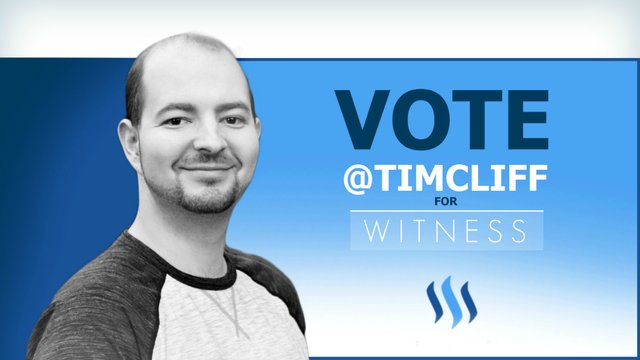 Hello Everyone!
Here is what I've been up to since my last witness post:
Forward Looking Plans:
Submit the pull request with the updates to the FAQ page.
Continue my involvement with existing projects.
Work on an updated revision of the Steem blockchain license for Steemit, Inc.
I am planning to attend the Beyond Bitcoin show again sometime in May as a guest speaker. I will be talking about the Steem/Steemit platform, and my work as a backup witness. I will let everyone know once I have set the date.
Some Suggestions:
If you are planning to do any SBD to STEEM conversions, please read this post before starting your conversions.
If you are interested in learning how to use the new "Delegated Steem Power" feature, check out this post from @liberosist. Note - the feature is currently only supported via programmatic interfaces, such as cli_wallet.
If you haven't seen it already, check out the Hardfork 19 Proposal from @steemitblog!
If you have a few moments to spare, remember to check out the Poloniex trollbox (especially during price spikes) to help get the word out about STEEM!
Summary of Current Witness Parameters:
SBD Interest Rate: Due to the SBD peg frequently trading above $1.00, I updated my SBD interest rate to zero on April 1. My current policy is to only update my SBD interest rate once a month (on the first of the month) as summarized in this post, but that is subject to change. I highly encourage other witnesses to set their APR to 0% until the SBD peg returns to normal. If it does return to normal with a 0% interest rate, we can re-evaluate whether SBD interest is needed to maintain the peg.
Price Discount: Due to the high demand for SBD, as well as the artificially reduced supply caused by the HF 18 rewards pool change, the peg has been consistently trading above $1.00. For this reason, I have introduced a temporary 100% premium to my bias. This will artificially increase the price of STEEM, causing more SBD rewards to be paid out during the 'filling reward pool' phase. The downside to this is that it discourages SBD->STEEM conversions (which help reduce the debt), and it can actually harm users who unknowingly convert during this time. I highly encourage everyone to read/share the post listed above on the dangers of SBD conversions under the current market conditions.
Registration Fee: With the new code in HF 18, it costs 30x the registration fee to create an account (info from @abit). Based on this, my registration fee is set to 0.8 STEEM. This means it is approximately $5.66 to register a new account at the current market price. I will likely be lowering this to .5 STEEM if the recent price increase holds.
I welcome feedback on any of my projects or things that I can be doing better as a witness. If you think I am doing a great job, I would really appreciate your witness vote!
https://steemit.com/~witnesses
Thanks everyone for reading my witness report!