Introducing the all-new, all-star @NobleWitness Team! Oh and also, Happy One Year on Steem to me, today!
Introducing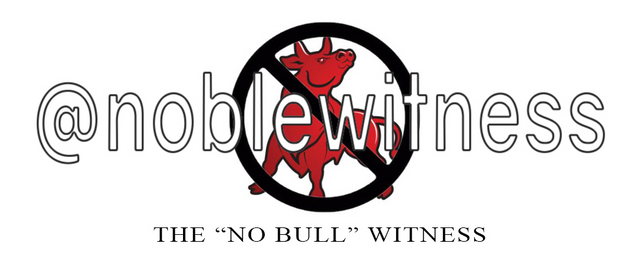 Hey Again, Steemitizens,
I have some big news to share with you today!

Today is my one year anniversary on steem.
Today I stand at 7900 posts, and over 3000 followers. I manage two major steem exclusive organizations, one of which is a worldwide humanitarian aid foundation, the other is a 24/7 live streaming network, both are exclusive to the Steem platform. I have created or help to operate several growing user communities, and I've been a witness for just about eleven months of the year I've been here. I do a ton of stuff around here in one-on-one conversations as well and lately it's been all consuming of my time, energy and attention.
I love doing all of it, but in order to keep from killing myself with sleepless, unfed hours spent at the keyboard here, it is time to expand and share the responsibilities with other sturdy, steadfast leaders on the platform.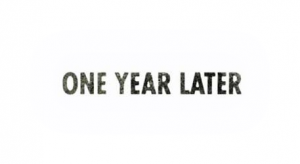 To that end, a couple of months ago, I teamed up with well known community leader, writer's champion, curator, real-world non-profit animal rescue operator, and all around awesome person, @RhondaK and we became a partner-witness to strengthen our positions together in lifting voices on the platform and providing new opportunities, tools and services for aspiring steemians via our work with The Writer's Block, SteemStar Network and our other contributions which most of you are already aware of.
That's a big deal right?
Well, not quite as big a deal, as what I have to tell you about now...
We realized we could still do even more, be even stronger, with the right partners on the team.
So...
Introducing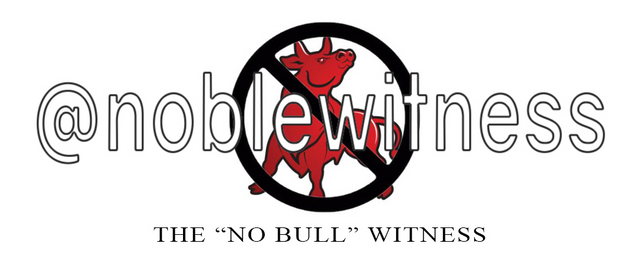 The @SirCork Witness team is growing again, and we're getting a brand new name!
Introducing @NobleWitness - The "No Bull" Witness!

That's right! @SirCork witness is adding two people and changing our name!
I am pleased to announce that the team will be expanding from myself and @RhondaK, to now include @Anarcho-Andrei and @Gmuxx!
Yep, you heard me correctly!
One team, four great steemians working together to serve you!
@SirCork, @RhondaK, @Anarcho-Andrei, & @Gmuxx!!!
#TeemWorkMakesTheSteemDreemWork
You already know @RhondaK & I but please allow me to introduce Andy and Muxxy...
@Anarcho-Andrei is currently a steem witness and already deeply involved in multiple initiatives that support veterans, authors and charitable service work on the chain, and he will be disabling his current witness to join our team and become a part of what is now one of the strongest witness teams on the chain.
@Gmuxx is a formidable and logical addition to the team as well, having once been a witness himself last year before a health issue forced him to set aside that idea as a solo responsibility. His partnership in creating @TheWritersBlock with @RhondaK, as well as his former experience as a senior mod in PAL/MSP, and his on-going work as a community leader in the Writer's Block and in several other efforts supporting authors and artists on the chain, make him a logical extension to this team that is all about serving our fellow steemians with opportunities to improve their craft, and improve their visibility around here.
Each of us has made a post like this one about this epic new team up and you can find the other team member's announcements here:
This is great news Cork, really it is! But... why?
All four of us are members of each other's initiatives and corresponding communities already and always seemed to be aligned on most of our values and opinions about the future of the steem ecosystem and the blockchain platform in general.
We believe that the witness landscape is changing. What was once an easy solo gig, is now becoming more and more demanding of time, knowledge, technical skills, and platform awareness and presence. We believe that it is counter-intuitive for us to be operating individual witnesses and stretching ourselves way too thin, when we can align, team up and be a stronger as a witness team serving you and the platform with our very best, together.
This is a full, equal partnership. All decisions, costs, responsibilities and any potential witness producer rewards will be shared equally by all members of this team.
We are very excited to be working together, and we believe this group of people will be a strong, credible and reliable witness for you to place your faith in, as we all march together toward the future on Steem!
Now for the hard part. We need you to do something for us!
Move your votes!
If you vote for the @SirCork witness now, or the @Anarcho-Andrei witness, we need you to move your votes to our new name @NobleWitness, and once we have gotten all our voters moved, we can disable our existing witnesses and operate this new one exclusively. I actually believe Andrei has already disabled his witness, but I didn't want to shock my voters before making this announcement. That said, now is the time, let's relocate your votes to @NobleWitness!
To move your vote, simply visit http://steemit.com/~witnesses and use the "write in" voting option to enter your vote for "@noblewitness" at the bottom of the page. Once you have done that, you can click on the listings for SirCork and Anarcho-Andrei to remove your votes from our old witness and reuse those votes as you see fit.
If you need assistance with how to go about moving your vote to our new witness name, feel free to contact any of the four of us via discord or steem.chat and we will be happy to help.
And boy, do I already feel relieved just by saying "contact one of four of us" instead of only "contact me", because if you know how much time I spend around here, well, you already know how much of a relief that really is on my workload already!
This is all going to be so great, and thank you in advance, for rolling through these changes for the better with us!
See you in the steem!
Yours in service,
@SirCork
Founder @YouAreHOPE Foundation
Founder @SteemStarNetwork 24/7 live stream at the center of the steemiverse
Member, @NobleWitness team in partnership with @RhondaK, @Gmuxx & @Anarcho-Andrei