TL;DR
First week report of the steem blockchain witness "@lux-witness" set up by @sorin.cristescu and @pstaiano.
Being a steem witness requires, especially for witnesses outside the top 50, much more than running a server and waiting to sign a block. We plan to work on 3 horizons:
Short term: bring more quality content creators to steem
Medium term: encourage businesses and organisations to look closer and experiment with the steem code
Long term: get STEEM quoted on one of the Luxembourg-based exchanges, Bitstamp and/or bitFlyer; work toward a viable "pay with STEEM" implementation
We started our witness node two weeks ago. We officially anounced one week ago. We didn't get enough "witness approval" votes for our turn to come. Hence during our first week we got 0 (zero) blocks to mint. None, nada, nichts. Not a chance.
Meanwhile there are Large Amounts of WASTED Mega Vests, allocated to witnesses which are not active anymore, and have not been active for a long, long time. We call upon the active users currently wasting witness approval votes on long-departed past witnesses to give us a chance.

You've Got the Power
In this thoroughly researched article which I've already quoted and which I recommend anyone with an interest in the blockchain technology reads, the "consensus protocol" used by steem ("Delegated Proof of Stake") is said to be "a liquid , representative democracy with token holder suffrage."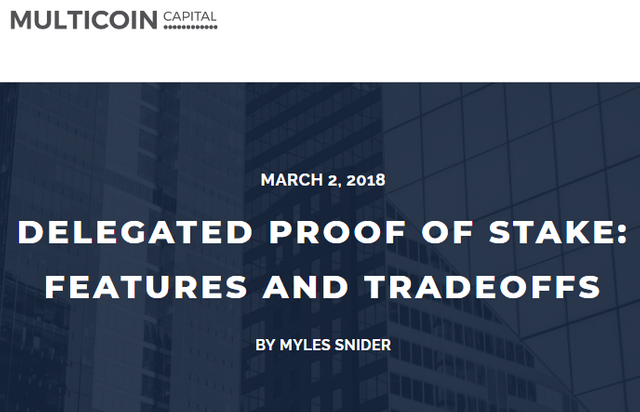 Closer to us, in an excellent article by @gadrian published by @steemromania, a number of other important details are clarified (in Romanian). The witnesses are indeed playing the role of the Bitcoin miners, but they are and should be more than that.
In Bitcoin mining, the miners do not need to care about the users, they perform a purely economic calculation: how much capital outlay to acquire the Antminers plus how much "operating costs" (mostly electricity) versus how much bitcoin value (in USD) to compensate.
Conversely, Bitcoin users do not need to care about the miners more than they care about the driver of the bus that takes them from A to B
In Steem on the other hand, users like YOU have a Lot More Power. The power users have is similar to that of the shareholders of a joint-stock company. Using that power, you send a message and you can influence the direction "steem" takes. And when I say "steem" I mean, together, the STEEM cryptocurrency, the Steemit, Busy, DTube, DLive, Utopian, @fundition, and other applications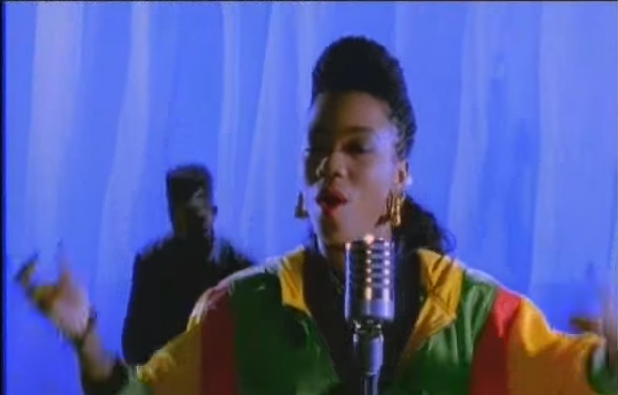 This is NOT about (Up)-Voting!
I used to think that people do not bother to use their power to support witnesses because it was too complicated. One needs to click in the upper right corner of the Steemit page to open a menu, then select out of it "Vote for Witnesses", scroll down to the end of the list for the first 50 ranked and enter manually "lux-witness" in the free text box. Hence we proposed a "one-click" alternative using SteemConnect.
But that didn't change that much.
A lot of people with between 0 and 29 witnesses could not be bothered to click, despite otherwise taking the time to comment on my posts ... I've contacted a number of people during the past week and tried to explain that:
Approving a witness is different from upvoting a post.
Here is for instance a regular "content upvote" our application got from user @icybc: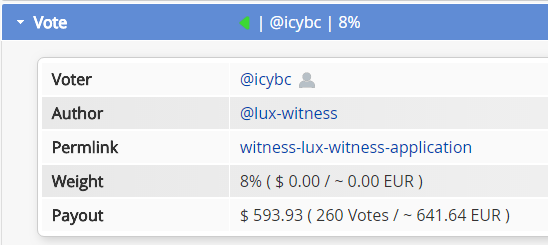 However user @icybc never approved a witness: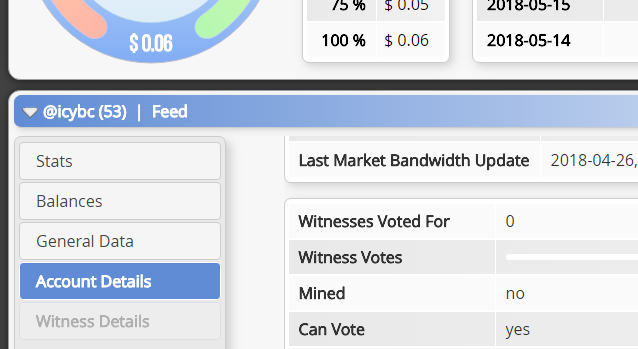 Which (had he done it) would have shown up as a different transaction type: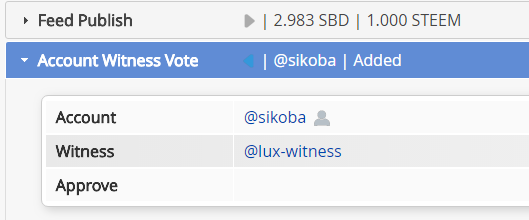 Approving a witness costs nothing ...
But a click. Each one of us has 30 (thirty) "slots" for witnesses. You can approve from 0 to 30 witnesses, there's no difference for you. Your SP (including the SP you have delegated "out", but not that which has been delegated to you) is (virtually) counted toward the total SP of those witnesses which you approved when calculating their turn at signing blocks.
This calculation has no negative cost on the user:
It does not reduce his/her voting power
It does not reduce his/her bandwidth
Keeping an approval on a "Dead Witness" is wasteful and a pity
As you can see in the first image above, @lux-witness sits, in terms of approvals, between the "ukrainian-trail" (134th active witness) and "beerbot" (135th active witness). Between us and ukrainian-trail, there are a bunch of dead witnesses which are still approved by active users.
Take for instance witness "rycharde" which used to run a node ... about 4 months ago. Yet he still counts as an "approved witness" for a number of active users such as @mcfarhat, @ruth-girl, @heart-to-heart and others ...
We believe engaging with other steem users is just the first step. This community has other very important dimensions among which those of governance and of promotion in the outside world. This is a mission who should not be left to Ned alone, a mission for which, in a decentralized system, all those "staked" (among which witnesses come first) can and should contribute.
By approving us, you help advance the cause of Steemit and more generally of the steem ecosystem