CoinGecko is Running for Steem Witness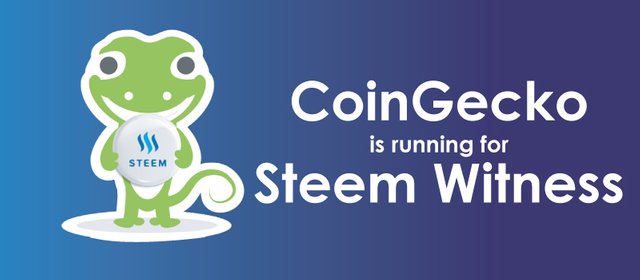 Who Are We
CoinGecko is a cryptocurrency data aggregator that currently tracks nearly 3,900 tokens from more than 275 cryptocurrency exchanges. We monitor various crypto data such as token price, volume, market capitalization, community growth, open-source code development, significant events, and on-chain metrics.
In October 2018, we decided to play a role in the Steem community and started writing frequently at https://steemit.com/@coingecko.
CoinGecko was co-founded by @tmlee and @bobster in April 2014. We have been operating in the crypto space for nearly 5 years from our home country, Malaysia. A few months ago, two active Steemians joined our team and played a major role in influencing our decision to be actively involved in the Steem community. They are @superoo7 who joined as Software Engineer and @awesomianist as Market Research Analyst at CoinGecko.
We have been following Steem since its launch and secured the @coingecko account late in 2017 with an intention to be active in the Steem community. We are glad that have the opportunity be active in the Steem in 2018.
In 2019, we want to understand blockchain governance models better and are considering running several masternodes and DPoS nodes. We started our first experiment by running for Tomochain's masternode when its mainnet launched in mid-December. We are currently the second most-voted Tomochain masternode.
Running as a Steem Witness came out multiple times in our internal discussions as we searched for other nodes to run. We are thus submitting our candidacy to be a Steem Witness. We hope that by running as a Steem Witness, we can further understand the Steem ecosystem and potentially play a more prominent role in shaping Steem for future growth down the road.
What does a Steem Witness do
Steem Witnesses serve as the Stewards of the Steem blockchain, taking turns to verify transactions and sign blocks in an algorithmically-arranged manner. Witness nodes are also responsible to store the Steem blockchain data.
A consortium of the top 20 most-voted Steem Witnesses shoulder an additional responsibility to drive the future direction of Steem.
What is CoinGecko Doing on Steem
A) Using Steem as a Communication Channel
CoinGecko maintains an official self-hosted Wordpress blog athttps://blog.coingecko.com/. This blog is where we publish official statements and press releases. We realize that Steem can be a robust alternative communication channel which we can use to share minor updates and our thoughts to the community. One of the unique content that we publish only on Steem and not anywhere else is our fortnightly updates.
Whilst using Steem, we are learning and researching the blockchain and community to come out with an easy-to-read Steem Report, leveraging CG's audience to bring attention to Steem.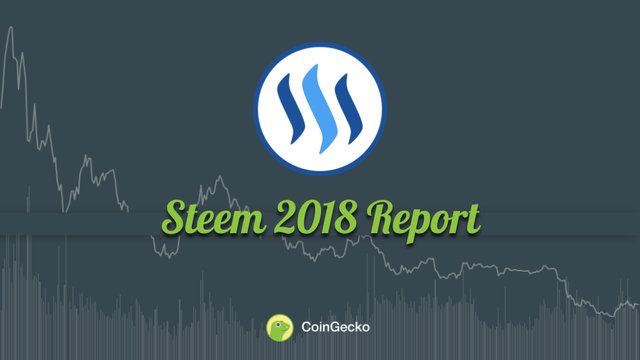 We have prepared this report to showcase the capabilities of Steem as a Content Platform.
The aim of this Report is to show the performance and capabilities of the Steem Blockchain and its communities in a simple-to-understand way. Our goal is to let users outside of the Steem Community understand Steem easily, whilst providing existing Steemians with a useful resource to explain Steem to their audience
On top of the Report, we have also published some of our findings and facts about the Steem blockchain to showcase Steem by the Numbers.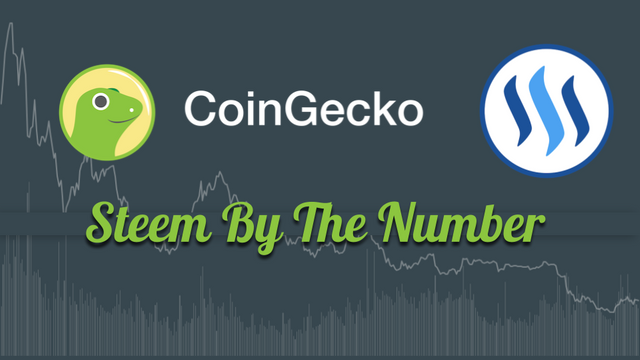 Our Pledge
As part of our witness campaign, we pledge to provide the following to the Steem community. We will continue to take feedback and suggestions on what we can do to best contribute to this platform.
Support for Steem DEX and SMT-Lite Tokens - We are excited that a few teams are working on launching a Steem DEX to support theSMT-Lite ecosystem. These tokens and exchanges will need visibility among crypto data aggregators. As part of our pledge, we will do our best to provide support to these upcoming Steem DEXes and SMT-Lite tokens so that their data appear on CoinGecko when they launch.
* Addition on CoinGecko will still be dependent on our internal listing criteria. We evaluate for exchange and token quality. Availability of a reliable REST API is a prerequisite for DEX listing on CoinGecko.

Contests - We have been organising several contests on Steem since we started posting on Steemit. We will continue to organise and promote our contests on Steem. We are happy with the reception that we have received and we aim to expand this for the benefit of the Steem community.

Price Feed - One of the responsibilities of a Steem Witness is to report the market price of Steem across all exchanges where it is traded. As a cryptocurrency data aggregator, we have aggregated the price of Steem across all major exchanges globally. We will be able to offer our API endpoint as an additional source of reference for Steem price.
Witness Infrastructure Specs
Currently, we are running a single witness node with the following specifications:
| Service Provider | Google Cloud |
| --- | --- |
| Processor | Intel Haswell |
| CPU | 10 |
| RAM | 64 GB |
| SSD | 250 GB |
| Location | USA |
Our main aim in the near term is to explore the witness ecosystem and increase our presence within the Steem Community. At the moment we are not running a full-node or RPC-node. When the time comes for it, we may consider scaling up our infrastructure to better support the Steem community.
Vote for CoinGecko
As a Steemian, everyone has the right to vote for the witnesses responsible for not only maintaining the Steem Blockchain but ultimately leading the direction of the community as a whole.
We hope our 5 years history in the cryptocurrency space and expertise as a team can inspire confidence among fellow Steemians.
You can vote for us via the methods below:
Steemit: Go to https://steemit.com/~witnesses, scroll to the end and type coingecko, click on vote to vote for us.

Steem Connect: https://steemconnect.com/sign/account-witness-vote?witness=coingecko&approve=1