CoinGecko is proud to publish the Steem 2018 Report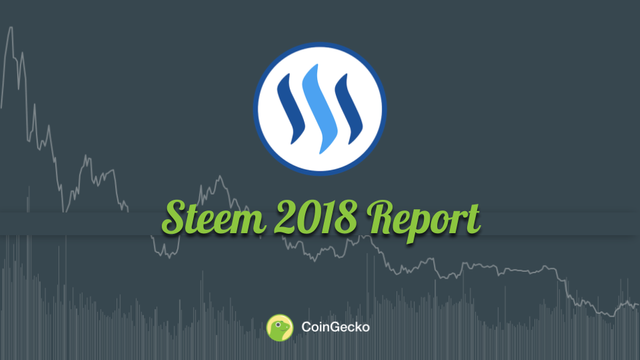 We have published an 11-page report focused on the Steem Blockchain and ecosystem. This report marks the first ever project-specific report researched and published by CoinGecko.com. This report serves as a primer for users outside of the Steem community to quickly understand at least some aspect of the nuances within Steem. We recommend Steemians to use this report with their own commentary as they share with their friends.
We would like to thank @dapp.com and @Steemsql for providing the data that is presented in this report.
We have made the PDF report available for free at http://bit.ly/SteemReportCoinGecko2018
What is Steem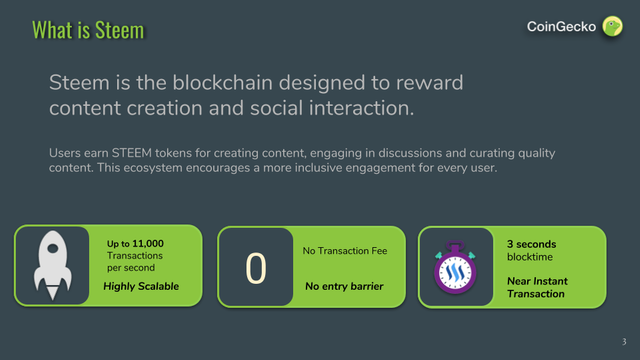 We have read numerous explanation articles written by Steemians on the Steem blockchain. While the articles serve well as in-depth research material, we want to tailor this report to the wider audiences who can understand the content in a single glance.
Steem is a blockchain designed to reward users for creation, curation, and engagement of contents - a backbone for a new paradigm for social media.
As Steem is built from the Chainbase (a successor to Graphene) database, it allows high throughput and fast transactions possible on the blockchain. Steem's Delegated Proof of Stake consensus algorithm also means that blocks can be signed near instantaneously by elected Witness Nodes. Unlike most other blockchains that require mining fees to function, Steem's Resource Credit allocation makes for feeless transactions.
Rewards Mechanism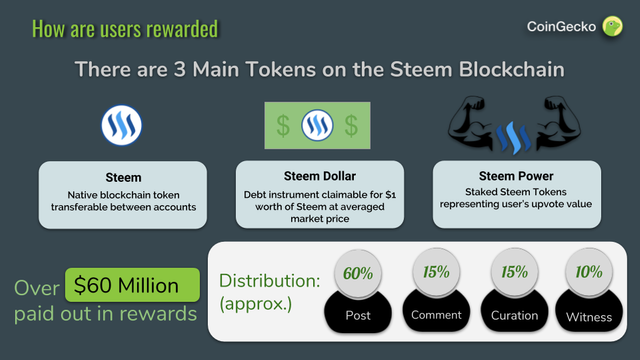 Over the past two years since listing Steem on CoinGecko.com, we have received numerous enquiries and confusion on the token mechanism of Steem. We're proud to finally present this report to quickly summarize the differences between the 3 types of tokens currently in existence on the blockchain.
Account Statistics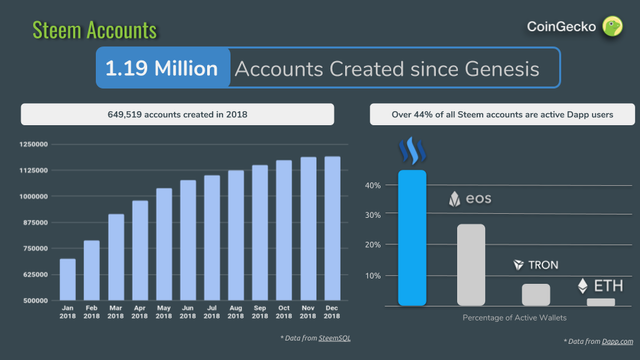 We wanted to highlight the high percentage of active wallets in contrast to other blockchains - even compared to EOS.
This is in spite of the current entry barrier faced by many prospective users wanting to join the platform. We are hopeful that further improvements and streamlining of the signup process will bring in the next wave of user signups and propel Steem's active userbase.
Scalability and Usability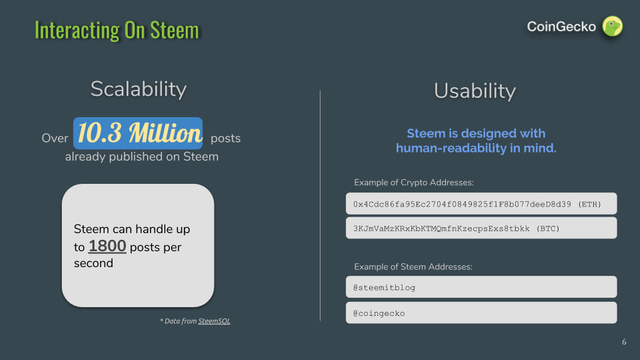 Steem's sheer transaction throughput is impressive for a blockchain, once more highlighting the performance potential of Chainbase. Another value proposition of the Steem Blockchain is the ability for users to create their own human-readable username as their Steem Wallet Address.
Free to Share
This report is available for public sharing and access for all. Feel free to share and quote our report in your tweets, articles, and blog posts. We hope this report serves a valuable resource for users organizing Steem meetups or simply sharing their passion for the platform.
We have also uploaded the report to Slideshare, which you can share easily via mainstream social media outside of the Steem Community.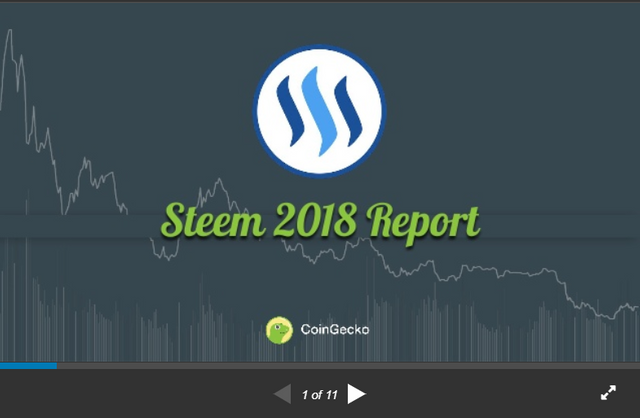 Send us your Feedback!
We appreciate all comments and suggestions for our future reports on the Steem blockchain. As this is the first ever blockchain specific report we have published, we want to know more about what you want to see include or what can be improved.
Tell us in the comments what other statistics or facts you want us to include in our next report. And tell us how you can see yourself using this Report as you spread the awareness of the Steem as a social media Blockchain.