Whisper Gallery II | Fête de la Musique
Whisper Gallery II
---
The first edition of Whisper Gallery featured 15 steemit artists who, over 15 weeks, participated in an art whisper trail. The trail follows the concept of a game popularly known as Chinese whispers but also by various other names: telephone, grapevine, gossip or my favourite - secrets. This brainchild of @mrblinddraw showcases the creative strength on steemit with each week bringing a new surprise with a different artist.
I loved the first edition and eagerly awaited the #whisper post of each week. So when @mrblinddraw wrote to ask if I'd be willing to participate in the second edition of the gallery, I responded with a very enthusiastic yes.
Fête de la Musique
---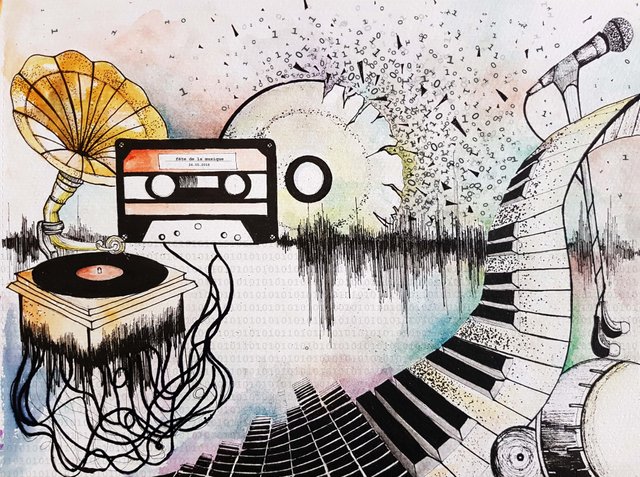 Fête de La Musique II, 2018
The seed for my whisper was @dunsky's Whispering which featured a cassette character with headphones.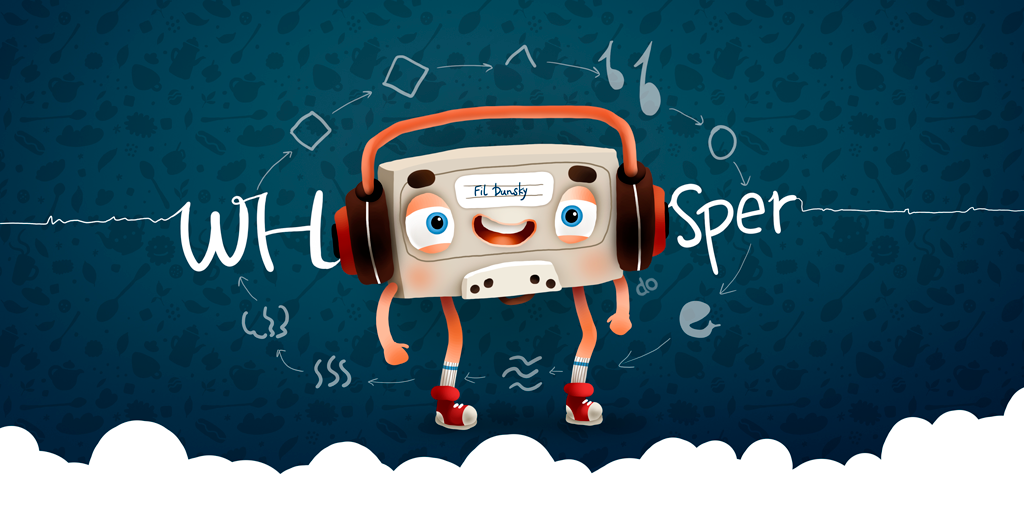 Music was obviously on my mind. What I've noticed about being on steemit these past few months is that I subconsciously record the works of my favourite artists in my head and can feel my own style changing based on inspiration from others' posts. Some prominent ones that influenced this post are @enternamehere's #drawitagain post about taking something you drew a while ago and exploring how far you've changed in your journey by redoing it in your style now.
I drew something for the fête de la musique back when I was in France and was quite proud of it. In a fit of blindsided infatuation, I gave the drawing away to a guitarist without ever having taken a proper photo/scan of it. Back then, I worked strictly in black and white and could not think much in colour. I've changed since then and I was curious to see how I would redraw this particular piece.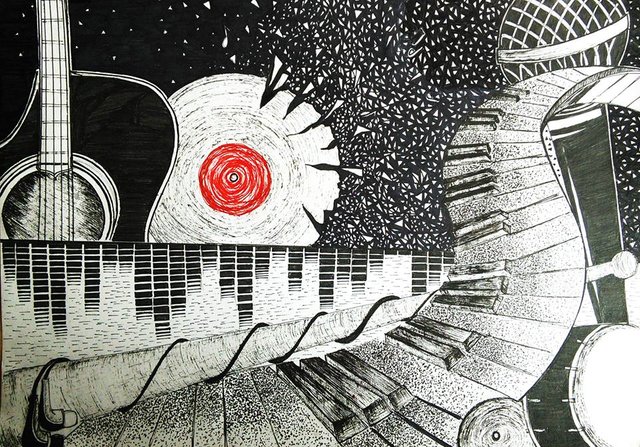 I like drawing the disintegration of objects. @dunsky's cassette made me think of how it had replaced the gramophone and in turn was replaced by the cd, which in turn has now been replaced by digital music tools. @heymattsokol's recent post about numericals as a universal language had us discuss the importance of the zero in our world. The zero is responsible for math as we know it today and for binary code, an integral part of computer science and programming. Music is also now processed as ones and zeros so that we can listen in through digital players.
In a way, this piece could be a whisper amongst musical devices - a game through which each device shapeshifts to adopt a new form while retaining the essence of the original whisper.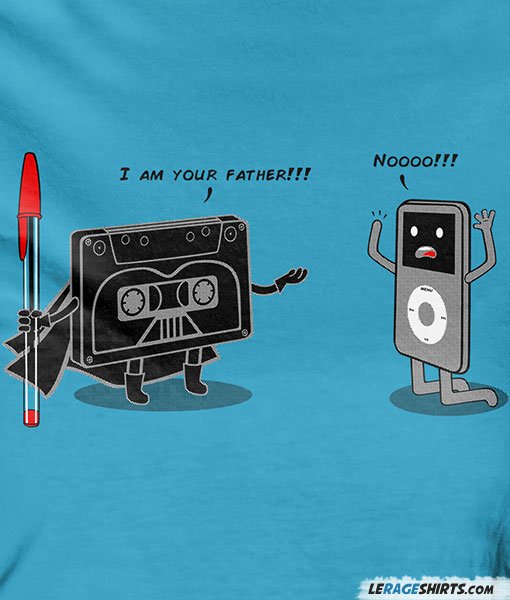 This tickled my funny bone and prompted me to go ahead with the idea.
Other steemit inspirations include @soulturtle who was saying something about doing some music-related art a few weeks ago and @soundwavesphoton's username which I absolutely adore.
The Process
---
It was a difficult choice between sticking to black and white penwork and using watercolours. I knew that bnw would look better; I'm more confident with just the black pens. But I've been obsessed with watercolours ever since I bought myself a small travel kit to use on my train rides and felt it was only fair to myself to show this change in preference. It would be okay if it didn't turn out well, I reassured myself. And so I started quite apprehensively. My process is similar to any standard process, I guess. Sketch, Ink, Watercolour, Black Blocking (could not sit tight until I got to this part), more inking.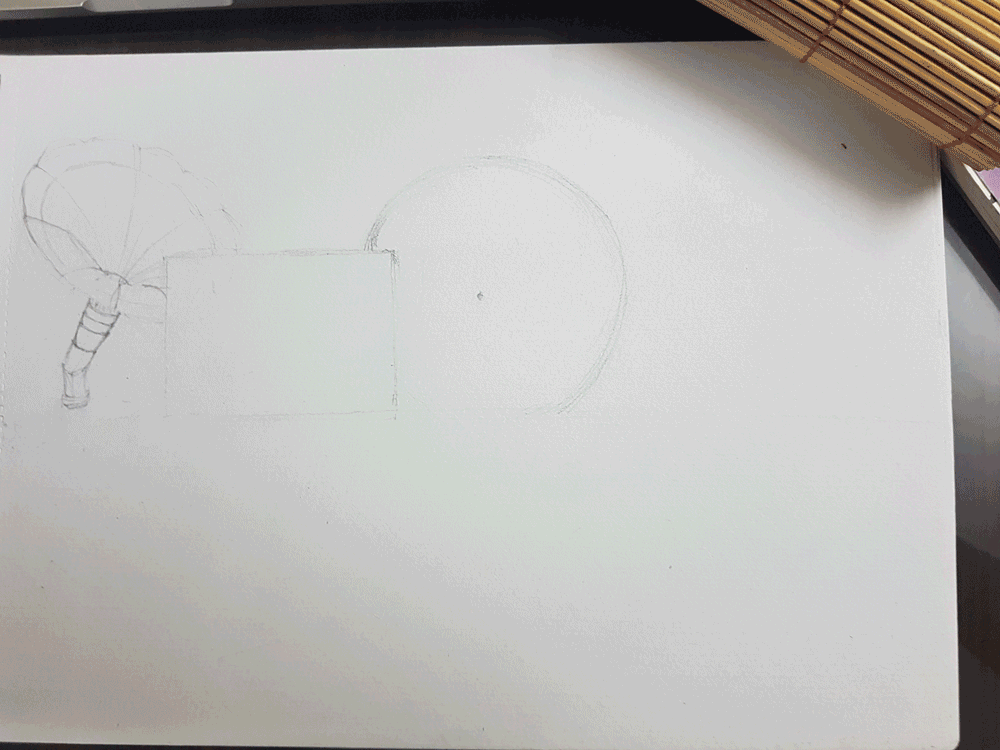 My scanner is dead so I relied on a phone photo to take the image photoshop where I wanted the cd to disintegrate into 1s and zeros. For me, mess is more. So I made it as messy as I wanted it to be.
Et voilà! The fête de la musique is less than a month away and always makes me want to go back to my home in Tours to celebrate it. This helps me remember the festival by.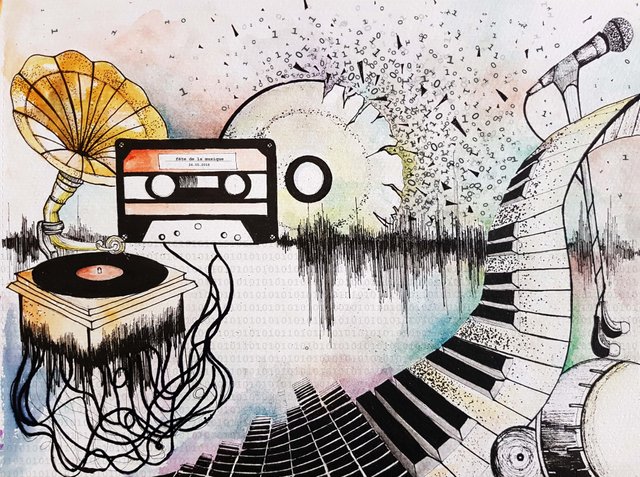 Fête de la Musique II, 2018
Watch @mrblinddraw's page for the next artists on the trail. I don't know about you, but I'm sure as hell excited.