Them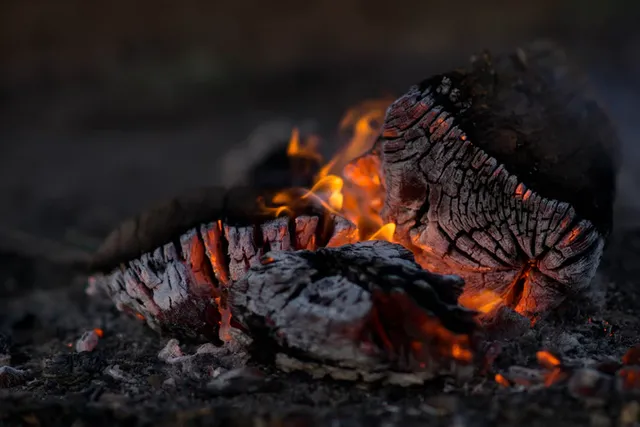 Wil Stewart
@wilstewart3
---
A quiet settled into the cozy valley, occasionally broken by the chatter of birds. In a little campsite along the stream, Randy sat watching the flitterings of robins against the twilight hues that painted the sky. He could see a large swath of sky between the trees, and anxiously awaited the arrival of stars.
"Careful with that, Honey." Randy looked over to see Debra grasp the pointy stick their daughter had been waving about. She pulled the little girl onto her lap near the firepit, and showed her how to roast a marshmallow. The fire was small but still going strong after cooking their meal, and Randy delighted in the warm atmosphere.
A heavy crack from the darkening forest disturbed that. A silent unease grew within him when it sounded again.
---
Randy drew a branch from the fire that was still flaming at the end and wished he had brought along his shotgun.
It wasn't long before he heard a soft stream of curses coming from the direction of the crash. "Shit. I've got you now you two timer!" The voice was husky and of indeterminate gender identification.
As Randy peered into the deepening shadows of the woods he could just make out the form of a human crouching behind a tree and appearing to hold its head. He heard a rapid succession of clicks. The human was taking pictures! Of them!
"What are you doing?!" Randy roared. "GET AWAY FROM US!"
"What are you doing?" Debra repeated, but then followed up with. "GET OVER HERE NOW!"
Out of the woods creeped a strange creature, androgynous but surely human, and still snapping shots.
"What is she, uh he, uh. It.....?" Randy looked at his wife for help with his pronoun selection.
"They" Debra corrected him, for the thousandth time. "They."
---
I tried to do the we-write https://steempeak.com/wewrite/@freewritehouse/the-we-write-is-back-week-1 as a five minute freewrite - seemed like a good strategy for my first we-write - but only got this far at the end of the five minutes. Since the word "creature' is in there, it may as well also be a freewrite for yesterday's prompt from @mariannewest https://steempeak.com/freewrite/@mariannewest/day-650-5-minute-freewrite-thursday-prompt-creature
On to read what others wrote for we-write, which is a whole other animal from freewrites I would say after this, my first attempt.
Thanks for reading!
---