The cost of post-9/11 wars in Afghanistan, Iraq, Syria and elsewhere has amounted to $5.9 trillion so far, according to the annual analysis from the Watson Institute for International and Public Affairs at Brown University. Their amount looks at all war-related expensive and therefore exceeds Pentagon estimates. This includes "the Pentagon's war fund, related spending at the State Department, veterans care and interest payments".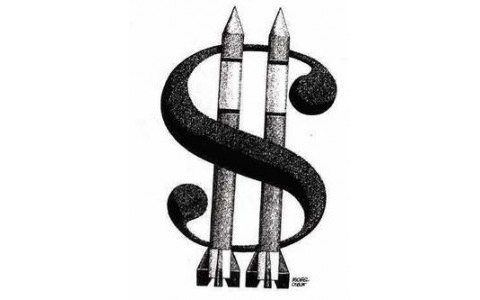 Source
Speaking of promises of quick and cheap wars that were promised, study author Neta Crawford said we instead have the opposite:
"We were told to expect wars that would be quick, cheap, effective and beneficial to the U.S. interest. Because we finance these wars on a credit card, the costs of the wars themselves pose a national security challenge."
The estimated costs for the war-related spending is $4.9 trillion ending in fiscal year 2019. Veterans care projected to 2059 is another $1 trillion brings the total to $5.9 trillion. If the war trend of the past 17 years continues into 2023, the cost will be over $6.7 trillion.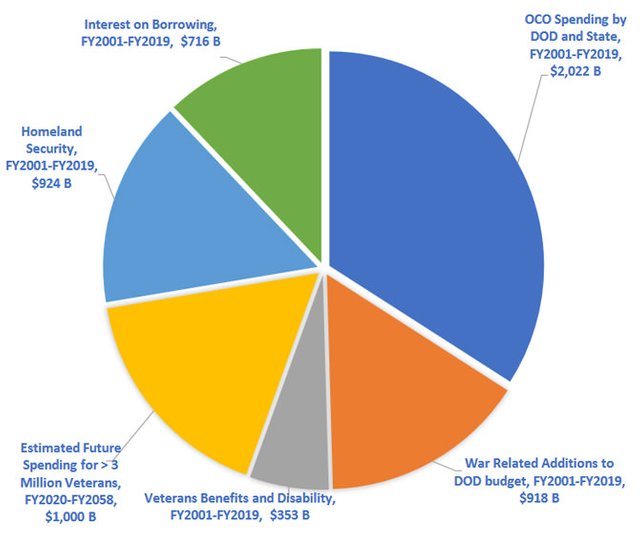 Source
The Pentagon however, has only pegged the total cost for wars in Afghanistan, Iraq and Syria at $1.5 trillion. That's quite a stark contrast. The Watson analysis has $1.8 for Afghanistan and Iraq from the Pentagon and State Department war funds alone. Iraq cost $822 billion, and Afghanistan $975 billion. Syria has cost $54 billion and Pakistan $10 billion. The homeland security mission known as Operation Noble Eagle has cost $24 billion. And war funds for Africa and Europe are at $137 billion.
Senate Armed Services Committee ranking member Sen. Jack Reed (D-R.I.) said:
"It's important for the American people to understand the true costs of war, both the moral and monetary costs."
The monetary cost is indeed high, but so too is the cost of life in this 17 year ongoing war across the Middle East. The death toll from military operations in Afghanistan, Iraq and Pakistan are between 480,000 and 507,000.
Source
This is for everyone killed, but civilians are the most affected and represented, with over 244,000 killed as a result of these wars. Over 10 million war refugees have been created from the three wars.
The minimum of 480,000 killed is from "direct war violence", with "several times as many indirectly". The 240,000 civilians is also only from the direct war efforts. There are multiple more civilians that died "indirectly in these wars, due to malnutrition, damaged infrastructure, and environmental degradation". It's probably over 1,000,000 dead as a result of these 3 or 4 wars wars.
In contrast, 6,800 U.S. soldiers have died in these wars. The cost of war to the U.S. pales in comparison to the cost of war the Middle East has had to suffer at their hands. The U.S. continues to engage in "counterterror activities in 76 countries, vastly expanding the counterror war across the globe". The military-industrial complex is all the while profiting, as "reconstruction efforts in Iraq and Afghanistan has totaled over $170 billion"
The cost of the wars will continue to mount, both economically and immorally. While the warring in Iraq, Afghanistan, Pakistan, and Syria totals $5.6 trillion, the interest alone "will add an estimated $8 trillion through 2054". That's $14 trillion over the course of trying to repay the debt and the compound interest that keeps building up.
It's great being debt slaves, having taxes imposed on us to pay for borrowed money at interest that gets used to kill people in far away places. What a great system we have going on here...
The cost of war is high indeed, and it seems to be ramping up as my recent posts indicate:
It appears the U.S. and allies are responsible for killing millions of people in the ongoing 17 year war in the Middle East. War is money and that's why it will keep going on and on it seems...
War is money
Widows weep
Bombs and rockets
Don't come cheap

War is money
Napalm glows
It also lights up
A portfolio

War is money
Children die
Oh, what comfort
Blood can buy

War is money
War is power
Should have listened
To Eisenhower
---
References:
---
Thank you for your time and attention. Peace.
---
If you appreciate and value the content, please consider: Upvoting, Sharing or Reblogging below.


me for more content to come!
---
My goal is to share knowledge, truth and moral understanding in order to help change the world for the better. If you appreciate and value what I do, please consider supporting me as a Steem Witness by voting for me at the bottom of the Witness page.