Its not surprising given the surrounding geopolitical situation that the remaining white minority governments in Southern Africa began to feel very threatened.
Zaire was a mess, Zambia was socialist, the Portuguese were fighting against Soviet backed insurgents and forces in Angola and Mozambique, SWA had insurgents with Soviet backing, the ANC had declared an armed struggle with Soviet backing and many of these insurgencies were originating out of training bases in Tanzania.
Many white Rhodesians were concerned that decolonisation and majority rule would bring chaos as had resulted in the former Belgian Congo after its independence in 1960. Britain's unwillingness to compromise on its policy of "No independence before majority rule" led to Rhodesia's unilateral declaration of independence on 11 November 1965. Though Rhodesia had the unofficial support of neighbouring South Africa and Portugal, which governed Mozambique, it never gained formal diplomatic recognition from any country.
It wasn't long before the black majority formed a nationalist movement to bring about majority rule in the country.
This split in August 1963 to form:
The Zimbabwe African People's Union (ZAPU) with its military wing ZIPRA under Joshua Nkomo backed by the Soviets
Zimbabwe African National Union (ZANU) with its military wing ZANLA later under Robert Mugabe backed by China
These were generally divided along Shona and Ndebele ethnic lines in the war against the Rhodesian security forces.
Many white Rhodesians viewed the war as one of survival in the context of atrocities committed against the white population during the Mau Mau Uprising in Kenya and in the Congo. Many whites (and a sizeable minority of black Rhodesians) viewed their lifestyle as being under attack, which both had considered safer and with a higher standard of living than many other African countries. Although the vote in Rhodesia was technically open to all, regardless of race, property ownership requirements effectively denied the franchise to most of Rhodesia's blacks.
Cuba was waiting in the wings to assist, North Korea trained insurgents in the use of explosives and surrounding independent stats especially Tanzania acted as training havens.
The Rhodesian government contended that they were defending Western values, Christianity, the rule of law and democracy by fighting Communists; however, they were unwilling to compromise on most political, economic and social inequalities. The Smith administration held that the traditional chiefs were the legitimate voice of the black Shona and Ndebele population, not the ZANU and ZAPU nationalists, who it regarded as dangerous, violent usurpers.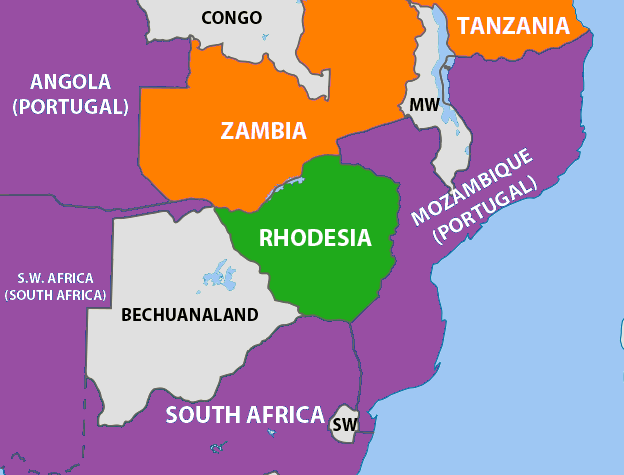 By Cliftonian , CC0, Link
By 1970, with their secret alliance, Rhodesia, South Africa and the two Portuguese colonies assisted each other wherever they could in the air and on the ground with troops and material in their respective counter insurgency initiatives.
The disruption of this alliance, by the sudden withdrawal of Portugal from its colonies after a change in government in Portugal, would immediately leave South Africa and Rhodesia far more exposed on at least two borders.
South Africa had previously had at least one country between it and insurgent bases. This was all about to change and it was on this basis that the south African forces became even more aggressively involved in the soon to be independent Angola.
The South African Border War that had been gradually escalating would take on a whole new dimension with Operation Savannah beginning late in 1975 just before Angola became independent.
Quoted parts from relevant Wikipedia pages
Other posts in this series
The piece of the cold war nobody told you about - Africa's forgotten war
The air battles
The SA Fighter Aircraft
The SA Bomber Aircraft
The conflicts deep roots and start
Regional Tensions
Africa's forgotten cold war - Angolan War of Independence.
Africa's forgotten cold war - Mozambican War of Independence.