Walls Don't Work: AKA A World Without Walls
I have a lot of thoughts going through my head and I wish I was an artist capable of putting the images in my mind down rapidly. I think they would be powerful and would illustrate exactly why a picture is worth a thousand words, or often far more than a thousand.
I have to work with what I have. Words.
I want to describe a world for you. It is a world of the future, yet also a world of the past. It is based around the common narrative being pushed these days that "walls don't work". It is the common narrative that we shouldn't have borders and laws for people entering countries.
Rather than arguing that point. Instead I'm going to run with it. If you can pull out your mental screen and imagine you are watching an episode of Black Mirror, the Twilight Zone or something like that.
Enter... The World Without Walls.
SCENE 1:
A naked man that is known for popularly speaking on the news is walking around his house nude. Out front on the lawn are rotating numbers of lawn chairs for passers by to sit an watch whatever this Bory Cooker guy is doing. Occasionally they will get hungry and go into this structure by just walking in. No barriers exist so the only real barrier is having to walk around refrigerators, couches, etc. They take some food from the refrigerator and casually walk back to the lawn chairs to watch this Cooker guy. He is after all a celebrity, and one who is adamant that walls don't work. Yet he like so many others stopped being a hypocrite and put their words into action. He was one of the first to eliminate walls for his house. It is just support columns, and roofs. Without the walls it soon became apparent that doors were no longer necessary either.
Sometimes the onlookers are entertained with some free pornography when Mr. Cooker manages to have a sexual encounter. Some of them even video it and rebroadcast it.
Cooker is not alone. We see the socialist Sernie Banders gleefully counting his money on his bed like Scrooge McDuck in his new fifth house without walls. That is when he is home and has his $180,000 car parked in his garage without walls. He doesn't have walls to hang posters on but he does have a statue with the phrase "A sucker is born every minute" and not far from there "A fool and his money are soon parted"
This no walls house phenomena swept the world and spanned all parties, all genders, all races, and all religions. These two being but a few momentary glimpses.
SCENE 2:
The columns and roof/ceilings continued as a design. This did require some reengineering of some rather large buildings as the walls previously provided some support and structure that enabled them to be as tall or shaped like they were. More columns were added to accomplish this. However, soon there were protests.
Elevators were not fair as they could be blocked. Especially if a key was required so it was causing the same old problem of walls. It was funneling people through specific entry points and requiring that they have legal reason to enter. This created something much like walls. We can't have that as WALLS DON'T WORK.
It was demanded that people use stairs. At first this satisfied people until they realized that stairs were still a funnel. They were a port of entry to the next floor. They were the entry through a wall in the vertical sense. The anti-wall brigade protested.
Eventually it was deemed that structures could not be more than one story tall. This was the only way to completely eliminate the wall factor. WALLS DON'T WORK.
Keep in mind if you don't have walls then there is no reason for doors to exist either.
SCENE 3:
The videos people didn't show were the videos of people that had died from rabid animals, plague and other things as these animals freely entered their homes. Without walls and doors these things were free to enter and spread as well.
This did not fit the narrative. That narrative being "Walls don't work". So the news just didn't show these increasing statistics or reports. If it doesn't fit the desired narrative, don't talk about it.
WALLS DON'T WORK.
SCENE 4:
Soon most structures ended up being a large amount of floor space with all items that might be damaged by weather being pushed towards the center of the structure. This was the outcome of winds and weather blowing snow, water, etc... into the structures and damaging furniture, electronics, etc. However, if the structure was large enough it was very unlikely this horizontally blown weather phenomena could reach such things. It did happen but it was rare.
SCENE 5:
Large portions of the planet were no longer habitable not due to climate change. Simply due to people not being able to survive the cold temperatures, or the extremely hot temperatures. It was found that without walls keeping the internal climate of a structure in the human habitable zone was difficult to do. That's okay it further proves that WALLS WERE NOT WORKING because we had a population problem before, and now that has been solved simply by removing walls.
---
Flip the Mirror
Now let's look at reality. Many non-human lifeforms on the planet build walls and barriers. Usually to survive the environment and the weather. Often they are to mark territory and create protective barriers from invaders.
Keep in mind that word INVADERS.
For if I am a nice guy an I have a DOOR and a WELCOME mat at my front door and you still choose to crawl through my window or sneak through my garage what are you? Are you suddenly a guest I should feed, clothe, educate, and perhaps even give services to that my children won't even get such as letting you off for committing crimes that if it were my family they'd be rotting in jail? Should I do that?
If I am not stupid. Then the answer is no. I should not do that.
I should greet people at my door. If they are amenable to my ways and I can afford to feed them without putting me or my family at risk I can invite them in. If they are hostile I can tell them to leave. If they attempt to enter forcefully I can stop them. Why? I have walls, because THEY WORK.
Now some people will say WALLS DON'T WORK because they can just tunnel under. Well walls do work, people can break through my window and I can shoot them for trespassing. If they knock on the door I can't shoot them unless they try to force their way in.
As to weather, animals, plagues, etc. Walls offer a major amount of protection.
The truth is that WALLS DO WORK. Are they perfect? No. They can't stop everything... but without them I do have an alternative that I suspect most people will like less and it might prove more effective. I suspect most of those anti-wall people would prefer walls to my alternative proposal.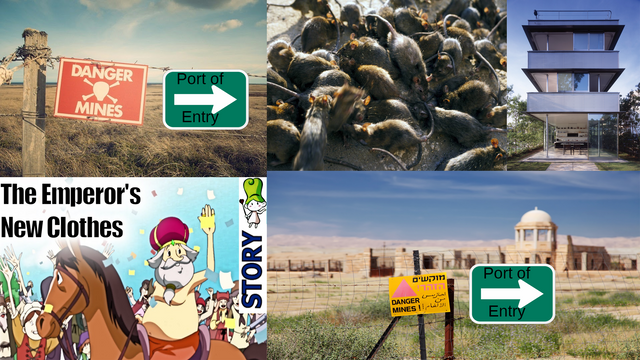 How about minefields along the border with clearly marked signs saying "WARNING: Minefield" and having an arrow pointing in the direction of the PORT OF ENTRY (aka the DOOR to our country)? As time and budgets increase we can also add some laser trip wires with smart sensors to detect if it is a human that tripped it. We can solve the problem without a wall.
For those of you that say all people who want walls should die! For those that say people supporting political candidate X, or speaking thing Y you don't like should die.
Is it alright to say trespassers and invaders should die when the path to the door is clearly marked yet they choose to sneak across the minefield?
How does a wall sound now?
CLARIFICATION: Nothing I said has anything to do with RACE, with RELIGION, GENDER, with political affiliation, etc. I didn't intend any SECRET meanings you need to interpret. If you choose to say I am being "racist" or an "[insert]phobe" that is coming from you. I am not playing a puzzle game where I am trying to say secret things that you need to guess. I said what I meant to say. Anything else you choose to add. That is from YOU.
You can't read my mind, so trying to state I am implying something or I am bashing something when I didn't mention those things. That occurred in your mind. Have a conversation with yourself in a mirror it might be therapeutic.