For anyone who is following or doing the transition to the new wallet.steemithere are a few tips to avoid disaster.
Edit update 13th March 2019
The new wallet now has a new url steemitwallet.comeither url will work.
We should always backup our steemit keys but we are humans and we can and do make mistakes.
(1) Remember nobody not even steemit can recover your keys so it is your responsibility to make sure you can recover your account should the worst happen.
(2) Make a backup of your private keys in an editable format so that you can copy and paste them when you sign back in to steemit. The reason for this is simple. The keys are long and complex and easy to make a mistake when typing them out. Mistakes happen.
(3) Keep a copy offline in a thumb drive of even print them off if you have no other way to store them securely offline.
Do not use your owner or active keys on any platform including steemit or any of the dApps just use your posting keys. The active key should only be used for transfers.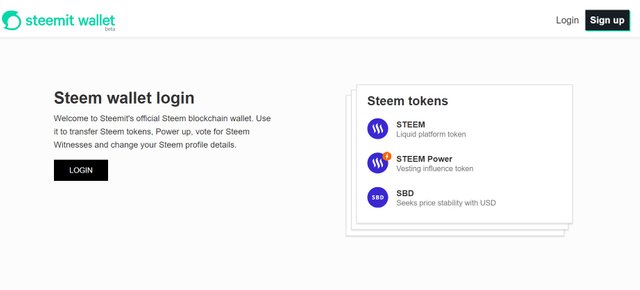 What prompted this post?
A few days ago I signed up for the wallet.steem and then things got pretty weird. I am going to admit that I think it may have been user error on my part prompted by insufficient information on implementing this seemingly straightforward changeover. It was very odd, frustrating and puzzling.
When I signed into wallet.steemit it appears that google chrome overwrote my steemit login with the new wallet.steemit key?
My own actions had locked myself out of my steemit account?
Remember to save your new wallet login with a different name otherwise the browser will overwrite your steemit login of the same name!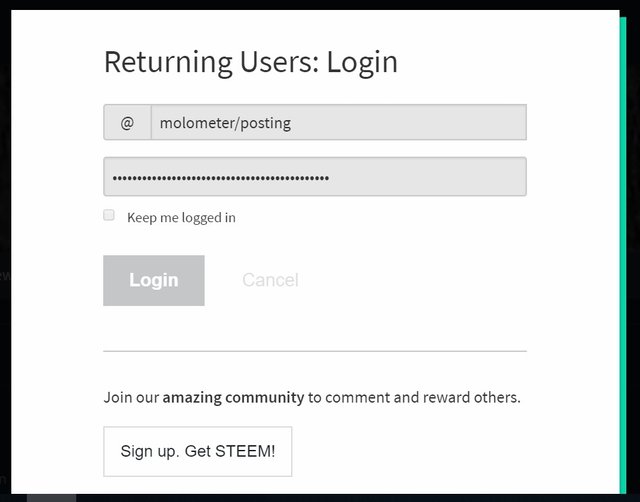 How do I know this?
When I checked the steemit posting key in the password manager of Google chrome it was the same as the wallet.steemit owner key.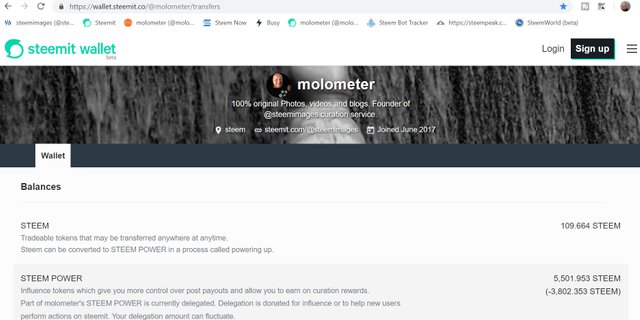 How did this happen?
When I signed up to the new wallet and then went to login to steemit under my username @molometer somehow, I didn't notice that the key from the new wallet had replaced my steemit password and when it was selected of course, it would not allow me to login to steemit.com It took me a bit of time to figure out what had happened.
How did I fix it?
I spent the next few hours trying to figure out what was going on and even posted this blog to see if anyone else in the steem community was having similar issues.
I then went back to first principals. I retraced my steps and when I checked the passwords in Google chrome and sure enough it had been swapped. Not by any dodgy business by bad actors but by my own user error.
The weird thing was that I was still able to use other steem based dApps like busy.org and steempeak with no problem and wrote a post about what was happening to see if anyone else was having this same problem. I even dropped a comment into @andrarchy's comment about the wallet. Sorry Andrew if it gave you any cause for concern.
Light bulb moment
It eventually dawned on me that it was possible to use the other dApps because they all use either steemconnect or keychain which has our original posting keys in their systems.
Finally, after spending 3 hours hunting for my steemit keys in my safe offline storage I got back into my account and that was a relief but it kept allowing me to sign in and then promptly dropping me back out again. The solution was simple. Just hit the little keep me logged in button under your username on the login page.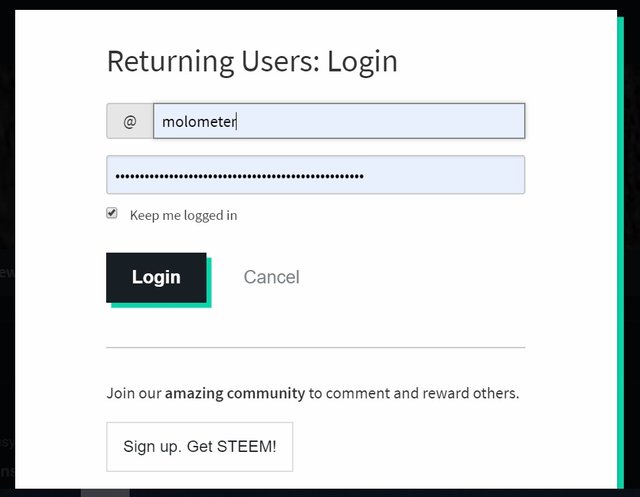 For someone like me with a background in the computer industry for over thirty years. Embarrassingly It was a rookie mistake.
The point being. If this can happen to me; It can happen to anyone?
Create a new user name for your wallet and avoid this problem.
Be safe and backup your keys offline
The move to a separate wallet off of steemit is the right thing to do in my opinion.
Even better if we could off-site our powered up steem (vests) into an offline wallet but still have the voting power.
The vests would still be staking but would mean either having to leave the computer/phone on 24/7 or having to synch every time we logged in. Which could take a lot of time.
Having the keys means we have ownership of our steem but nothing is 100% secure. Be safe.