THIS PIC GOT ME CRYING.........LET LOVE ARISE
BE THE AGENT OF LOVE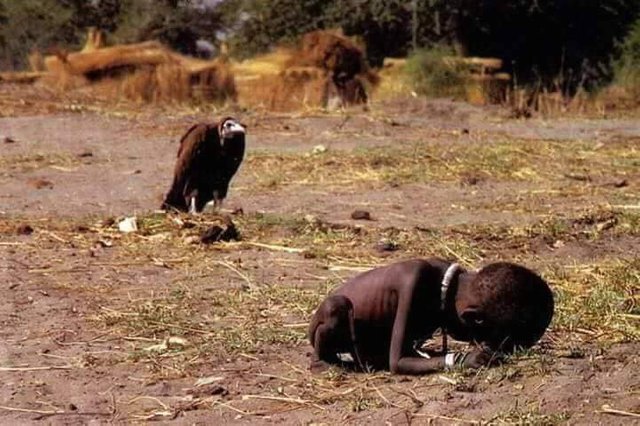 image source
This picture was taken in Somewhere Sudan-Africa. You can see the dying child and a vulture waiting for the child to die and consume as meal. It so sad how people suffer in Africa and many part of the world especially children with no one to help them in their survival. Some us have experienced this before, I recall how I was neglected by father to feed on refuse dump when I was a kid and no one was ready to support me with even a meal a day. Its painful how many don't think they hold a core relationship to love others.
The story behind this picture
Its so sad that the one who took this picture was actually a humanitarian, who held responsibilty to help liberate those who are weak and affected by war. According to him, the picture was taken before he left with the team to the camp where they were helping children and displaced people like the child we can see in this photo. But the question asked is what happened to this child, he told the news team and the whole world that, they were in a hurry to leave and couldn't take the child along to help. But why will you report something you could have done something about. He was heavily criticised by the world and from evidential source, he committed suicide because he couldn't bear the shame.
LESSON FROM THE STORY..
Many of us are worse than him, we may not take pictures and put them on social media, but we continously ignore people who are less privilleged and sometime insult them for we think they deserve their condition. As for me I stand with poor in society and my greatest wish is to help alliviate poverty with focus on helping the less previlleged. The steem blockchain has liberated many lives with a lot of amazing steemians. I want to encourage @ackza @surfyogi(founder @wafrica and @artzone) @sircork (@youarehope founder) @leeuw @reko @bleepcoin @stellabelle and other amazing steemians supporting humanity with the steem blockchain. Please don't give up on those of us who are less privilleged.