Art Talk Vlog #2 Why you should draw if it's something you've wanted to do | Art by Clark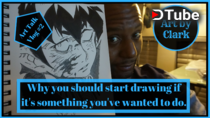 ---
Hi everyone!
Today I'm uploading a video talking about why you should draw if it's something you've been wanting to do. I started drawing because it was something I wanted to do and it has been very beneficial to me since. I'm glad I started because it has helped me build up confidence within myself to be able to learn a new skill. I've also met a lot of people and made friends because I started drawing.
I'd like to hear some of your reasons as to why a person might want to start drawing. I think this is an interesting topic and would make for a really good discussion. A lot of us have different reasons for wanting to draw and I think it's worth exploring.
You may not want to make money drawing or from your art and that's ok. You could simply do it as a hobby and there's nothing wrong with that.
Be sure to let me know anything you might want me to talk about that relates to art.
Thank you for your time and checking out my video. Take care!
---
▶️ DTube
▶️ IPFS