About VIZ award bot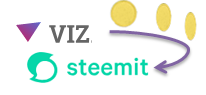 This bot helps to award steemians with VIZ tokens.
Any registered users can award each other just starting their answer with '+'
You can use up to five + that means power of your reward. Each '+' drain 1% your energi.
How to register:
First of all you have to get VIZ account. How to get one see here.
Second You should to add your account to bot's database. For that just answer on any bot message with command:
add your-viz-account
That's anough for authors. But if you want to send reward you have to:
Authorise bot for your VIZ account.
Advantages for steemians are as follows:
authors can get additional reward in VIZ tokens
there is no time limits for rewards - you can reward any post any time
get awarded with VIZ posts will also get upvote from viz-award-bot and following him accounts.
Links:
You can see all reward in live here: telegram @viz_awards_bot