The Stuff!
• Get your favorite mustard, vegan hotdogs and buns.
• Dried TVP (textured vegetable protein)
• Finely chopped onion.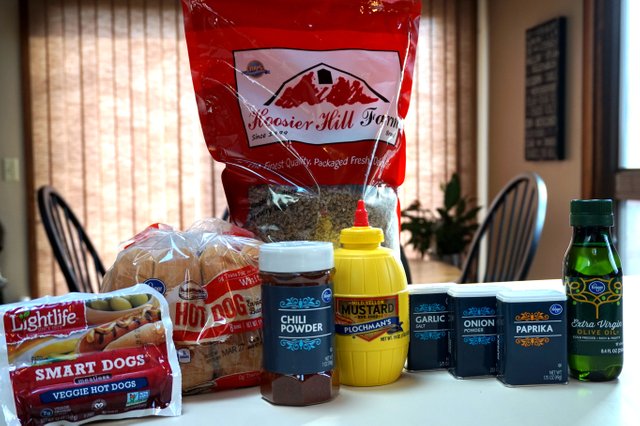 Oops! Forgot the onion...
Coney sauce recipe:
Boil 2 cups of water
Add:
• 1 teaspoon garlic salt
• 1 tsp chili powder
• 1 tsp cumin powder
• 1 tsp paprika
• 1 1/3 cups of TVP
• Add a little olive oil if desired 1 tbsp or so.
Remove from heat and let TVP sit in the mix for several minutes or until it has absorbed all the water. Stir and make sure the spices are evenly mixed into the sauce. If the sauce seems to wet just let it simmer off some of the water stirring occasionally. It should be mostly dry but still have a little moisture.
Note: I believe the original Coney sauce from this area was made from a mixture ground beef and beef heart. For authenticity you can put the dry TVP in a blender and break it down a little so when it is rehydrated it will more closely resemble the texture of the original.
Assembly:
• Heat up your hot dogs and buns.
• Add a liberal amount of Coney sauce on the hotdog.
• Add mustard.
• Top with an ample pile of finely chopped onion.
Enjoy!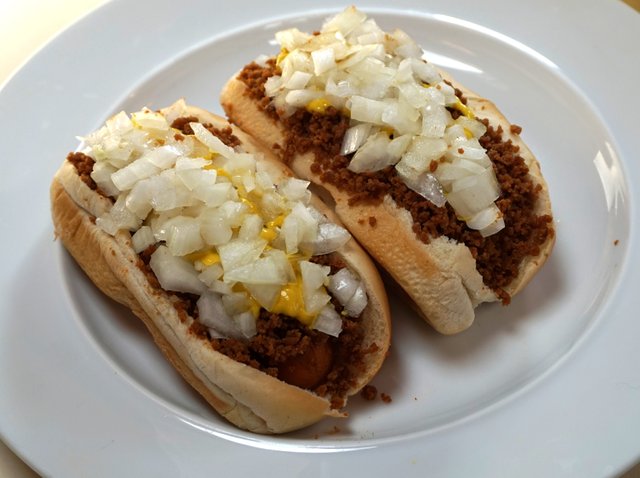 I don't think this is particularly healthy to eat. But it's very healthy for the critters! 😉
If you ever find yourself in Jackson, Michigan visiting your cousin-in-law at the local prison, do not bother looking for a vegan Coney…… sorry, we're not there yet….