These graphs visually illustrate that Vaccines Kill Children!
Unvaccinated Children = Lower Death Rates!
Studies from the World Health Organization & Centre for Disease Control (CDC) link Vaccinated Children under 5 years of age to more Deaths than Unvaccinated Children.
Vaccines are also linked to Sudden Infant Death Syndrome (SIDS); various Degenerative Diseases, including Diabetes; and appears to cause General Immune System Impairment.
Evidence also points to the practice of Immunization as a Principal Factor in the massive increase in Neurodegenerative Conditions such as Autism.
Water, sanitation and food are responsible for disease decline - not vaccines!
The following graphs include dozens of different metrics and cover approximately two (2) dozen medical conditions!
I will write a few words above each graph. Let's begin.
---
* World Health Organization Report
* Link between Gov't Mandated Vaccines & Child Deaths
* 8 x First World Nations (water, sanitation, food unlikely to be a factor)
* Number Next to Nations Name = Number of Gov't Mandated Vaccines
* More Mandated Vaccines = More Child Deaths
---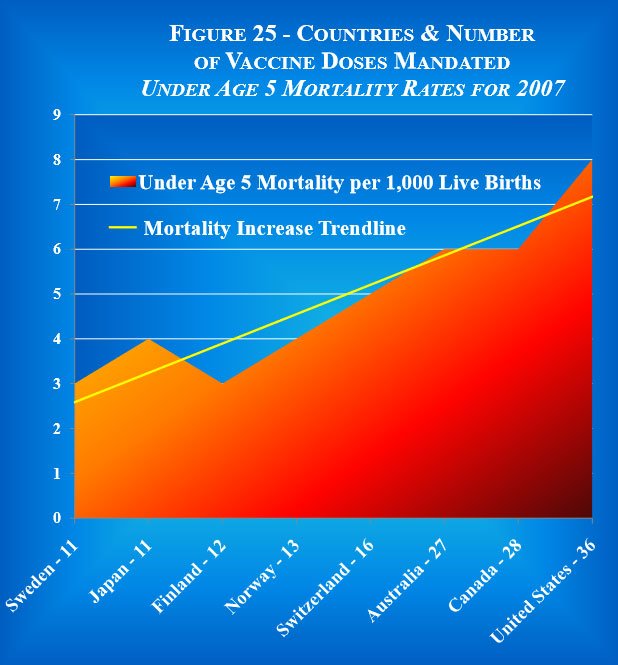 Sources: Under Age 5 Mortality statistics from: World Health Organization – World Health Statistics 2009 Report & Govt. Mandated Vaccines statistics from: Generation Rescue Inc. 2009
---
* CDC Mandates Flu Vaccines in 2002
* 590% Increase in Flu Deaths AFTER CDC Mandates Flu Vaccine (approx 18 Months) - Staggering!
* Gov't Mandated Flu Vaccines = Massive Spike in Child Flu Deaths
---

Source: Under Age 5 Influenza Mortality statistics from: Center for Disease Control (CDC) Vital Statistics Reports covering Years 1999-2003 reported in Miller, N.Z., Vaccine Safety Manual, New Atlantean Press, Sante Fe, New Mexico, 2008, p. 97
---
* Pertussis (Whooping Cough) Vaccine Linked to SIDS
* 70% of SIDS Deaths are within 3 Weeks of Vaccination
---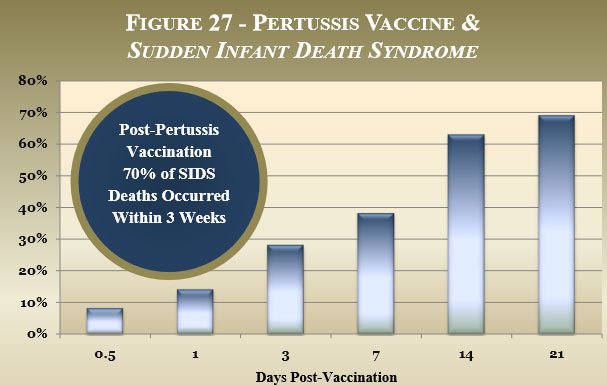 Source: Torch W., Neurology - 32 (4 – Pt. 2) A, 1982, pp. 169-170.
---
* Vaccinated Children over 200% more likely to develop some Inflammatory Bowel Diseases
---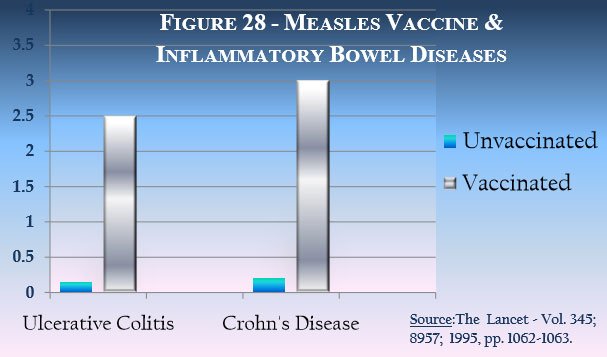 Source: The Lancet - Vol. 345; 8957; 1995, pp. 1062-1063.
---
* Vaccinated Children showing more General Immune System Impairments
* Note more Antibiotics
---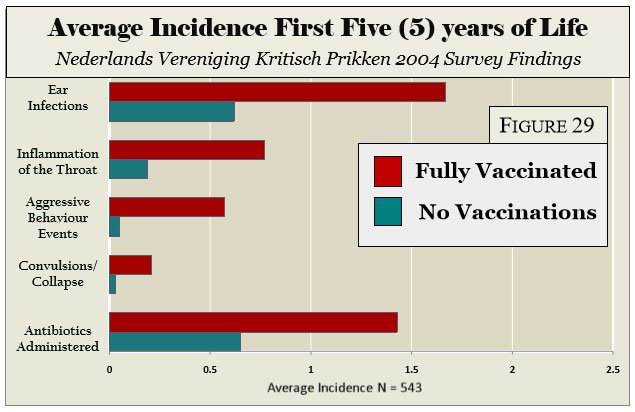 ---
* Note Aggressive Behavior, Difficulty Sleeping, Allergies, Lung Disease etc
---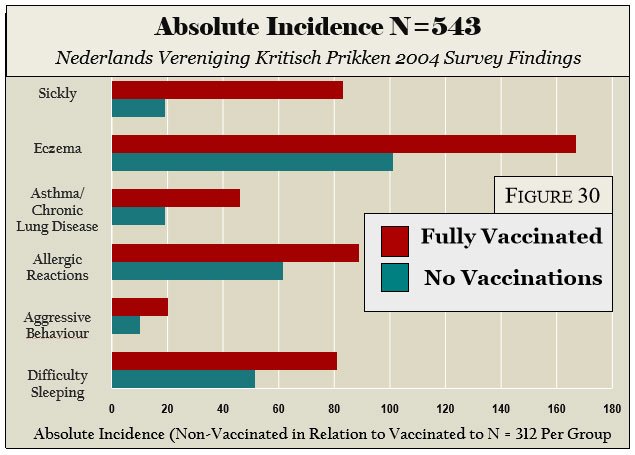 ---
* Links BCG (Tuberculosis) to Diabetes Rate Increase in Europe
* Green = Countries with Non Mandated BCG Vaccine
* Red = Countries with Mandated BCG Vaccine
---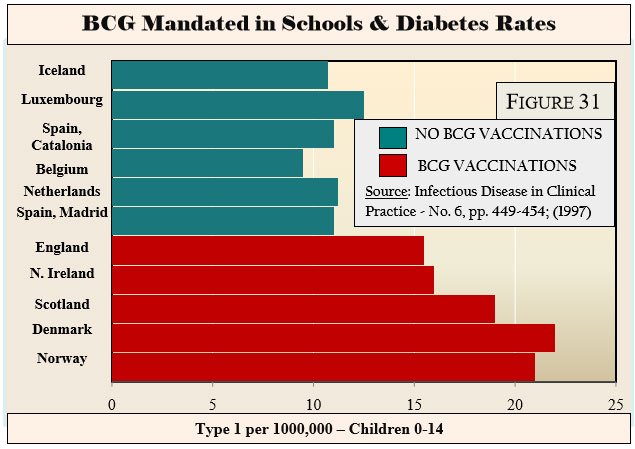 Source: Infectious Disease in Clinical Practice - No. 6, pp. 449-454; (1997)
---
* Herd Immunity vs Insulin Dependent Diabetes
* Diabetes Incidences Increase as Herd (Vaccinated) Increases
---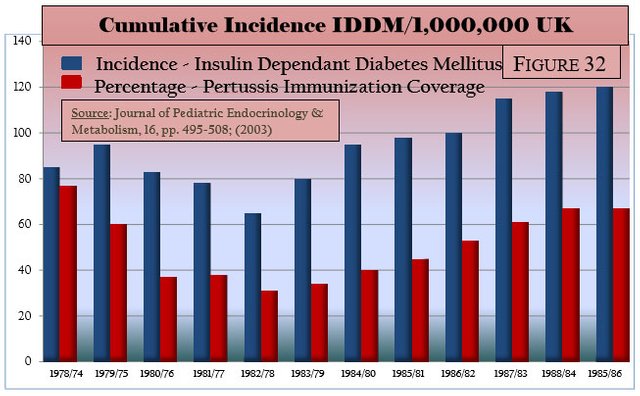 Source: Journal of Pediatric Endocrinology & Metabolism, 16, pp. 495-508; (2003)
---
* Blue = MMR (Mumps, Measles, Rubella) Vaccinations
* Pink = Autism per 10,000 Vaccinated
* MMR Vaccine = More Autism
---

Sources: Kihei Terada et. al.; Alterations in epidemics and vaccination for measles during a 20 year period and a strategy for elimination in Kurashiki City, Japan; Kawasaki Medical School 2002 Mar; 76 (3):pp. 180-4. Correlated with: H. Honda et. al,; No effect of MMR withdrawal on the incidence of autism: a total population study; Journal of Child Psychology & Psychiatry; June 2005 (6); pp.572-579
---
* Red = Mercury Vaccine Exposure
* Blue = Autism
* Vaccine with Mercury = More Autism
---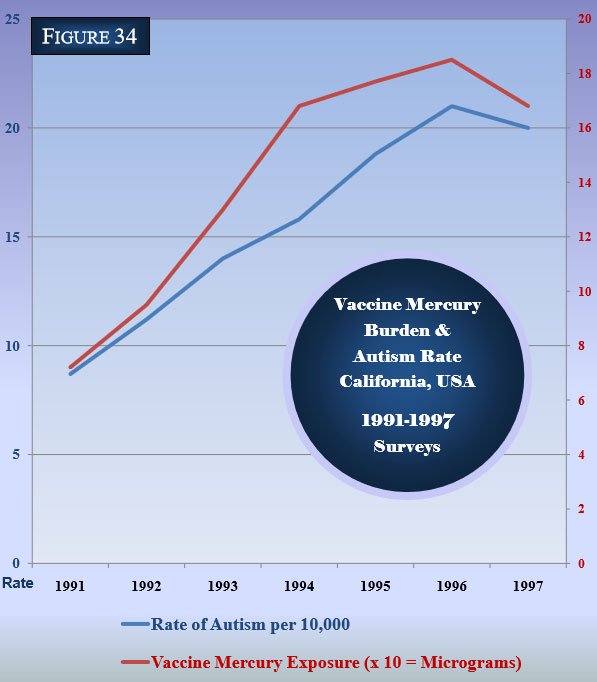 Source: Adapted from Blaxil, M., Vaccine Mercury Burden & Autism Risk (US) IOM 7/2001
---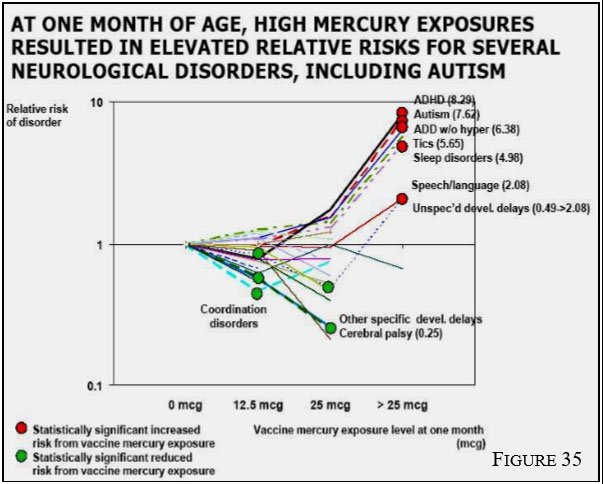 Source: Generation Zero
---
The medical profession is being bought by the pharmaceutical industry, not only in terms of the practice of medicine, but also in terms of teaching and research. The academic institutions of this country are allowing themselves to be the paid agents of the pharmaceutical industry. I think it's disgraceful. – Professor Arnold Seymour Relman (1923-2014), Harvard Professor of Medicine and Former Editor-in-Chief of the New England Medical Journal
---
Conclusion
---
The test results above prove that vaccines can be linked to an increase in:
SIDS
Autism
Deaths
Allergies
Asthma
Eczema
Diabetes
ADD & ADHD
Development Delays
Chron's Disease & Colitis
Sleep Disorders & Aggressive Behavior
Convulsions & Collapses
Ear & Throat Infections
Google Vaccine Injuries and Vaccine Compensation - get informed and please get active if this topic is important to you, even if only occasionally! Show these graphs to others and help spread vaccine awareness.
Children are dying and becoming permanently injured everyday due to vaccines. This is an enormous heartbreak and burden on who knows how many families? I have friends that have experienced this firsthand which is why this is one of my pet topics.
I don't want any more children and families to have to go through what my friends have gone through. Far less importantly, I don't want my taxes subsiding Big Pharma to covertly kill and injure children. Enough is enough!
It's time that we had fair, transparent and intelligent conversations and debates at the local, national and global level. It's time for Big Pharma, Gov't and MSM to stop driving one-way agendas and manipulating data and test results. It's time for more scientists to seriously investigate vaccine deaths and injuries and be brave enough to share their findings with their colleagues and the wider community at large.
Please spread the word and thank you for reading my post.
Till next time..
Yours in Health, Peace & Truth
@Steemtruth
---
---
Thank you to Dr Raymond Obomsawin Ph.D. for preparing this study.
Related Posts
---
Vaccines Increase Your Chances of Catching Infectious Disease - Study Reveals!
VACCINE AWARENESS - Powerful Interview With VAXXED Producer Polly Tommey!
Boy With 46 DD BREASTS that Sued Johnson & Johnson & WON!
CONFESSIONS of a BIG PHARMA (Rx) DRUG PUSHER - Gwen Olsen's Story!
America's Health has been BOUGHT - the Ugly Truth Behind GMO's, Vaccines and Big Pharma!