WHY I'm ON Steemit - Reason 4
Making Money & Giving It All Away!
---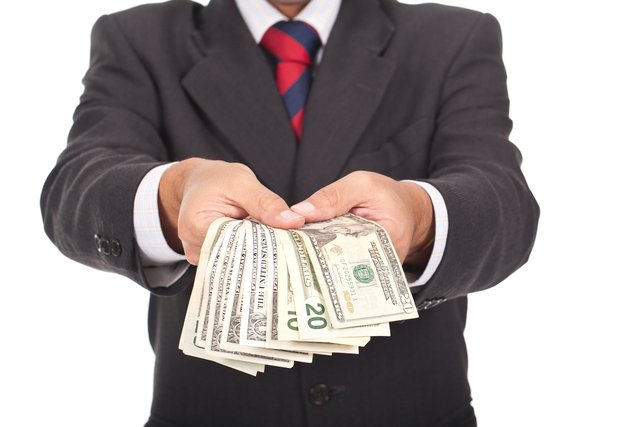 ---
The financial incentive to be ON steemit is attractive - but it is low on my list of priorities.
I would blog for free if I was not censored. Steemit does not censor me (and it pays me) - that's a win/win. I wouldn't blog as often as I do if I wasn't paid mind you, but I'd still blog.
There are other reasons as to why I am here but they aren't nearly as important as my Top 4.
I'm closing this series out with my 4th (and final) reason for being on Steemit and it revolves around money.
I take inspiration, and learn lessons from many people.
One person that I learned a lot from was Charles "Chuck" Feeney - The Man Who Gave Away His Entire $8 Billion Fortune While He Was Alive
---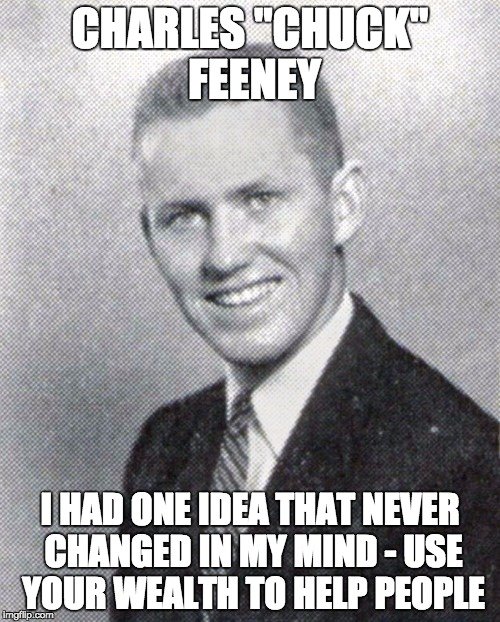 ---
Chuck's story was my 11th Steemit blog.
In 1982, Chuck Feeney created The Atlantic Philanthropies, and in 1984, secretly transferred his entire 38.75% stake in Duty Free Shoppers (DFS) to the foundation. Not even his business partners knew that he no longer personally owned any part of DFS. For years, Atlantic gave away money in secret, requiring recipients to not reveal the source of their donations. Feeney lives in a rented apartment, not owning a car or a house, flying economy-class and owning a $15 Casio watch because it keeps time just as well as a Rolex. Source - Wikipedia
I strongly recommend (and hope) that everyone will read his story, watch the embedded video and encourage others to do what Chuck Feeney did - or at the very least - do more than they are doing today.
---
My Life on a Super Yacht
---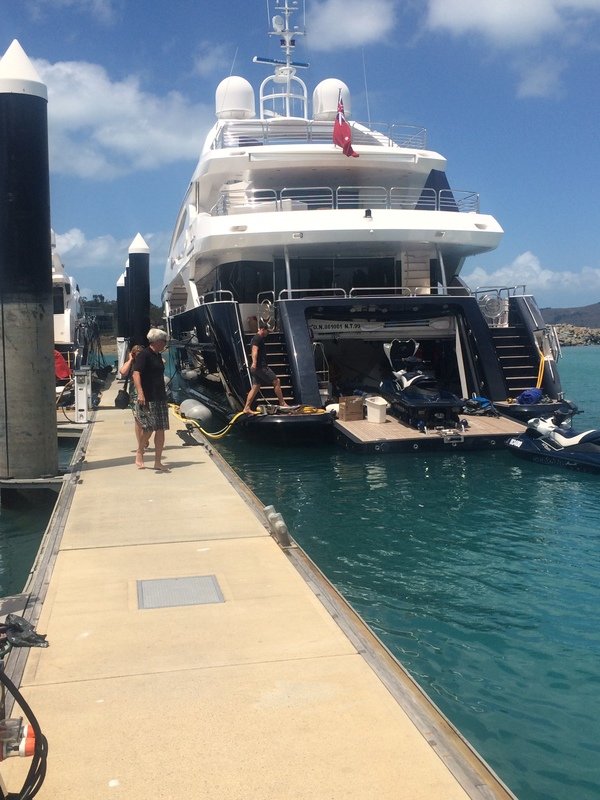 ---
I am not sure if sharing this part of my life with you is appropriate (or beneficial) to the overriding message that I am hoping to portray in this post?
I mean well, my intentions are sincere, so let the cards fall where they may.
I am sharing this insight into my life with you in the hope that you will appreciate, and respect that I am trying to practise what I preach - trying being the key word.
This is the final post in my introduceyourself series. I deem it relevant but you may not - that's ok.
Please allow me to share one of my many life experiences with you and let's move on to other topics. I am quite embarrassed to share this but truth is truth, so let's get it over and done with and more importantly, move on to more important topics.
---
Lounge and Dining Area on the 2nd Deck
---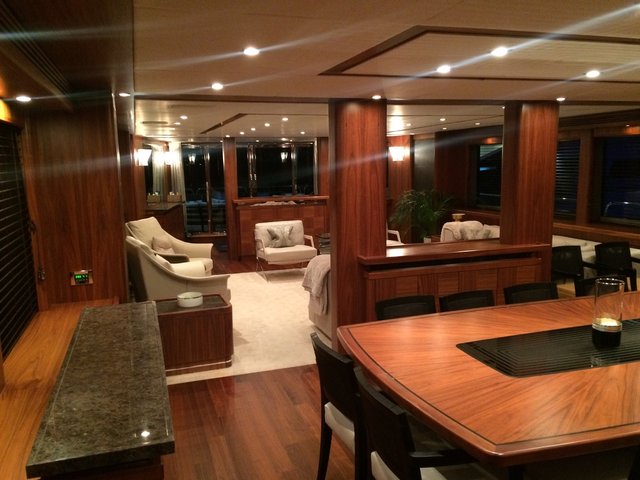 ---
I have vacationed on a super-yacht (this is not my yacht) and rubbed shoulders some elites. I was a pretender, as most hanger-on's are - I was most certainly a hanger-on.
I diligently worked my way up the social ladder as I weaved my way through the social, psychological and economic paradigm that the elites have created for us.
I was a slave to the system, and I did not know it. I eventually realized that working for the man, and trying to please the elites amounted to nothing and would be a life-long journey - it was a game - and the joke was on me.
I am not bragging - far from it.
With the benefit of hindsight, I'm genuinely very embarrassed about the life that I used to live, the games that I used to play, the money that I wasted, and the lies that I told to myself (and others) so as to justify my behavior to myself (and others).
---
In Reason 1 - I shared with you that my business partner was worth $100 million. I have never had a net worth anywhere near as much as he has - but I lived a very comfortable life nonetheless (no complaints).
I know people worth much more than $100 million but I turned my back on them and walked away.
In 2015 I took a vacation on a super-yacht.
---
Here are a few photos from my 2015 vacation.
---
Early Morning on the Top Deck
---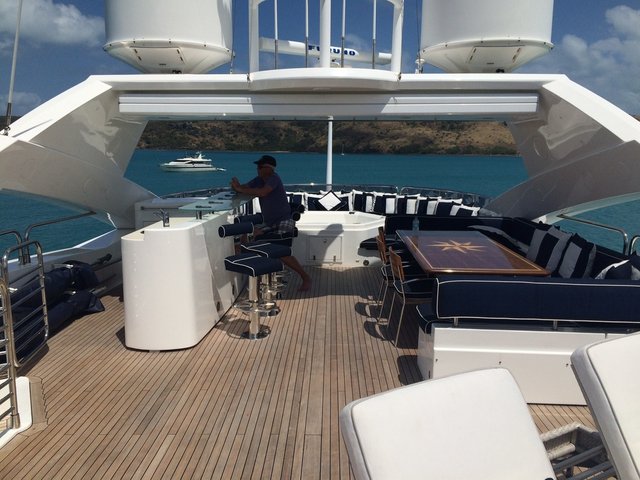 ---
Lunch on the Stern (Rear) Deck
---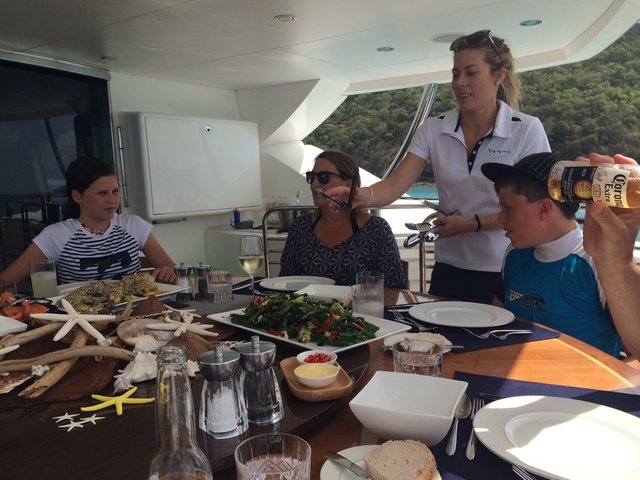 ---
This experience now seems like a distant memory to me.
I have matured and grown so much in the last 2 years.
While I enjoyed spending time with some of my family on this vacation - I now think about how many people I could have helped with that money.
I can't change the past - but I can change the present and future - and that is what I intend to do with the remainder of my life.
My life is now very different to the one that I used to live. I'm am now a much better person than I used to be - but I am far from perfect. I am a work in progress. I will never will be perfect - but I strive to be a better human-being every single day.
I am free from the pressures of owning and running companies. I am free from debt. I now spend much more time thinking about other people rather than my myself.
I haven't worked for 3.5 years - call it a mid-life crisis, a reality check, an awakening, a red pill moment (or whatever you want to label it as) - but truth be told - I now know a lot more about myself and I care far more deeply for others.
I you have $1,000 and are happy - you are rich. If you have $1 million and you are unhappy - you are poor.
I genuinely believe that - but it took me years to realize it!
I also believe that when you do good things (for the right reasons) the results take care of themselves. That is not always the case (in every instance), but for the most part that is how things have usually panned out for me - attitude and perspective does play a important role.
Is the glass half-full or is the glass half-empty? I chose to believe that it is half-full.
I no longer desire the big homes, fast cars, extravagant vacations and celebrity parties. I thought that I did - but they did not make me happy and I am so glad that I finally realized that it was a dead end to nowhere.
The penny finally dropped 18 months ago when I realized that my life purpose was to help others and try to make the world a better place before I died.
When I was a teenager my Dad told me about the day that he was sitting in his office, talking to his lead engineers, when in a literal second he saw one man decapitated right in-front of him as they were talking, and another 6 men get hit by shrapnel. There was an explosion on the site. My Dad was not in the military at the time (he served years earlier) - he was just sitting in his office and talking to his colleagues.
We are here for such a short period of time - we need to do our utmost to make every second count.
---
Closing Thoughts
---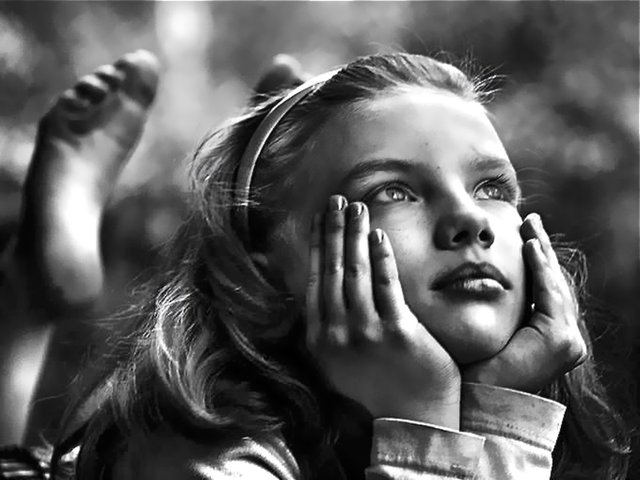 ---
Don't be fooled into thinking that I am wealthy - I am not.
99% of what I had is gone.
I am not comparing myself to Charles "Chuck" Feeney - but I do intend to follow the example that he set and give almost everything that I own away while I am living so that I can see that it goes to the right places, and see firsthand, the difference that it will make to the lives of others.
I was born with nothing and I will die with nothing.
---
---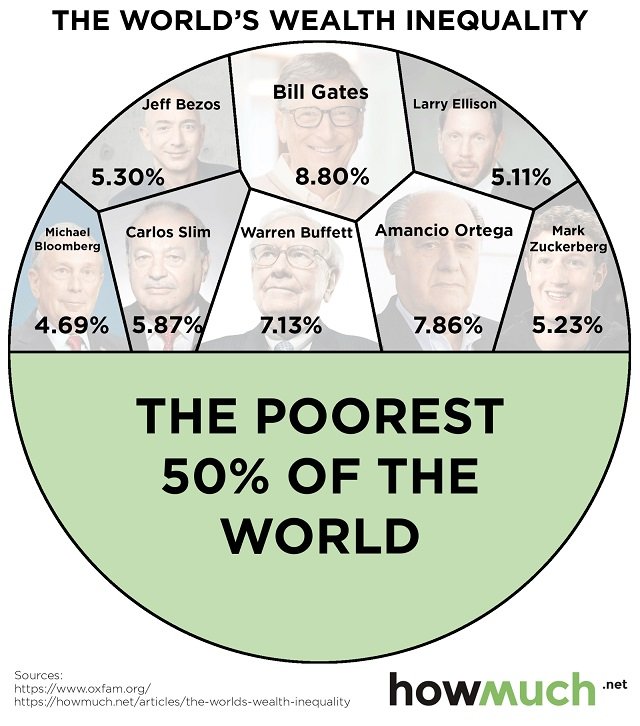 ---
Charles "Chuck" Feeney could have been one of these greedy, selfish men - he would most likely be comfortably be sitting amongst the 50 richest in men in the world today - but he chose to give it all away and took a different path - way back in 1982 (35 years ago).
Have you ever seen Chuck Feeney on TV, in the newspaper or in the movies? Have you ever heard of him?
Most likely not - it is not a story that the government and lamestream media wants to ram down your throat day and night.
Helping your neighbor and spreading the message of selflessness is not a message that they want you to hear or comprehend - the message that they preach is one of division and survival of the financially fittest!
When you die you will not take anything with you - but you can leave a legacy - what will your legacy be?
---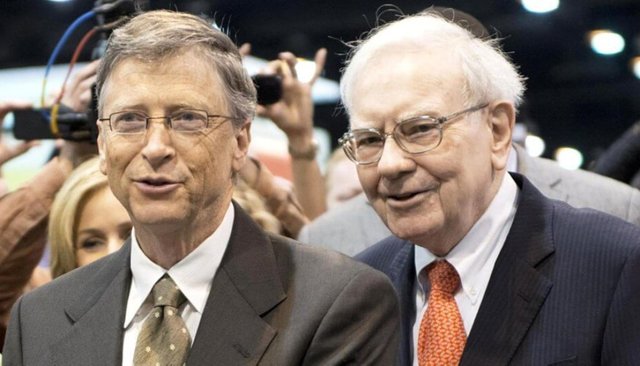 ---
When you see the Bill Gates and Warren Buffet's of this world giving away billions - please remember that they are only giving away a relatively small portion of their fortune and most of it will vest after they die.
They are both pretenders/fakes when compared to Chuck Feeney - unfortunately the media loves and elevates the Gates and Buffets (Kardashians) while it conveniently ignores the real heroes/patriots e.g. the Feeneys. That is how the game is played unfortunately and I trust that I have shared a small insight into it?
We live in a very artificial and manufactured world!
---
What are you working for?
Who are you working for?
How much money do you need?
What are you doing with the money that you make?
Could your money be better spent elsewhere?
I can't answer any of these of questions for you - only you can!
---
Please consider supporting my channel and resteeming this post. I will give it all away and that is a promise!
My truth may not be your truth - that's ok. I merely attempted to share my truth and introduce myself to you during this series.
I welcome hearing your truth.
Thank you for reading my post and for allowing me to share why I love Steemit with you, and life with you in these 4 posts!
Till next time…
Love, Peace & Truth
@steemthruth
---
Related Posts
Chuck Feeney - Billionaire Secretly Gives Away His Entire $8 Billion Fortune Away in 34 Years
It's Time to Build a Society that Benefits Everyone - Not Just the Privileged Few!
When Everyone Thinks Alike - Who is Thinking?
---