Steem is a token built upon it's community activities. Steem currently has one of the largest communities on the blockchain. With over 1.3 million transactions daily processed on the steem blockchain.
Steem has always been about growing the platform by boarding new and dedicated users. The steem-based dapps have played a vital role in contributing to the growth of the steem community. But since the HF20, things became more difficult for new users.
Before the HF20, only your voting power was affected by the amount of steempower you have. Now, almost all your activities on the blockchain is related to the amount of Steempower you have. Since the introduction of RCs(Resource Credits), voting, commenting, posting, delegating SP, e.t.c, all depend on your Steempower. This has discouraged new users from getting active with the platform. This makes steemit look like a platform for only old members. This feature was put in place to check spammers on the blockchain and reduce their activities. At the same time, it also limits the activities of genuine new users.
The question is how do we solve for this?
Steemhunt is Delegating 15sp For One Month To All New Users That Sign up Through Steemhunt.com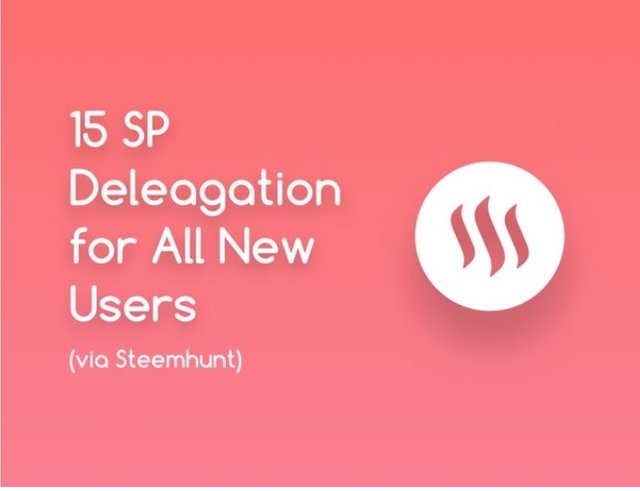 source
The problem can be solved through sp delegation. Steemhunt team has stepped up the game with this single act. With the low price of steem and the low upvote value, a project would be seeking to get more SP delegation. But what is the essence of boarding new users if you can't support them.
If you are interested in getting active on the steem blockchain, steemhunt is here to help. Simply go to the sign up page on steemhunt and receive a 15SP delegation for one month after account creation.
Is 15sp Too Small?
The plan is to get as many people to the steem blockchain. 15 SP may look little individually, but on the large scale, it will be a huge delegation for steemhunt. For instance, if they are able to recruit up to 500 new users, that's about 7500 sp delegation given out for free.
On the part of the new users, the 15 sp will grant them access to be more active on the steem blockchain, although to a limit. With proper management, you can grow your own sp under one month. In my opinion, one month is enough for a dedicated user to get 30 sp especially with the current low value of steem.
An upvote of at least 1$ everyday will get you 1.3 sp and 1.3 steem from each post on payout. 1.3 sp in 30 days will give you 39 sp in a month. To fasten this, you can power up your initial earnings in steem to SP.
How Do I grow My Sp?
You can grow your SP in two ways;
Getting upvotes on your posts and comments
Investing ( buying steem and powering up)
Being active on steemhunt alone can get you 30 sp in a month. As a new user on steemhunt, you start with a user score of 0. Based on your positive activities and contributions to the platform, your user score increases. Your user score determines the amount of upvote you get from steemhunt. From Experience, five approved posts that make top 100 in the daily rankings can get you to 1 point. With the current price of steem, a userscore of one point gets an upvote worth 0.5$ from steemhunt.
Your hunt stake on steemhunt is a variable in calculating your hunt score. So you need to gather as much hunt tokens as you can. There are several ongoing airdrop programs on the steemhunt platform. You can click here to read my posts about Steemhunt Airdrops.
There are lots of other ways to also get upvotes on your posts and comments. Last week I did a compilation of major active dapps on the steem blockchain from which you can get upvotes. You simply need to be an active contributor to one of those projects.
As a new user, your investment in steem is always welcome. With the current price of steem, you can get 30 steem with barely $9. That's not much of an investment to make on the steem blockchain to increase your activity limits.


[current price of steem on CMC]
In my opinion, steemhunt has played a great role in promoting the sign up of new and active users. At the same time this will also boost the adoption of their platform. With the forthcoming launch of the SMTs, most dapps will be looking to grow their community base. Steemhunt currently has over 60k MAU ( Monthly Active Users) . Steemhunt as a dapp is built upon it's community activities and and real users. To build a stable token economy, more active and real users will need to be recruited.
Note
There is no mandate for you to be active on steemhunt for you to get the delegation. The only required criteria is that you sign up through steemhunt.com.
SUMMARY
This is an opportunity for all those willing to join the steem community or any dapp on the steem blockchain. It's a good way to start growing your steem account.
Thanks for Reading
Links
Project repository: https://github.com/Steemhunt/web
Project link: https://steemhunt.com
Resources:
All pictures were properly sourced.
Github Profile: https://github.com/tony-duke