The Crypto Renaissance - Exhibition in NYC [Grand Opening!]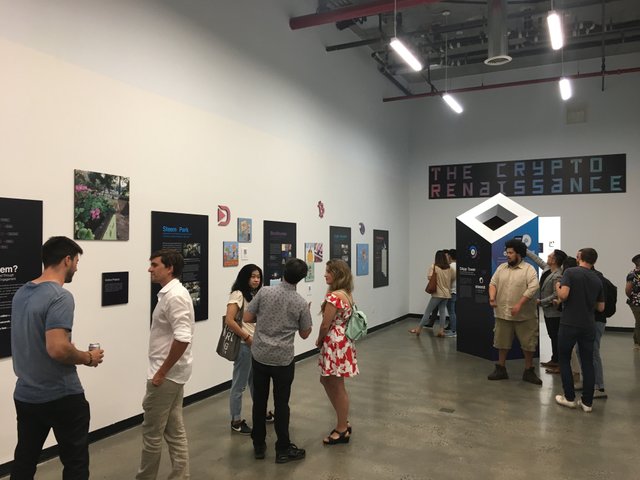 Opening Night!
Last night we opened The Crypto Renaissance exhibition in Brooklyn! The event was entirely free and open to the public in an effort to drive more visibility towards cryptocurrency in the creative world today. Steem was front and center. Throughout the space we showcased dozens of Steem-powered projects that have come out of our incubator, @sndbox. The center of the floor featured a 9'-0" tall Steem DApp tower installation, which included huge supporters of this exhibition; @fundition and @utopian-io. A big thank you to those two amazing communities who have helped make this exhibition a reality. More awesome apps included @dtube, @dlive, @steemitblog (of course), @esteemapp, @busy, @dsound, and @steempress.
We even had an interactive selfie station that linked to @steepshot! The exhibition will continue to be free and open to the public over the next few weeks (through August 15th). Visitors will have unrestricted access to the @exhibition account to explore the Steem blockchain and learn more about all the tools and resources built on top of it.
---
Click here for more on The Crypto Renaissance Exhibition
Event website - https://cryptorenaissance.io/
---
Opening Night - Friday, July 20th
The turnout and energy all night was incredible! A mix of Steemians, crypto-newbies and leaders across the blockchain landscape in New York City. Thank you to all who came from Brooklyn and Beyond to make this event happen. Here are just a few preliminary snapshots of the show: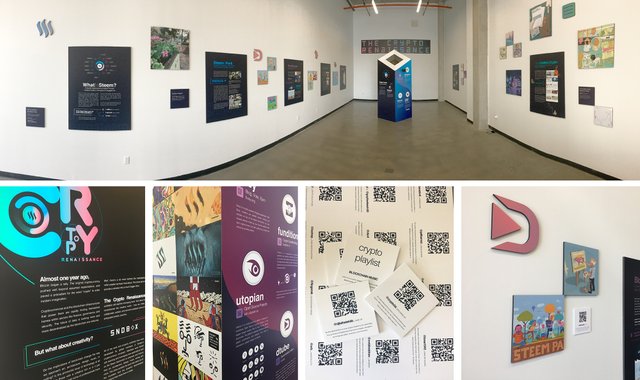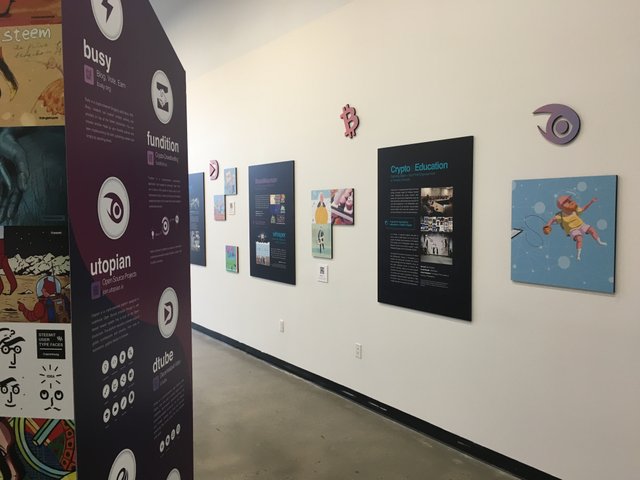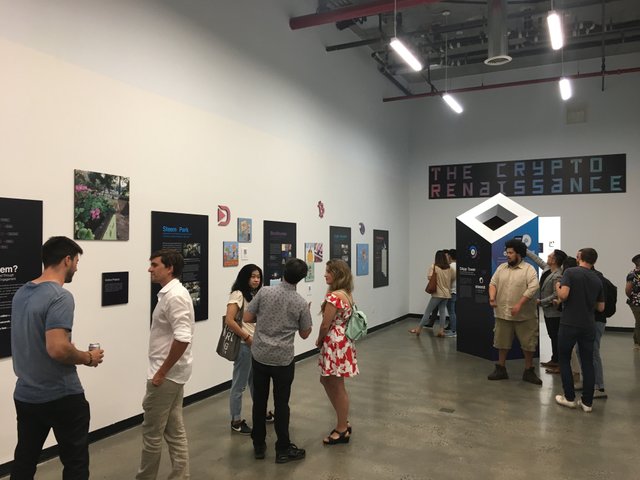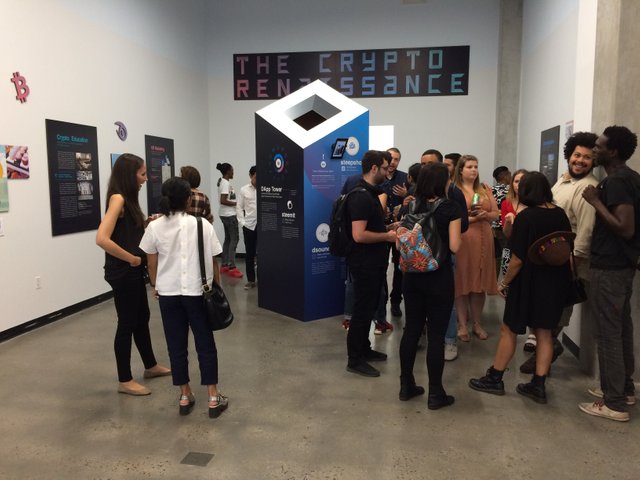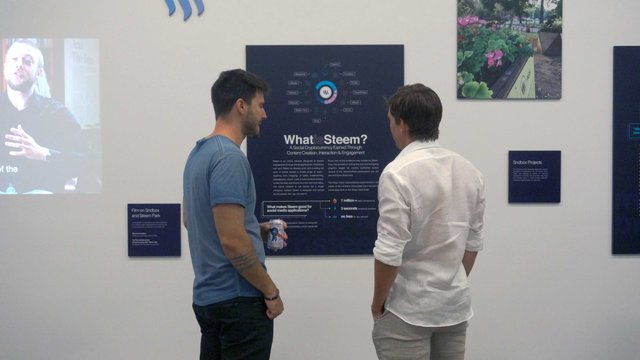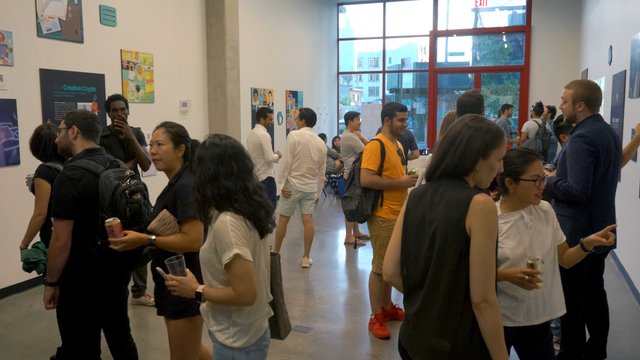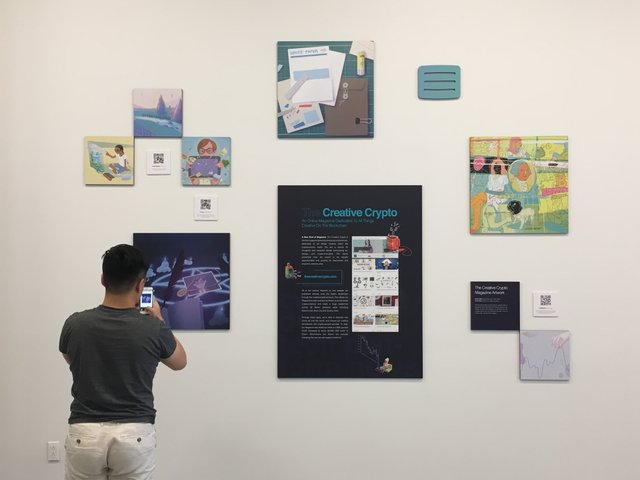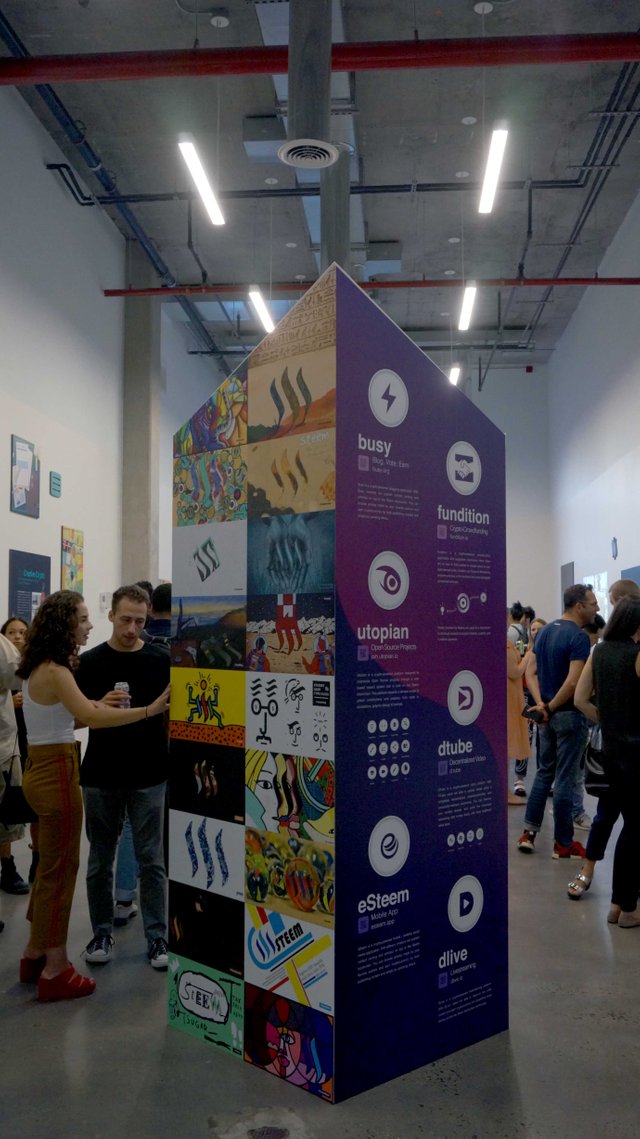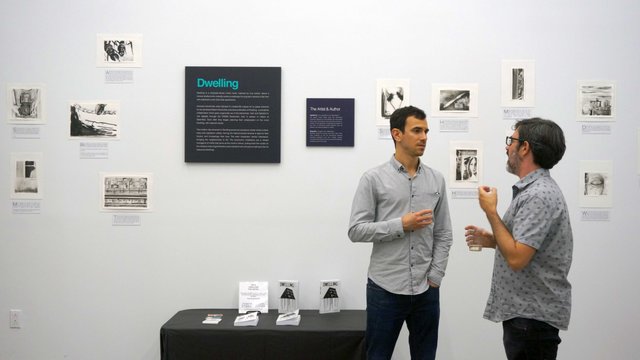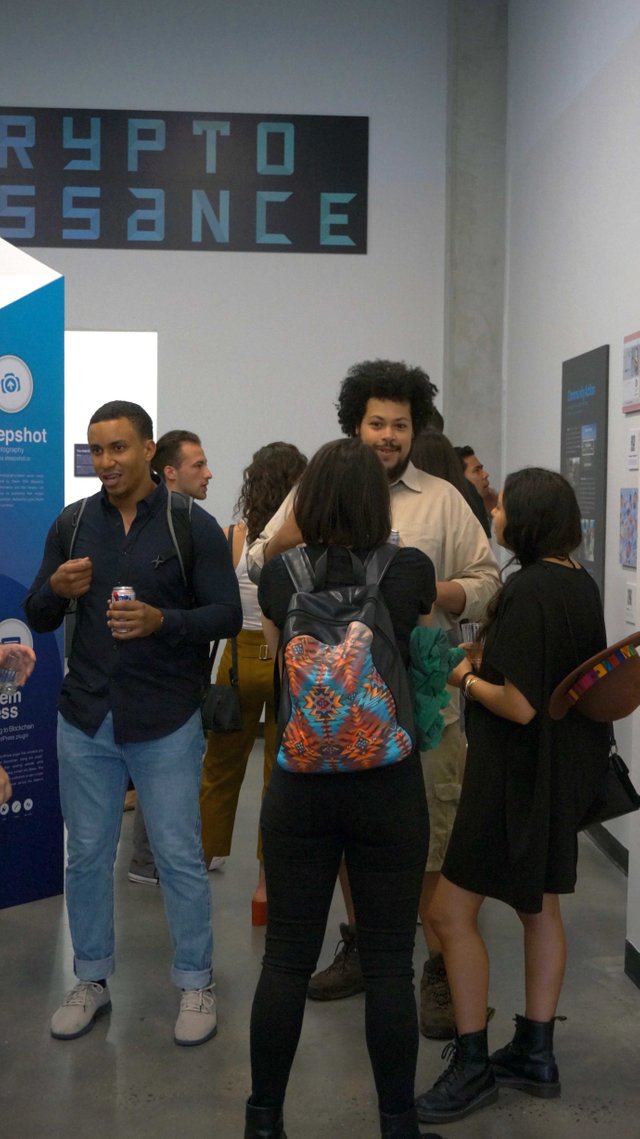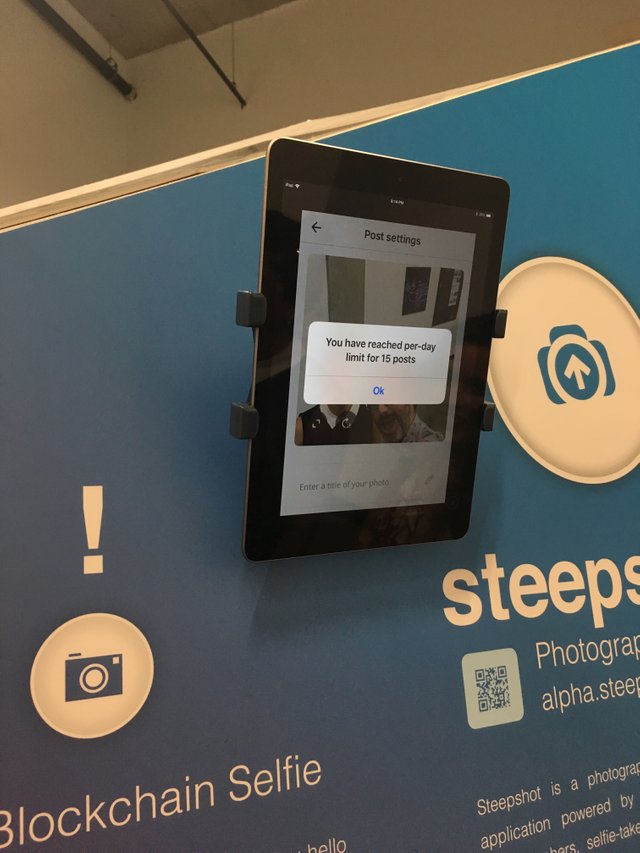 Yes, @dougkarr (author of Dwelling) was the culprit behind Steepshot being overloaded!
Here are some selfies from our Steepshot Selfie station posted through @exhibition. We'll continue to post awesome snapshots from the show via this account and as weekend programs take place over the next few weeks. Stay tuned for more announcements on those events this week - Upcoming workshops include @dougkarr and @opheliafu of Dwelling next Saturday! Stay tuned for more!

---
Follow @exhibition to track our Steepshot Selfie Station

The @exhibition account will be LIVE throughout the entire 4 weeks. Visitors can log on and use the account as they please. Be sure to follow along and engage. 100% of the liquid rewards from the @exhibition account will go towards reducing the cost of The Crypto Renaissance exhibition. You can learn more about the show, here. The @exhibition account will accrue Steem Power that will then be used for future events and Steem meetups around the globe. Learn more about the @exhibition account and this rotating initiative, here.
Thank you Fundition + Utopian

This show was a big team effort. Alongside the incredible support of Fundition and Utopian teams we owe a big thank you to our generous donors - @roelandp, @thejohalfiles, @hansikhouse, @voronoi, @opheliafu, @mintvilla, @nanzo-scoop, @ericvancewalton, @leotrap, @firepower, @sjennon, @lukestokes. @bitrocker2020, @aaronleang, @alvinauh, @kymio, @superoo7, @khimgoh, @bree1042, @waybeyondpadthai, @aaronli, @steeminator3000, @espoem, @natureofbeing, @travelling-two, @geetharao, @zamifara, @barbara-orenya, @katalinaooma, @kimzwarch, @iamjadeline, @zord189, @elizacheng, @viverridae, @shortcut, @ciontheemrald, @consciousangel7, @em3di, @vandigital, @voiceoff, @ninjace, @encryptdcouple, @amvanaken, @bulent1976, @abduhawab, @fingersik, @manouche and @icaro!
---
Special thanks to @aaronhong for the poster design.
---
The Crypto Renaissance Details
Schedule: July 20 - August 15, 2018
Location: 100 Bogart Street | Brooklyn, 1st Floor Gallery
---
Follow us on Twitter > Sndbox + The Creative Crypto + Facebook
---