Welcome to the concluding part of this two-part article on dpoll. In the Vol. 1, I discussed extensively what I intend to achieve with My Knowledge of Steemiverse Series. In that part of the article, I also introduced the first steem dApp of the series; dpoll, and also raised several talking points including:
The definition of dpoll
How to use dpoll to create a typical poll
Increasing userbase of dpoll as evidenced in several dApp ranking sites
The edge of dpoll over other conventional forms of opinion poll applications, and finally...
The summary.


source
Please if you miss that part, go here now and read it. Of note in that Vol. 1 is the highlight that, unlike other opinion poll applications, dpoll is amazing and exceptional. This is because data stored in the blockchain cannot be tempered with by an external authority. Till eternity comes to an end, one can always consult and reference the real data from the immutable storage on the blockchain at any point in time.
---
Having said that, in this Vol. 2, I will be taking a shot at the other amazing features of the dpoll UI and other recent developments around the project that are worthy of attention. To that extent, our talking points will revolve around these key areas:
@dpoll.promotion and how to promote a poll content
Latest dpoll content filters
Multi choice poll option
My simple suggestion to the project developers.
---
Dpoll curation
---
I never knew about the existence of the dpoll curation account, @dpoll.curation until the bot voted the poll post I made a few days ago. I trust we all know what a curation account means. It's primarily used to upvote poll-related posts to encourage the authors of such posts. The account currently has a total of 23,712 SP delegations from various project backers. The appeal for sponsorship is still open, so if you feel like sponsoring the project you can always delegate to that account. You can also contribute to project by making poll related posts and have them voted by @dpoll.curation account.
---
Dpoll Post Promotion
---
This feature was built to enable those who believe they have important poll and want maximum exposure on their poll, to do so. However, it doesn't come free. Just as the name sounded, you must part with some SBD to promote a poll post.
To promote a poll, view the post on steemit.com, and you will see the answer the question at dpoll.xyz tab as indicated in the screenshot below. Click on it and you will be taken to dpoll detail page.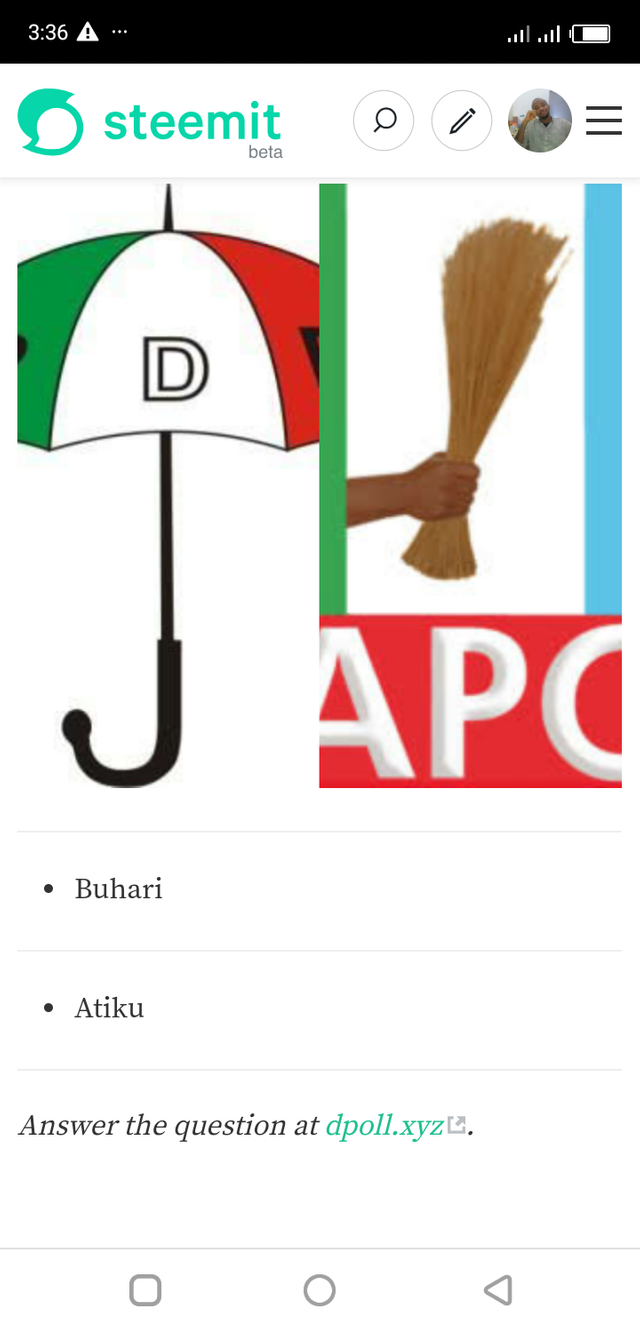 There, look up and you will see promote button on the upper part of the page.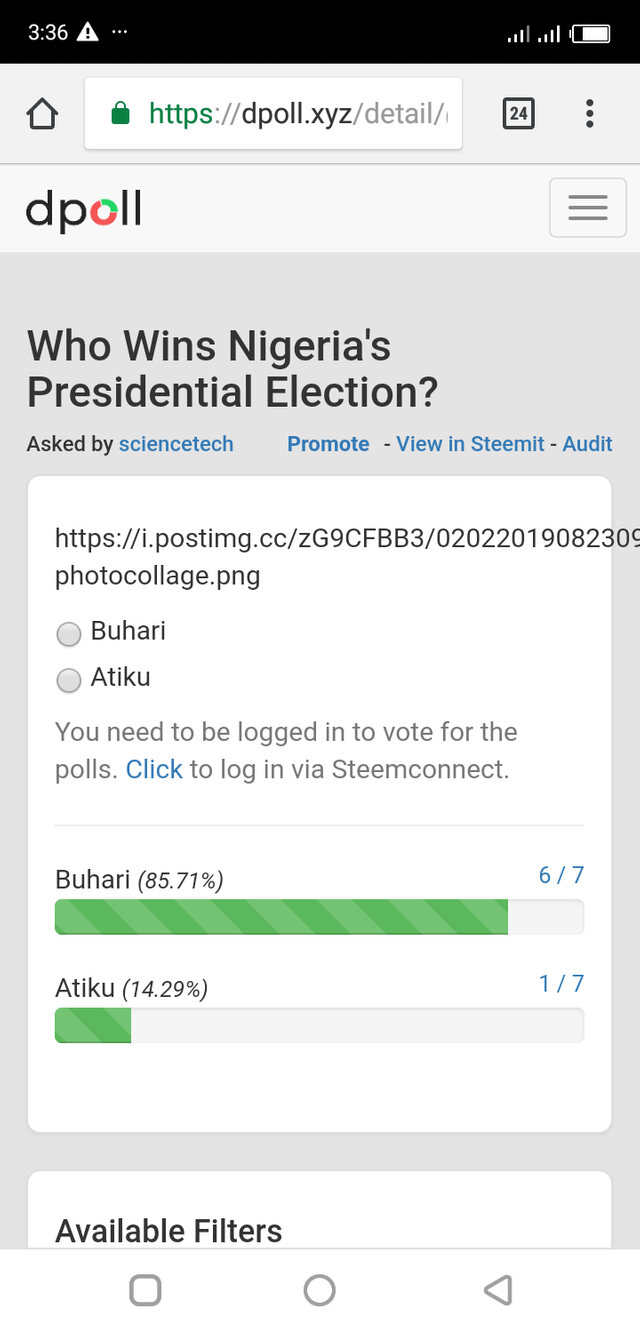 Click on it and a page for transferring SBD will be displayed. Enter the amount of SBD you want to use to promote the page, and click the transfer button. Viola! Once the SBD transfer is completed successfully, the poll will be registered as a promoted poll on dpoll system.
All dpoll promoted posts are grouped together and listed separatedly on /promoted page. The importance of promoting a poll cannot be over emphasized. First, the poll will get more exposure than other polls that are not promoted. Promoted polls get maximum feedbacks from the dpoll community users and it doesn't matter whether these people are following your account or not. A lot of users have been known to skim the homepage and engage with the polls.
Secondly, community members view promoted polls as important polls, and are always more drawn towards contributing to it.
---
Latest dpoll content filters
---
In the early days of dpoll, all polls are grouped together and ordered according to date of creation. One drawback with this is that you won't know the ones that really received most attention amongst the lot. However, it is not like that anymore, thanks to the introduction of the content filters by the team. Now, we have the following content filters:
Promoted page — this is the first of the content filters which has been extensively discussed above. This page lists all the promoted polls according to the amount used to promote each individual poll. Polls promoted with higher amount of SBDs rank higher than those with low amount of SBDs. So if A and B promoted their polls together, and A used 2 SBD to promote his poll while B used 1SBD. In this instance, the system will always rank A higher than B within the promotion page.

New page — this content filter lists all polls according to the time they were published. Here, the system doesn't consider if you promote the poll or not; the primary factor here is the time the poll was created. Newer polls always rank higher than the older polls.

Trending page — Here, active polls are listed on the basis of voter count. So the more vote count a poll gets, the higher it will be ranked on this page.
---
Multiple Choice poll option
---


source
This is another recently added feature that deserves attention. Before now, poll creators were limited by the number of choices they could set on their polls. There was no flexibility in choices even though some polls really require that. Multiple choice poll option was introduced to overcome this hiccup. With this, poll creators now can have multiple votes on choices. This option is disabled by default, however, if you have a need to use it, just tick the checkbox in the above image. If this explanation isn't clear, you can click here for more information.
---
My simple suggestion to the project developers
---
Having used dpoll for a couple of times, I want to say that everything about the project is perfect. But then, there is something, I think, is missing. When you create a poll on dpoll.xyz you will see the post only on steemit.com, and won't see it on other sister UIs through which steem blockchain can be accessed as well. I think this is not cool. I think being able to see the poll content in all the sister user interfaces once created will be great. I pray the developers do something about this in not so a long time.
---
Summary
---
In the Vol. 1 & 2 of this article on steem dApp — dpoll — I have been able to touch all aspects of this amazing steem dApp. From its definition, its unique advantages over other similar poll applications, including how to create polls, how to create a promoted campaign, the meanings of its different content filters, to its whole user interface as well as suggesting what I will like to see in the dApp. I don't think there is anything left untouched or have you any?
Among other features of Steemit.com, is the continuous acquisition of knowledge. So I have said all I know about this dApp. If you have any view I didn't touch in the course of this article please feel free to let us know in the comment.
Thanks again for being patient to go through this article.
---
Links
---
---
Resources
---
All images used in this post were taken with my android phone, otherwise are properly sourced.
---
My Github Profile
---