---
"Steemiverse"! What a coinage! What's its contextual meaning and why?
---
Contextually, the term Steemiverse as used in the title is meant to encompass the whole world of steem including all the steem based dApps. I have been here for quite some time and I can confirm that Steem ecosystem is so very verse. In fact, only things that can be said to not be supported by the rich steem ecosystem, are probably things that are yet to be conceived.
As someone who has been here for quite sometime, it is my believe that starting a series that's solely dedicated to the verse world of steem, is important for proper dissemination of information, and will also help encourage community participation within the verse steem ecosystem. For example, most new steemians are not aware of the fact that steem ecosystem is far more than just steemit.com. They may not have heard about dtube, airclinic, dpoll, steemmomsters and other awesome dApps that are built on steem blockchain.
For example, a newbie steemian who wants to consult with an online doctor over a minor health issue, will likely seek medical assistance elsewhere if he's not aware of awesome health services run by a steem dApp; @air-clinic. However, with access to information about @air-clinic, he will most likely discard the idea of seeking medical consultation outside steem ecosystem, thereby strengthening steem economy.
So in essence, I believe it would be nice to have all blog articles on different steem dApps under a series. With this, new members of the community who seek more information about steem or old members who seek to clarify one thing or the other, can always turn to such steem dApp based informative series and probably find the answer they seek. I don't buy the idea of discussing different steem dApps in isolation. They should be discussed under one umbrella for easy reference purposes. That's the idea behind My Knowledge of Steemiverse series.
All articles on different steem based decentralized applications will be written under this series with distinct dApps articles categorized according to part 1, 2, 3, etc notational system. Where a blog post on a dApp cannot be adequately covered in an article, then we will adopt Vol. 1, 2, 3, etc to connote different articles on different aspects of the particular dApp. All these are intended to make locating individual articles on different steem dApps easy.
---
Having said that, in today's article, I will be writing on a steem dApps called dpoll.xyz. And to ensure that this article is made as comprehensive as possible without neglecting the real substance, the talking points of this article will include the following:
What is dpoll?

Brief description of the UI and how to use it.

Increasing userbase

The edge dpoll has over other forms of opinion poll.

Summary.
---
What's Dpoll?
---
You know sometimes an occasion may arise in which one will like to gauge public opinion before taking a position and making the position so taken public in order to avoid conflict of interests with public opinion.
Opinion poll cannot be conducted in isolation; it must be carried our amidst a group of people. With over a million userbase, steem ecosystem is an ideal ground for conducting opinion polls whenever the need arises because the crowd is already there to offer their opinions on every subject.
According to the founder, @emrebeyler, in the introductory post some 4 months ago:
dpoll.xyz is an experimental application on the top of the STEEM blockchain. It has an account based voting system, where accounts may vote specific questions asked by other STEEM accounts. source
So basically, dpoll is a decentralised poll application built on top of the steem blockchain for getting public feedbacks on any topic within the steem ecosystem.
---
Brief description of the UI and how to create a poll
---
It is no rocket-science to grasp the working functionalities of different Dpoll tabs as everything, to the best of my knowledge, is quite self explanatory, and the UI is damn easy to navigate. Be that as it may, in this Vol. 1, I will give a walk through description of how to create a simple poll on dpoll platform. Other aspects of dpoll functionalities will be covered in Vol. 2 of this series.
To start with, the platform uses the main steem post as question while replies to the steem posts as votes. To grasp this, take a look at the poll I created this morning on dpoll.xyz and its corresponding visualization on steemit.
Like most steem dApps, dpoll makes use of steemconnect security protocol to access the blockchain. For this post, I am using my android phone to access the website. Just type dpoll.xyz into the address bar. Click the three hozontal rectangular bars at the top far right side of your screen and hit login button. Use your active key via steemconnect protocol to complete the login process.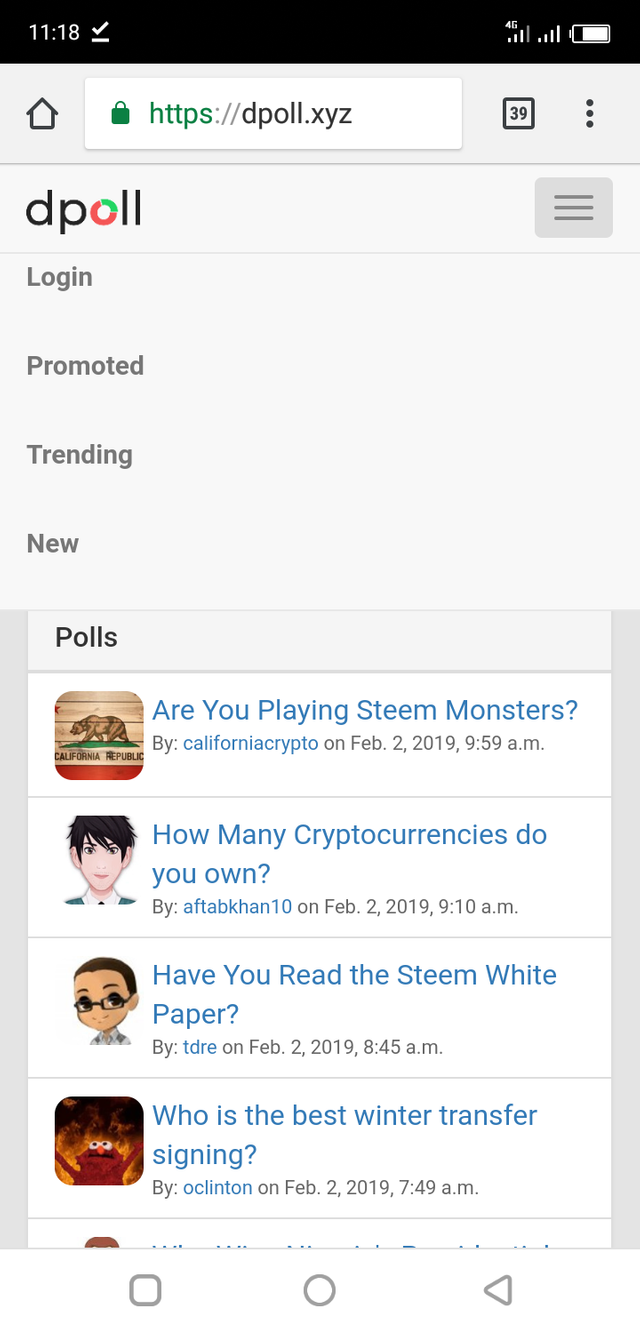 Click on the three horizontally bars again and a dropdown menu will display showing create poll button among other buttons. Click on the create poll button and follow through to complete your question as shown in the images below. When you are through just click the submit button and you are done.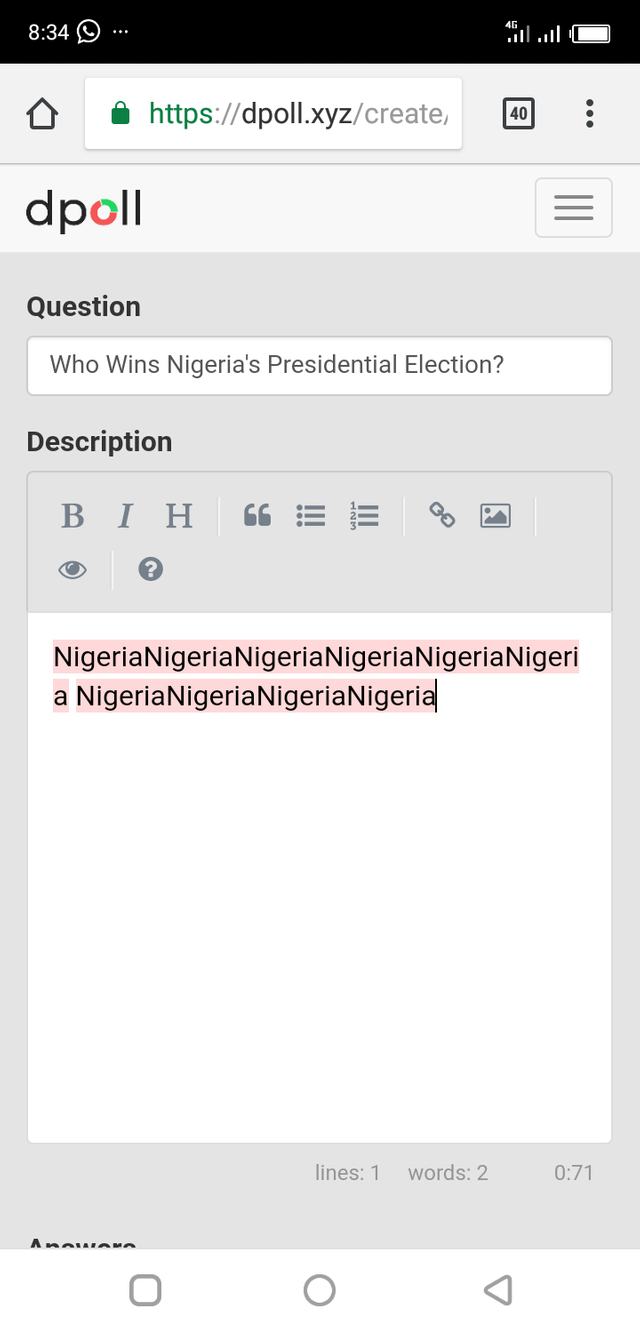 Please ignore the multiple Nigeria words in the above image. What's actually there is the image link from postimage.org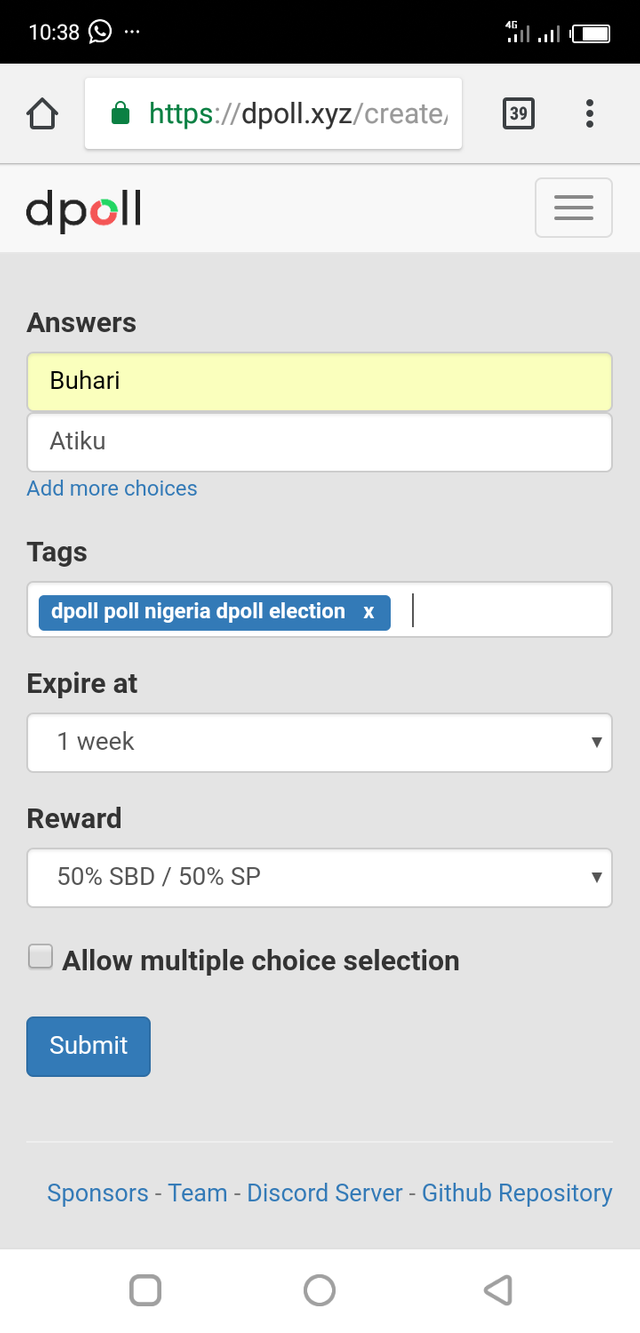 ---
Increasing userbase
---
First developed as a minimum viable product, (MVP) in the buildup to Utopian Hackaton last year by @emrebeyler, dpoll has gained attention tremendously and currently one of the fastest growing dApps not only on steem blockchain but across the entire blockchain market. This is evidenced by the rate it is swiftly moving up the rank on all dApp ranking sites.
It currently ranks number 11th on stateofthedapps.com across all listed dApps, including those of ETH and EOS. Considering activities in the last 7 days on steemdapps.com, dpoll is in 4th place! That's amazing performance for a project that just sprang up about 5 months ago.
Activity is one of the chief factors investors consider before deciding whether a project is worth investing in, as no one would invest in a project that doesn't have active users. Dpoll is yet to get any major delegation, yet it is performing sterlingly like this; how will it perform then when it finally gets delegation!?
---
The edge dpoll has over other opinion poll platforms
---
Unlike other similar platforms, permanent storage is one of the major benefits of storing data in a blockchain application. Once data has been registered in the blockchain, it becomes permanent, and will no longer be susceptible to tampering and manipulation by an authority.
This is not the case with other non-blockchain platforms where an authority can manipulate the outcome of a poll exercise that doesn't favour it. For example, an unpopular presidential candidate can bribe the management of other polling platforms, and the whole system will be manipulated in the backend to project him as the popular choice.
Blockchain based opinion platforms discourage corruption. That's the beauty of blockchain technology. In the case of dpoll, from eternity to eternity, one can always check the real data and real numbers exactly from the immutable storage on the steem at any point in time!
---
Summary
---
In this article I have been able to educate us on why it's important for all steem based dApps (to) be discussed under one umbrella series and not in isolation. We have learnt, among other things, how articles that are going to be written under this series, will be categorized for ease of clarity and understanding.
We have also learnt how dpoll can be used to create questions and have them answered within steem ecosystem, as well as the benefits of storing data using blockchain technology. With blockchain, corruption in high places will, no doubt, become a relegated practice.
---
---
It is amazing how steem devs are working round the clock to prevent an occasion where members of the community go outside the community in search of answers whatsoever. You have minor health issues? Just grab your phone and open your @air-clinic app and get quality medical opinion. You wanna know what the popular opinion is on a particular subject so that your opinion doesn't conflict with that of the public? Grab your laptop and head to dpoll page and type your questions. Few days later, you're done. Isn't steem ecosystem amazingly versatile!?
---
---
Links
Resources
All images used in this post were taken with my android phone, otherwise are properly sourced.
My Github Profile