Geon - Visit Places And Get Rewarded
I have read several blogs where the blog owner shares ideas on how to earn an income online. Most of the ideas shared require a skill. It's either you are expected to be a writer to start writing on freelancing sites, a developer, designer, or even a marketer. All of those ideas are nice. However, what if one do not have any of those mentioned skills? Does that mean one should give up on earning online? Definitely No! All thanks to Blockchain technology. At this current time of the century, there are several ways to earn without having to be a pro in any particular field. Do you know that you can get paid for doing your normal daily activities? Yes, you read that right. Have you ever imagined yourself earning while walking, Running, or something you just do out of having fun? Well, if you haven't, then, I welcome you to this blog post where I will share with you a project that lets its users earn for visiting places.
Introduction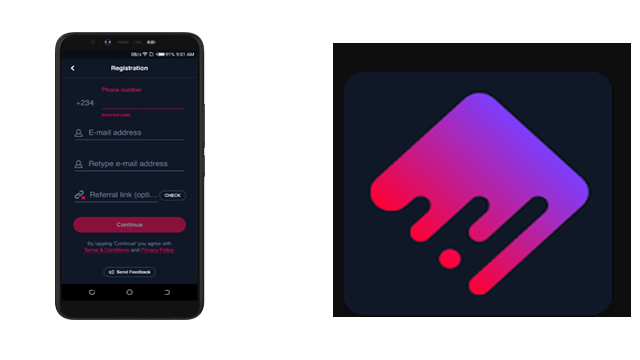 As I have stated above, there are projects that will pay you for doing your normal daily activities. Geon is one of them. With Geon, you can get paid for visiting locations around you. The developers of the project had defined their project as "An app that allows you to get paid for simply visiting real-world locations. Open up the Geon app, find a virtual Geon beacon on the world map, walk to it and grab Geon Coins! "
How Is This Done?
Well, the project has its own token which has been distributed over several locations on the world map. It's expected for the app user to locate these tokens and then grab them. This is very easy. You don't need any special skill to partake. All that is needed is the app installed and walk towards those coins to grab them.
Geon Network understands how to make things easy for its users. They have developed an app for different mobile users. Below are the links to download the project's app on different Os.
---


---
The project's idea isn't really a unique one because I have used a similar app in the past. Although, there are some other unique features which is why I have preferred Geon over its competitor. Before I start stating them, you should also get the app installed with the links provided above this paragraph. I am an Android user, so I have the app downloaded with the second link above. As I have said, I have used a similar app known as Aircoins. Both projects have a similar aim for rewarding their users with tokens for visiting different locations.
Which of the app name really tells what it does?
Aircoins to me has the name that is more related to what they offer. By now we know that both projects drop tokens on the map for their users. From the users perceptive, they see these coins as virtual coins, and they may end up calling it Air coins. So, Aircoins has a more relatable name.
Geon has its unique name which doesn't say much about them. However, both have a better description of their project on apps store which gives enough info about them.
AirCoins says: Treasure Hunt in AR.
Geon says: Visit Places. Get Rewards.
From the two descriptions given above, I prefer the one given by Geon as it gives the exact process needed. AirCoins's description isn't a bad one either. Also, I love the fact that Geon has both Android and iOS apps. Aircoins is available for Android users only.
Moving forward, I have the two apps installed so let's see how they both function.
Both apps require new users to register, or to login if you have already had an account. Below is the required information from the user to complete the registration. Both projects do not have a long registration form, which is awesome. This is one good strategy to get users registered with your projects. However, if you look closely to the first information required by Geon, it's a phone number which isn't required by AirCoins. A lot of users will prefer a registration form that requires an email address and not a mobile number. However, I love how the Geon's interface looks. it has a professional UI design with calm colors than Aircoins.
Geon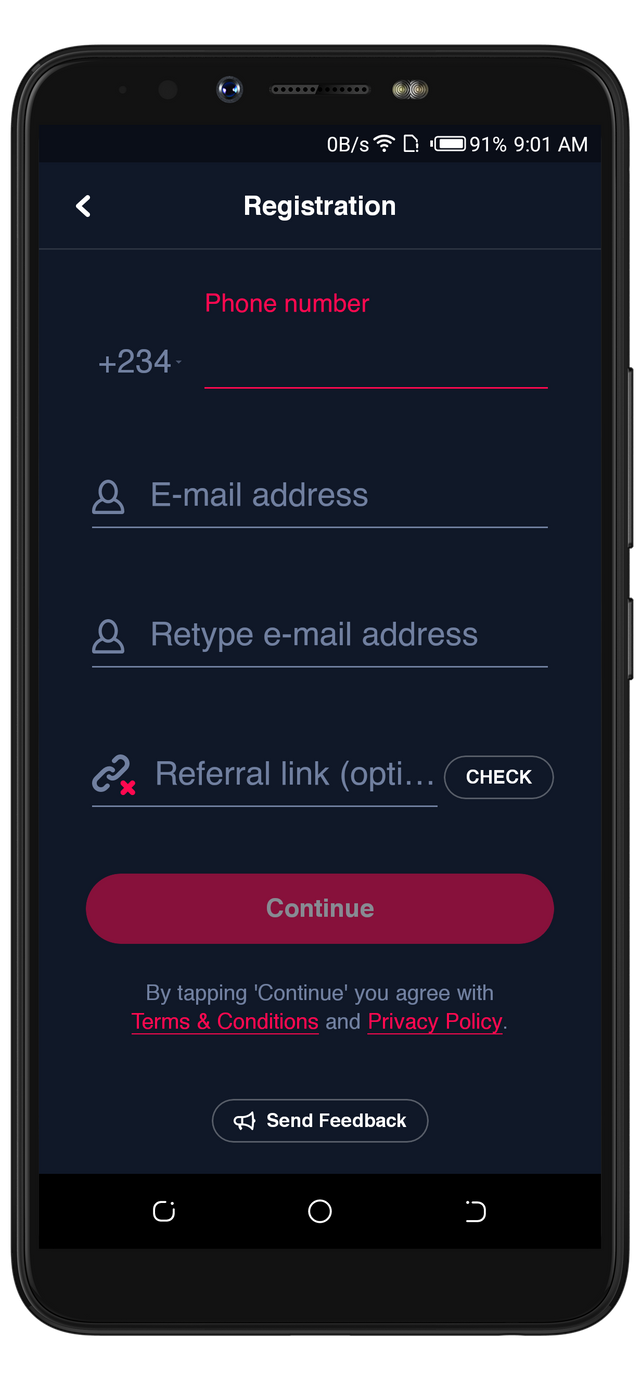 AirCoins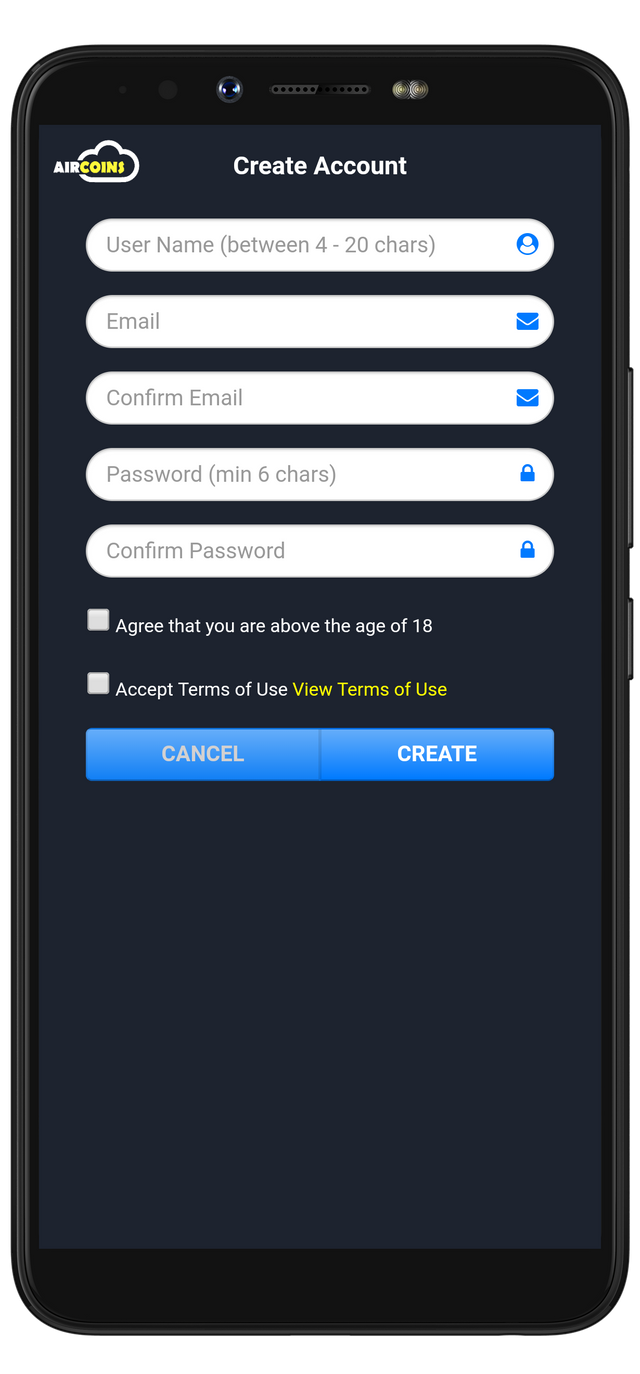 It's always awesome for projects to always introduce themselves after launching their apps. I have used several apps with their purpose displayed after registering or logging in to the app. It's awesome to see that Geon has its purpose displayed. This is one feature AirCoins lacks. See the screenshots below for how Geon displayed it.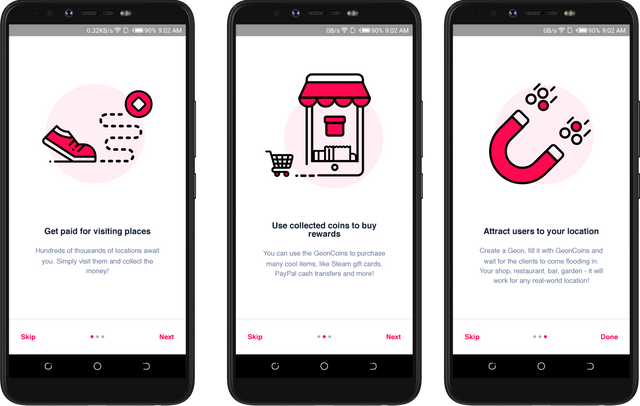 Reading and understanding the three information passed by Geon will give users a good understanding of how it works. The information passed above means that users get coins for visiting places, They can exchange the coins for Giftcards, or business owners can use the idea behind Geon to attract people to their business location. Are you wondering how this is possible? Well, you're advised to keep reading for the gist.
Are There Any Permission Required?
Yes, of course, Geon apps requires its users to accept location permission, and the rest of the permissions to function as intended. Since the project works with the map, then, that's is why it requires the location permission. Aircoins requested for these permissions too. So, it's nothing new. After they are all accepted, then, we are good to use the app.
Claiming Of Tokens
After Geon fully launched, I notice different similarities between it and Aircoins. But, as I have earlier stated, I love the color combinations of Geon. Also, loading the map to hunt for coins on Geon loads faster than Aircoins. It loads in less than 5seconds after clicking on the map button. While Aircoins needs more time to fully load. Below are the screenshots showing the coins to be grabbed. At the beginning of this review, I stated that Geon has its tokens. There token is only displayed at the launching of the app. That is awesome. However, it's different from Aircoins. AirCoins do not have just one coin, but lots of different coins from different sponsors. Currently, Geon users can only claim one type of coin, while Aircoins users can claim different ones.
---
Geon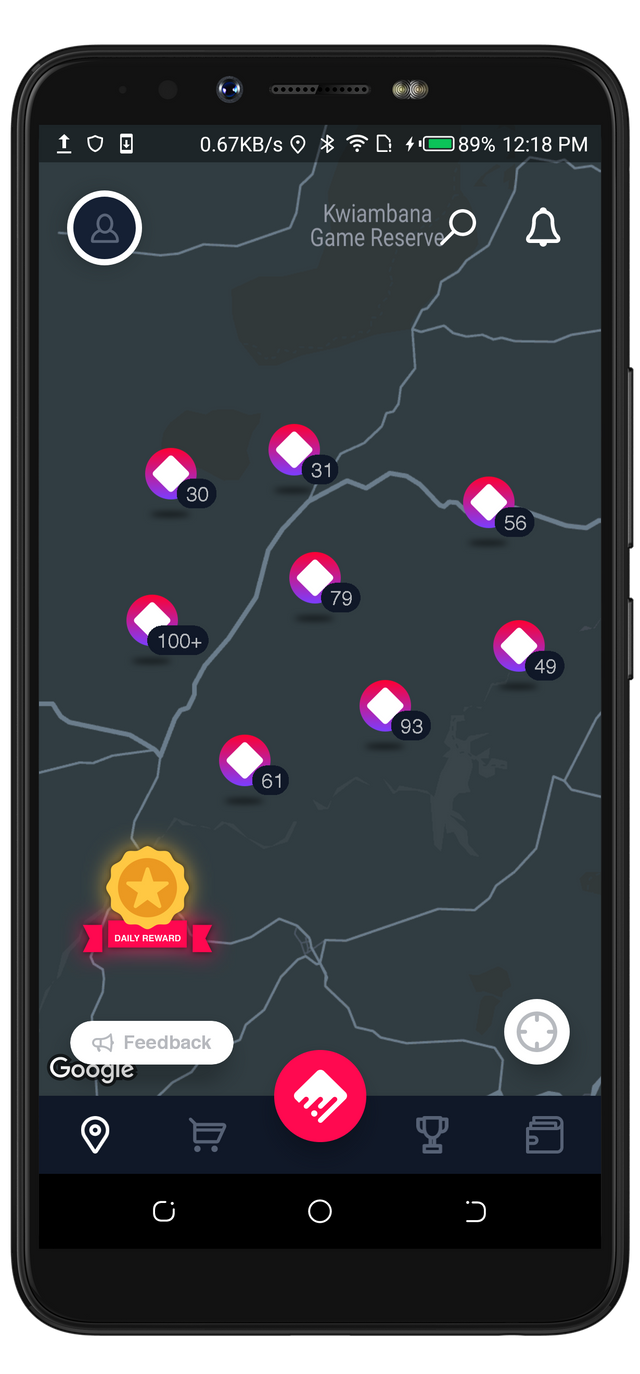 AirCoins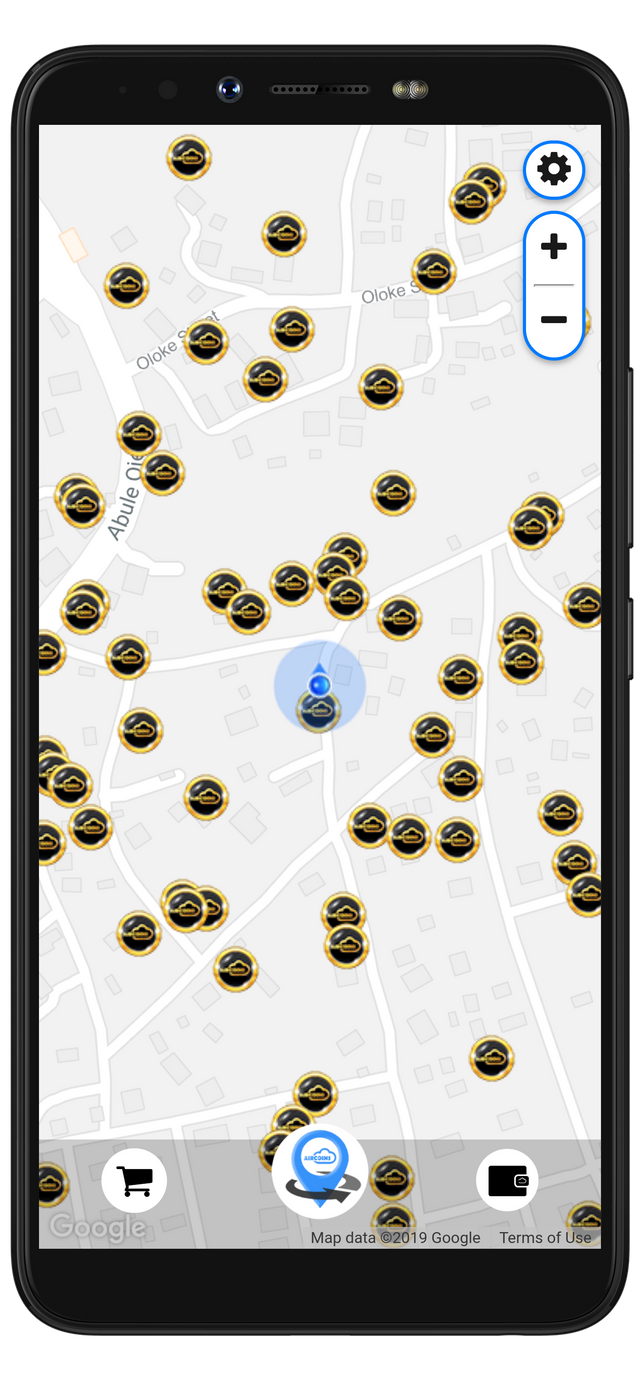 ---
Looking at the bottom of both screens above, You'd see that they have almost similar buttons. Some of the similar buttons are; Wallet button to view the total token claimed by the user, and Store button for exchanging their tokens with gift cards. Exchanging of coins for a gift card is only available on Geon.
Also, both apps have a leaderboard option which displays the list of users with the highest tokens claimed.
We read from the introduction page displayed after launching Geon that their project is a source of income for individuals, and at the same time a tool for business owners. Let's see how true this is.
The main uniqueness of Geon is the ability it gives its users to create their own coins. The coins created by its are dropped in different locations for other users to hunt them. This idea is very useful if you own a business, and you'd like people to come to patronize you. For example, if you own a coffee shop, and you want people to come visiting your shop, then you should grab the Geon app, create a coin, place the coins all around your shops. People's will come hunting for them and might end up buying some coffee from you.
Wow!! See how Geon solved a huge problem there?
If Geon is new to people around you, then, that would be another problem for a business owner because your coins are to be claimed by Geon users. However, you don't have to worry If you're a business owner. Because Geon already has a better way to solve the issue.
As a business owner, you can invite your customers and get commissions from Geon. This is like a double win for you. Because you invite people you get paid, you create a coin for them to hunt, then, they come hunting for it, they buy coffee from your shop, you win!!! That's lovely.❤️
This is so bad for Aircoins because none of the explained features are in their projects.
On Geon, you're required to create your own token with Geon token. This means that you must have Geon token in your wallet. If you're a business owner, or maybe an individual who doesn't have time to hunt? But, would love to create a coin? Well, you can easily purchase Geon from the app.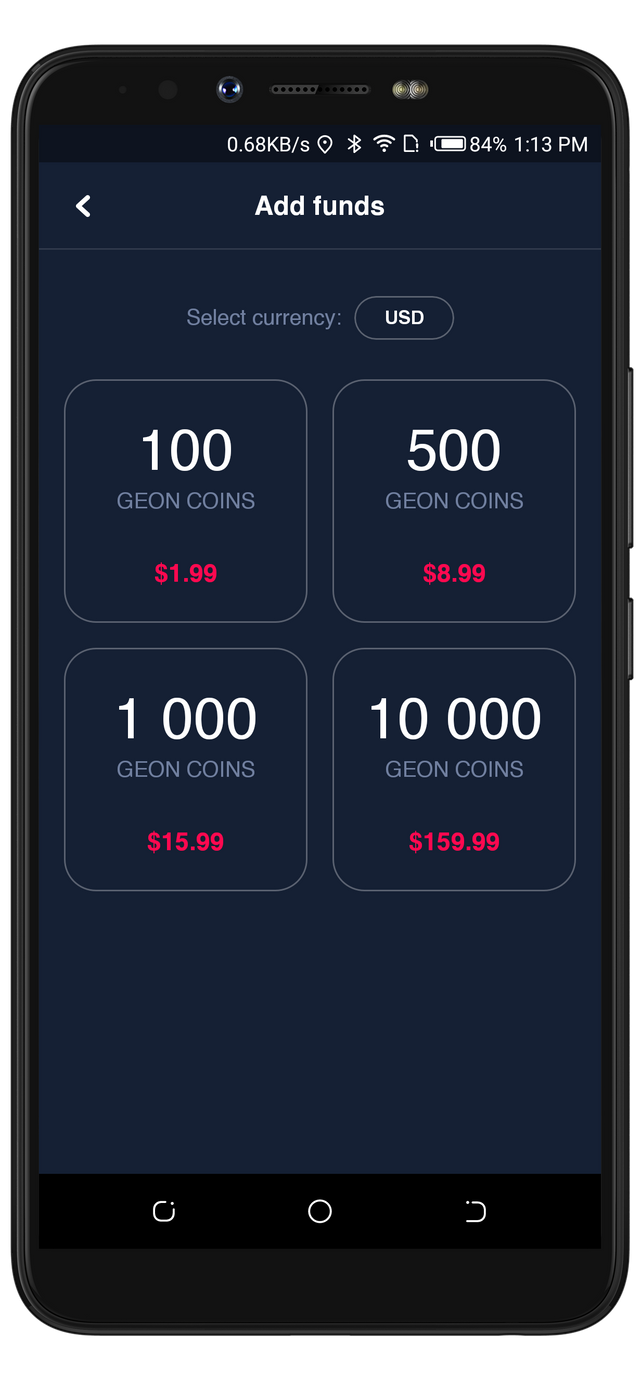 If you're an individual who's interested in just earning, then there's a store for you to exchange your tokens for various gift cards. below are the different ways to claim your reward.
Steam gift cards
Random Steam games
PayPal Gifts
Netflix vouchers
There are several features embedded within Geon's app. If you're a token owner, you have options to set if you should get a notification when a hunter grabs your token, leaves a comment, or when someone sends funds to your token. Below is the interface from Geon app displaying the different options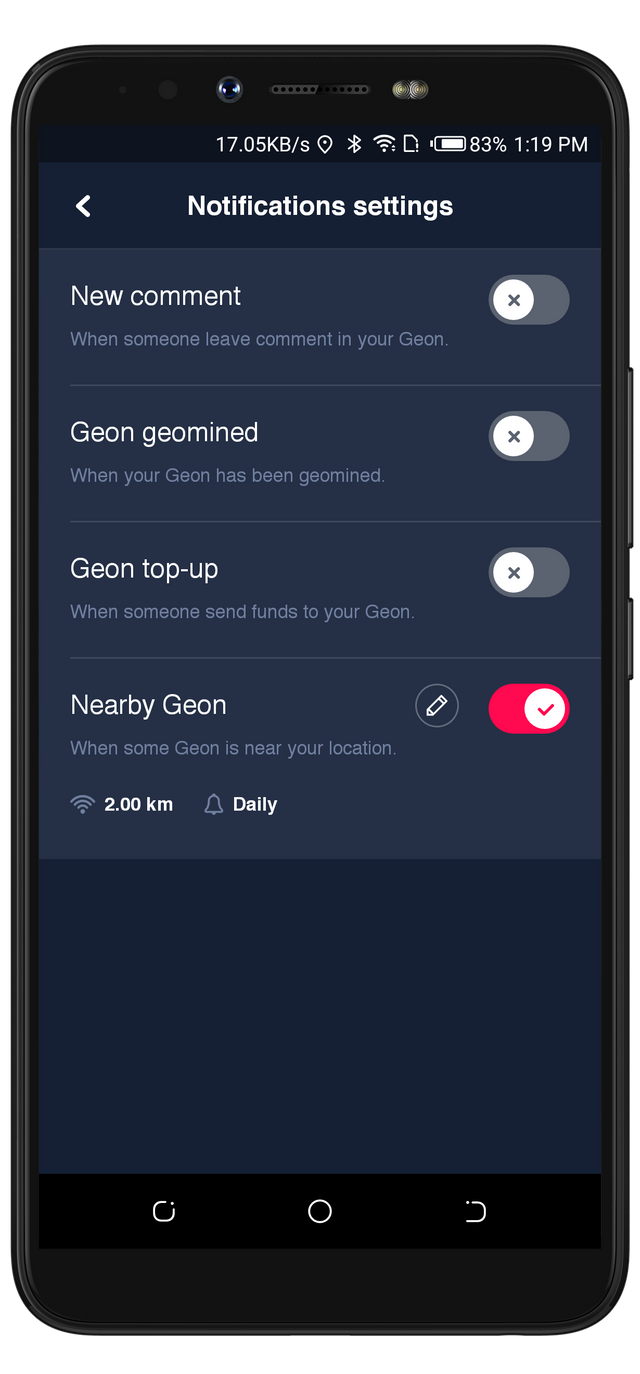 Do you know that you can also earn without having to step out? Yes, you read that right. There's a button on the home screen of Geon's app. I call it the lucky button. When it's clicked, it spins and randomly gives you any amount of Geon token. Look at what I earned after tapping on the button.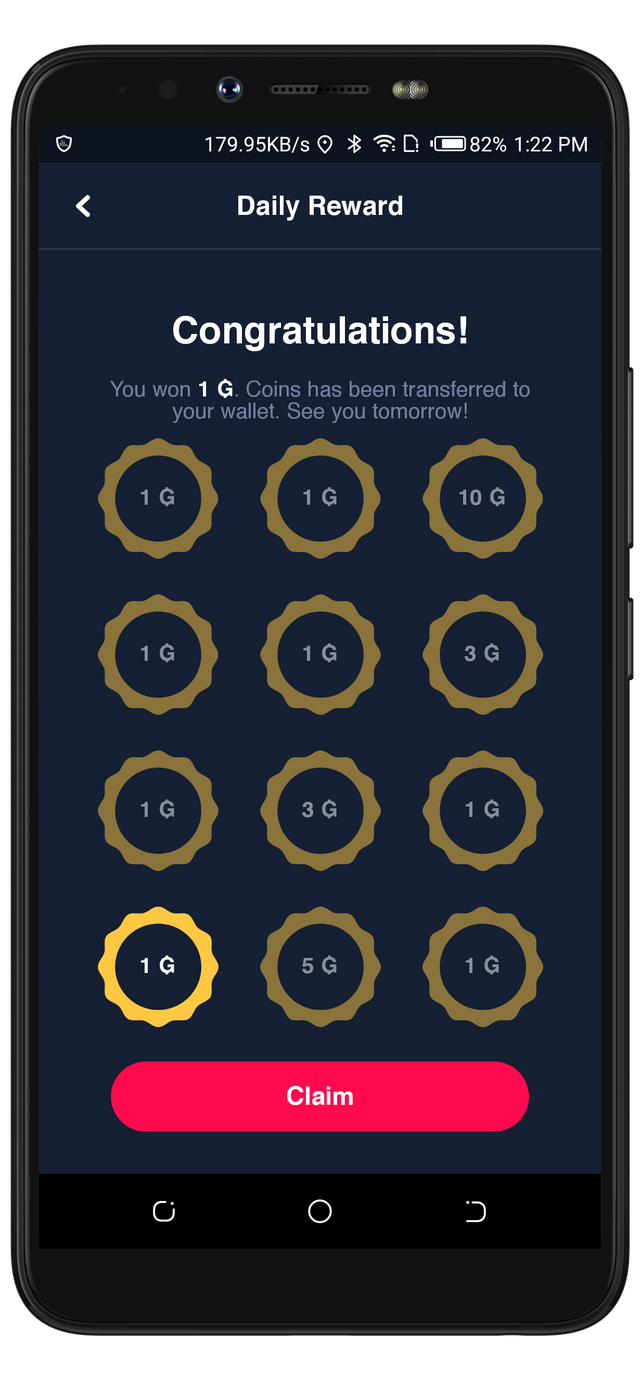 There's also an interface that displays the list of tokens created by users. When these tokens are tapped, it displays where they are located, and the creator. You also get a full description of the token. Check out an example of a token created by a user.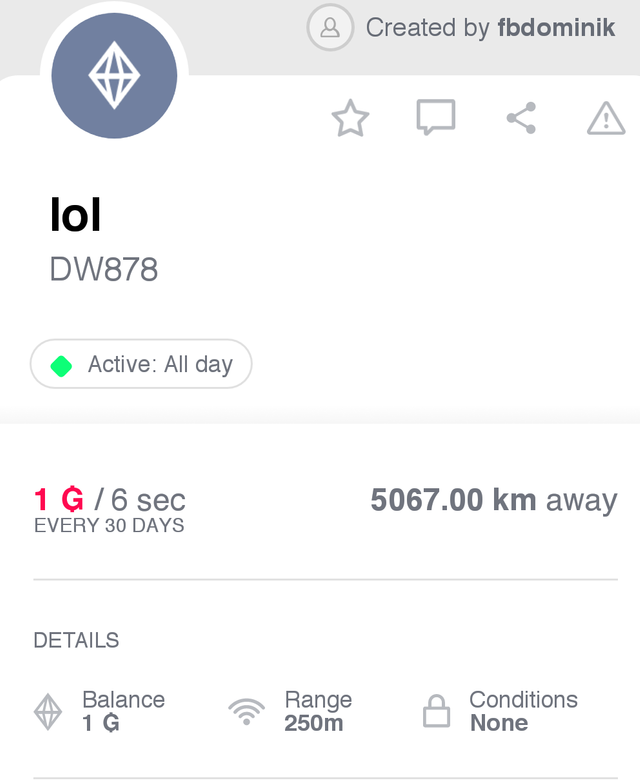 Project Status
Geon is owned by Geon Network. It's currently an active project. It received its last update on Mar 7th, 2019. Below is a screenshot showing its users, and transaction activity.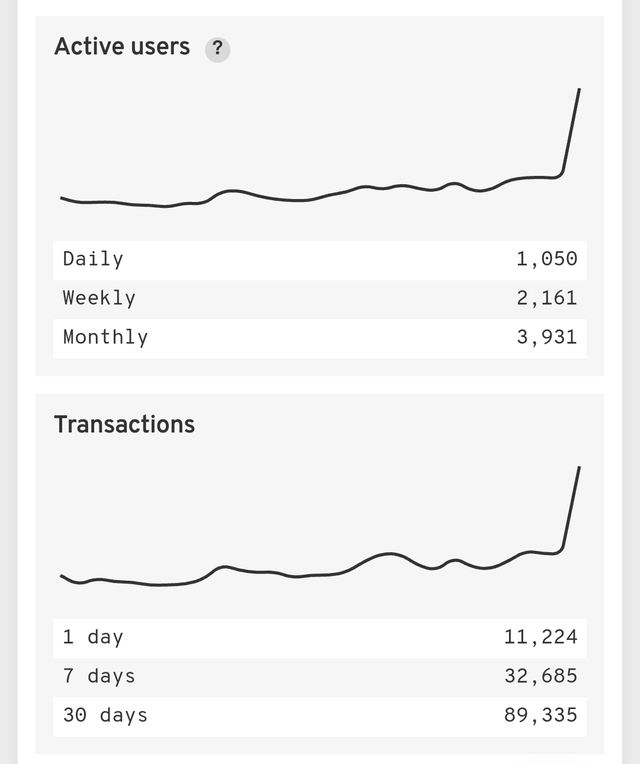 All of the project statuses were gotten from Stateofthedapps
RATINGS:
★ ★ ★ ★ of Five stars
Conclusion
This is definitely one project that everyone needs to have. It serves as a tool to business owners, and a source of income for anyone.
I recommend it to everyone reading this. Thank you.