SteemWallet 1.1.0 - major updates! - In-App Payment (1-click to buy) Account Creation, Themes, Api-node switcher, Multicurrency support and bugfixes.
SteemWallet is the fast, open-source wallet for Apple and Android devices which I launched about 4 months ago. Since it's inception it had only seen one bugfix release just prior to SteemFest in November.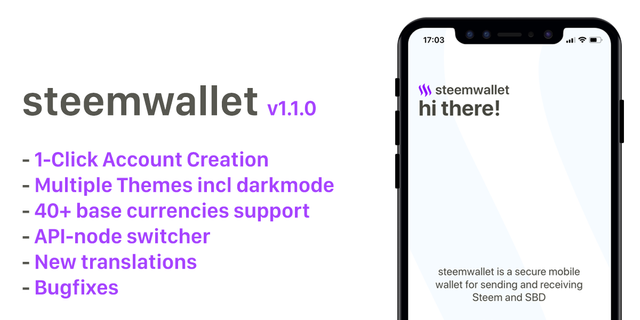 So, why the long ride since SteemWallet's last update?
Well,... I was done with my todo's but then I got a last minute feature request / suggestion by
@transisto
which I really liked about looking into "account registration" via In-App Purchases. Offering this would add extra options to get a Steem Account quickly via eas(ier) ways (and instant) then awaiting account approval and "competes" with alternatives like AnonSteem and Blocktrades' account registration features (which both use crypto for paying the registration fee) and the recently launched (credit card fiat paid) Steem Ninja registration service.
Introducing an "in-app payments" feature involved not only creating the "app side" of things (namely interfacing with the Appstore / Play Store's In-App Purchase module. It also meant I had to setup a new node and write a REST API which receives, verifies, and stores Purchase-receipts and then registers the new account, using it's dedicated registration account: @steemwallet.born (you can see here I had quite some tests already :P).
So I worked the better half of Xmas holidays on this project (it was already done before the Duplo train hack :) and then Apple decided to keep it "In Review" for 4 weeks in a row. Only just today we finally had calls back & forth and they actually apologised and released the app update! Yes, yes!
How in-app payment instant account creation via SteemWallet.app works:
The user indicates s/he wants to create an account on the Steem chain
The account name is validated for both availability and eligibility
The user needs to create a master password which has sufficient strength using the ZXCVBN analysis
The user needs to confirm the master password on a second view.
The user hits "Purchase" to fullfill the in-app payment and checks out with the native iOS / Android (click to buy) to obtain a single-use "Account Creation Credit".
If the purchase was successful, the purchase-receipt is send to the new REST API along with the desired username and public(!) keys (owner, active, posting, memo).
The REST API verifies the receipt with the appropriate appstore, checks if it had not been used before and if all is valid, creates the account instantly using beempy (by @holger80)!
Upon successful creation, the user is shown a final time the Master Password, along with the derived keys for Owner, Active, Posting, Memo, using the Dsteem library. The user needs to copy and store the contents safely.
The user needs to afterwards manually import the active key to use the newly registered account in SteemWallet or can use the appropriate key(s) elsewhere on Steem interfaces immediately.
You can find the new "Create Account" feature when launching a fresh install of SteemWallet or via the (also new) Settings menu. You can create as many accounts as you like (as long as you pay for them).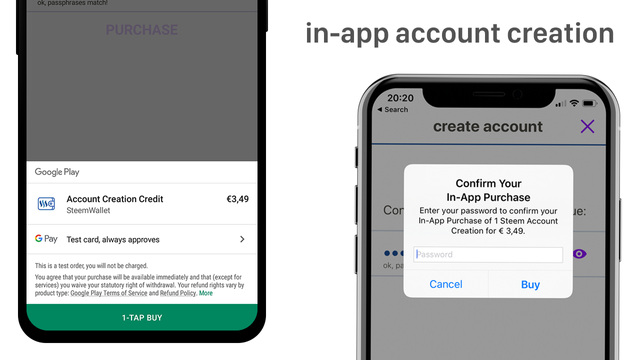 Costs of an "Account Creation Credit" via 1-click:
Looking at Steem's current price and account creation costs of 3 Steem the current price for an in-app purchase of an "Account Creation Credit", giving you the right to register one account on the Steem Chain, is set around 3.49 EUR (3.99 USD). From this revenue the appstores take a direct cut of 33% (or more, depending on your origin and local VAT). The costprice of 3 Steem is currently about 0.75 - 1.00 EUR which leaves about 1.25 EUR on the table for me as developer. For that I still need to pay the REST API node so depending on usage it will more or less equal out.
Note that the "Account Creation Credit"-price can vary depending on the Steem price itself as well as the account creation registration fee consensus set by witnesses.
I hope this is a nice new way to instantly create a Steem account. Thank you @transisto for the suggestion. It was fun tackling your request :)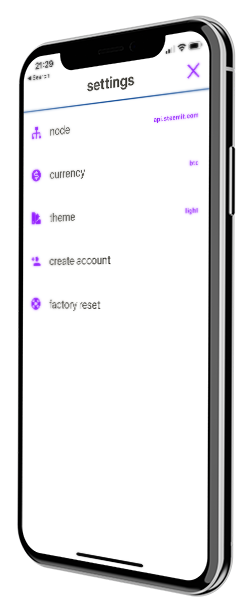 What's else is new in SteemWallet:
Moar cool stuff for you:
The app now has a "settings menu" - for these new options:
API-node switcher: The app now contains a list of API-nodes which you can pick from. You can also add your own node
Multi currency countervalue switcher: Previously both Steem/SBD countervalue was denoted in USD. Now you can pick your preferred currency: some other crypto's or many fiats now supported thanks to @coingecko api!
Themes: Now you can switch from bright light (default) to 3 other themes: Dark mode, Navy Red and Yung Pink. If you are creative feel free to check out the github JSON for creating your own theme and if it looks nice, I'm happy to implement it in upcoming updates! https://github.com/roelandp/steemwallet/blob/master/app/alloy.js#L62
The 'Create Account' feature mentioned before.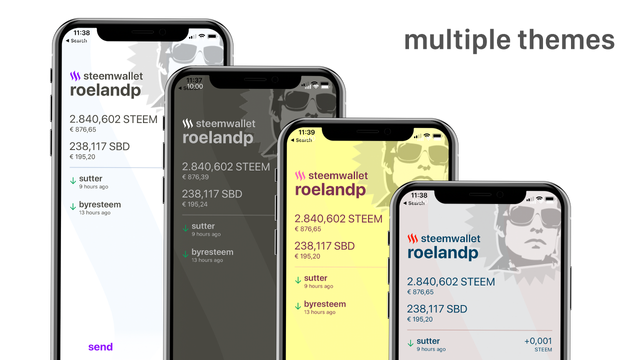 Did you know...
... you can add multiple accounts to monitor, by tapping your username and add / switch to another account?
... SteemWallet is fully opensource? https://github.com/roelandp/steemwallet - feel free to pull request!
... you can help translate SteemWallet into your native language / locale? Thanks to @pharesim's tip the project is now live on Community Crowdsourced translation platform Crowdin - https://crowdin.com/project/steemwallet (thank you @guchte for the recent added NL translation). SteemWallet is now available in 8 localized translations!
That's all for now. I hope you like the new update and especially the new possibility for easily and instantly creating new Steem account(s) through an in-app payment!
Please note: due to caching it can take a bit longer before the update is available in both the Apple Appstore and the Google Playstore.
Wishing you a prosperous 2019,
Roeland
https://steemwallet.app
Ps. If you like what I am doing here, consider a witness vote for '@roelandp' - Thanks!