Project Repository
https://github.com/nawab69/steemtools
Description
Hi everyone. Welcome to the 2nd part of Steemtools & Steemtools API blog.
In my previous blog, I have described The steemtools, Steemtools API & Blog counter tools.
Today I will discuss Withdraw Route Tools. But now I want to give you a piece of good news that, there are 5 more endpoints will be added soon in steemtools API within two days.
---
---

---
Withdraw Routes
Most of the steemit users don't know that steemit has a system which is called withdraw routes.
If someone wants to power down his steem power to another steemit account, he/she should use this system. This is not visible to steemit.com. You can use the system by Steemtools Withdraw Route tools.
---
---

---
This tool has three parts. They are-
Check Withdraw Routes
Change Withdraw Routes
Remove Withdraw Routes
Check Withdraw Routes
Now you can check your withdraw routes from this tool.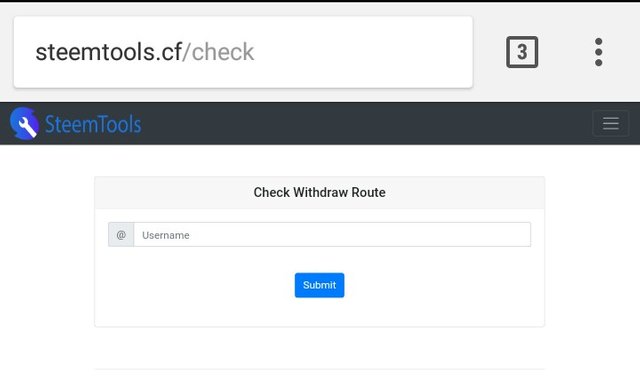 There is one input from for username… Input your steemit username there and click on submit. You will get the current status of your steemit's to withdraw routes.
For example,
My username is @nawab69 and I have withdraw routes to @neoxian. If I want to check my withdraw routes from the tool, I will get the result like this-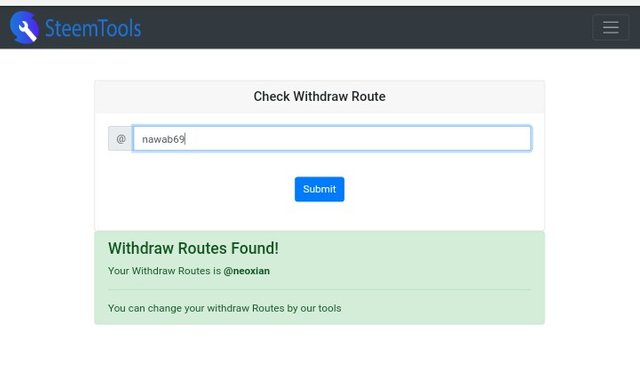 On the other hand, @utopian-io has no withdraw routes. So if I input utopian-io as the username I will see this,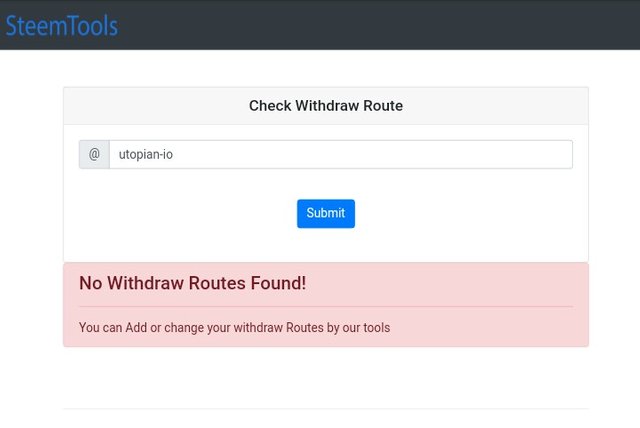 Check your withdraw routes From Here
---
---
Change Withdraw Routes
You can change your withdraw routes to any account from this tool.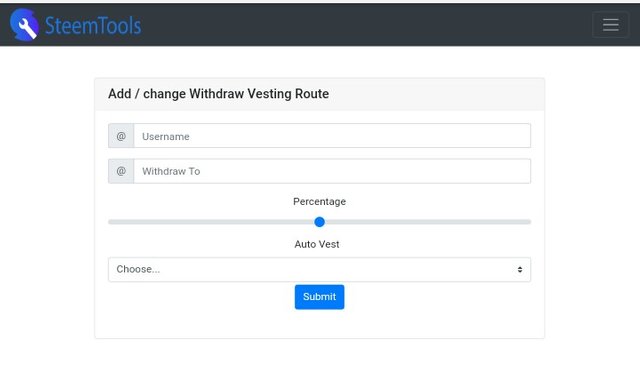 This tool has 4 input form. These are
| Input Box | Description | Example |
| --- | --- | --- |
| Username | Your steemit username | nawab69 |
| Withdraw To | Account name which you want to set as withdraw routes | neoxian |
| Percentage | percentage of withdraw | 10000 (max) |
| Auto vest | true = automatically convert to steempower, false = withdraw as liquid Steem | false |
If you want to change your withdraw routes, you can use this tool. After submitting all inputs this tool will redirect to steemconnect. Then confirm all inputs and presscontinue. then log in with your steem account.
This tool is 100% safe. Because it uses the steemconnect method.
For example, I use
username = @nawab69
withdraw to = @utopian-io
percentage = max(10000)
auto vest = false
Then I press submit. The tool has redirected to steemconnect.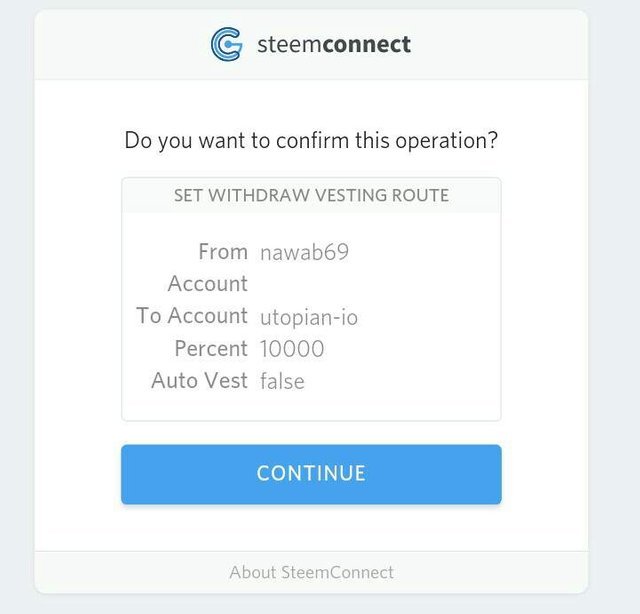 Then I need to press continue. Finally, I need to confirm and log in with steemconnect.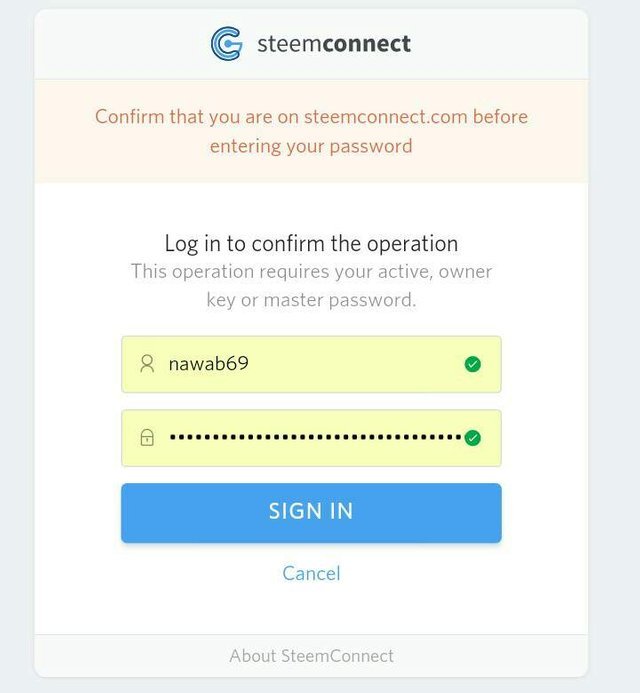 Change Your withdraw Vesting Routes From Here
---
---
Remove withdraw Routes
This tool is used for remove withdraw routes. If you want to remove your withdraw routes you can use This.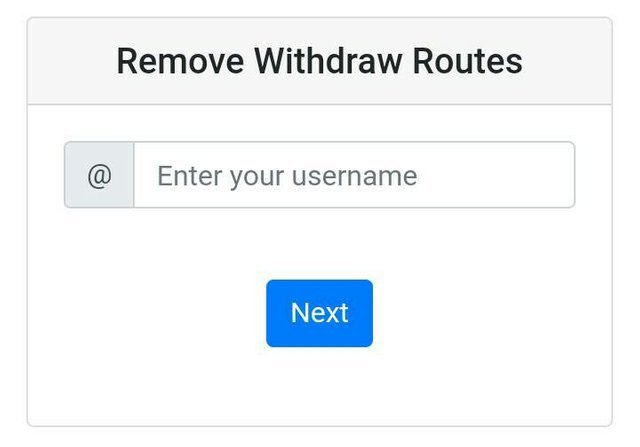 First You have to input your username. Then click to next. You will see your current withdraw routes. Then click on submit. Your browser will redirect to steemconnect. Now login with steemconnect. Your withdraw routes will be removed.
Example Screenshot:
---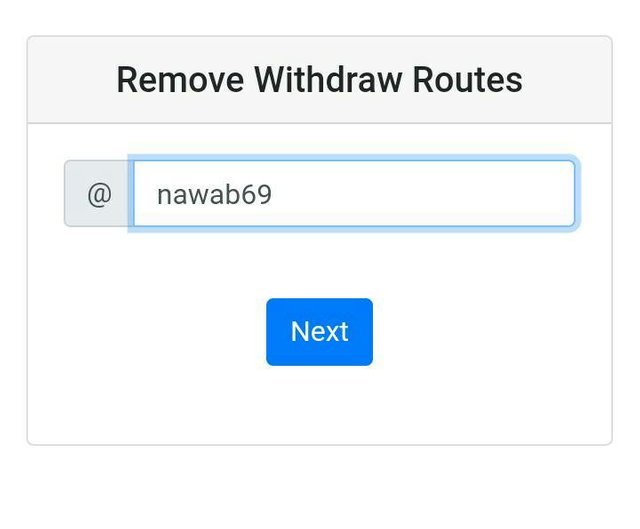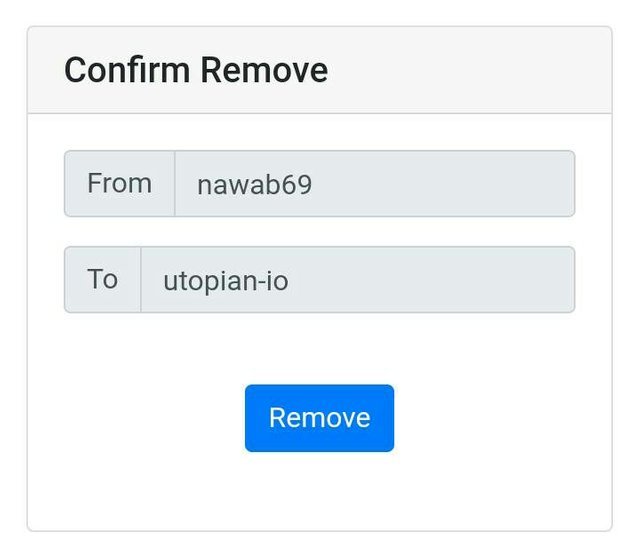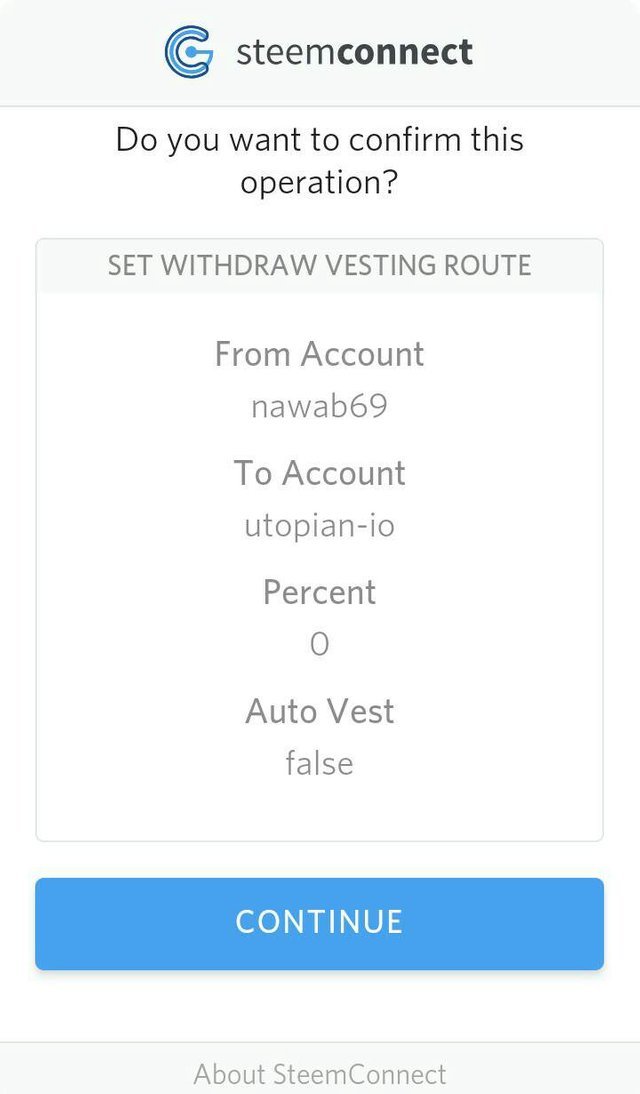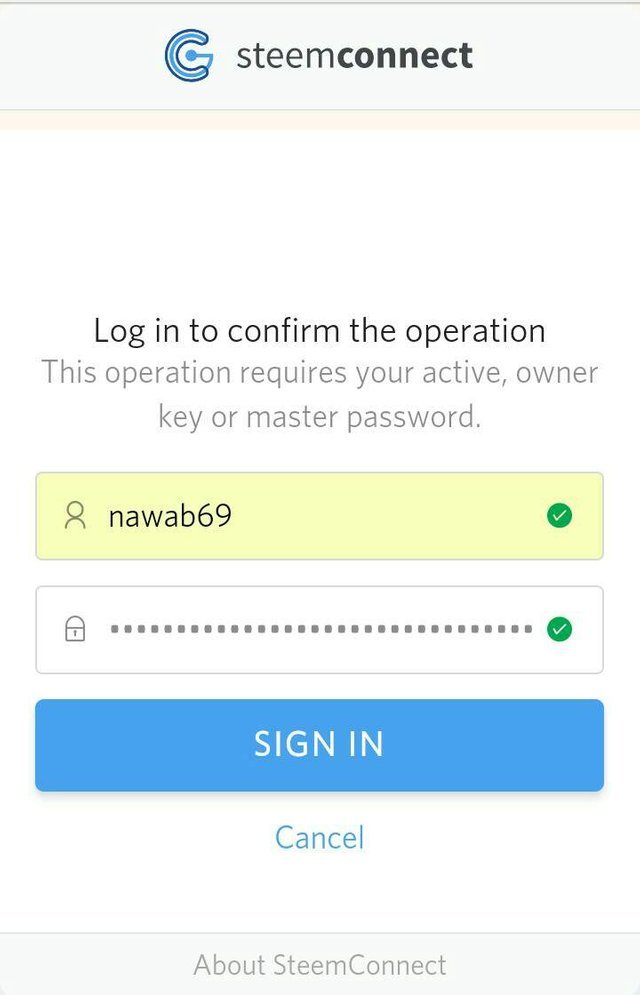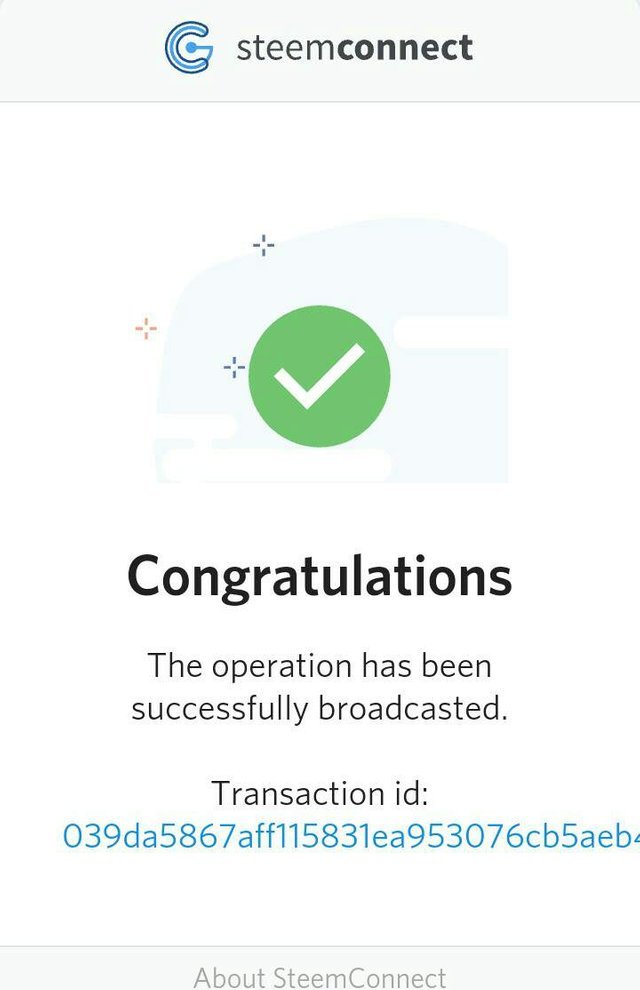 Remove Your withdraw Routes from Here
SteemTools withdraw Routes vs Other Tools
Withdraw Routes tools has separately in many tools. In https://steemd.com/@username you can see all information about your account as well as withdraw routes.
But You can't change / Remove from steemd. You need to change using steemconnect url generating. This method is harder than steemtools withdraw routes tools.
And You can use all the three tools in one web platform. It is steemtools.
Hope you all enjoy my SteemTools Project. I will be more happy If you use my tools.
You can share your opinion and ideas by a comment.
Blog Series
SteemTools & SteemTools API - hidden tools for all steemians ---- Part 1
Github account