Project Information
Expected behavior
SteemPlus Points (SPP) should be rewarded for various activities, such as promoting your post with minnowbooster or postpromoter.
Actual behavior
Only transfers to minnowbooster are counted. This is caused by a wrong condition in the sql statement that the job uses to calculate the points.
Other activities to earn points like setting steemplus-pay as a beneficiary still works as expected.
How to reproduce
Send 1 SBD to postpromoter
Wait 1 hour so that the job runs
Check the API to see that your points weren't updated and the transfer wasn't included.
Solution
The solution is very simple.
In the SQL-Statement one has to replace the [from] with a [to].
Turning from this:



To this:


Another indicator that "to" is the right field to use is the fact that later the field is later used to determine the type of transaction.


I would have made a Pull-Request for it, but after telling @cedricguillas (who is in charge for this function) what and where the problem is he immediately started working on it. (Making a PR and juggle with the issue would probably be just more overhead than quickly replacing the word himself. )
Recording Of The Bug
Before promoting my post with postpromoter:



Promoting a post: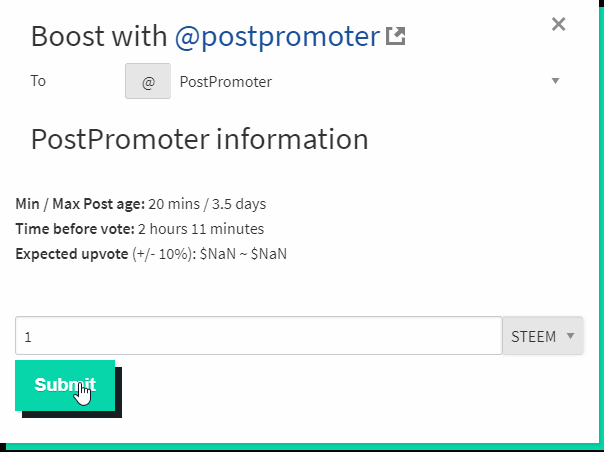 After promoting my post with postpromoter:



(click the picture to enlarge)
It is somewhat difficult to see , but my points weren't increased and only the transfer to minnowbooster which I had before was counted.
GitHub Account
https://github.com/MWFIAE
Issue
Like mentioned I contacted @cedricguillas about this issue. He confirmed the bug and implemented my suggested solution. (Unfortunately before I could ;) )