dPixify: Launch of New Open Source Project on Steem Blockchain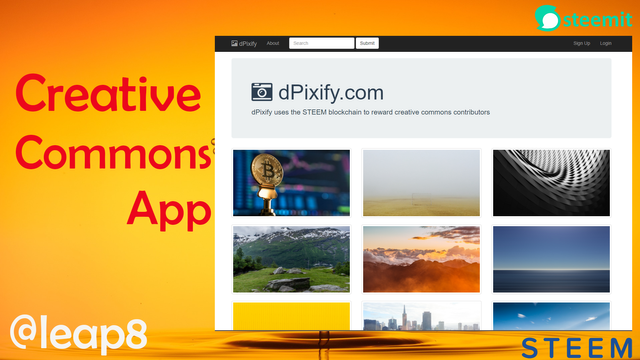 What is dPixify
This post is my official announcement that dPixify is being added as one of the open source projects on the STEEM blockchain. I will provide as much information as possible to make it clear what this project stands for and the technology behind it.
dPixify uses the STEEM blockchain to reward creative commons contributors. It is an open source project that is still in early development and documentation stages.
Users will use their steemit accounts to upload royalty-free stock photos and digital graphics on the dpixify.com web site, which will post to the STEEM blockchain. The rewards will come from votes on those photos by other users with steemit accounts. Additional rewards can come from curators and sponsors of the project.
The photos and graphics will be available for free to anyone who wants to use them for personal or commercial use based on the creative commons license. The dpixify.com web site will function and look very similar to pixabay.com and unsplash.com. The only difference will be that it will run on the STEEM blockchain and post to steemit like dtube and utopian. All content uploaded to dpixify.com will have a creative commons license.
Demand

Some web sites that provide free stock photos get traffic in the range of 60 million visitors per month. There is a growing community of bloggers and professional designers who are looking for free photos and graphics.
Supply

One of the most shared content on steemit is photography, so there's a lot of potential for existing steemit authors to start posting to this new web site. This will help them to start earning extra money for doing what they already do just by allowing others to use their photos.

Market Convergence

When all these pieces come together in this one web site, it will add great value to STEEM, steemit and the whole community that shares and uses photos and graphics online.

New steemit users will have an opportunity to start making money faster and easier if they already have good quality photos or graphics. This will increase the retention rate and motivation for people to stay with steemit. Also, it will increase the rate of word of mouth referrals.
People who already contribute their photos to other web sites will switch to the one that runs on STEEM and rewards them for sharing their photos. This could potentially bring millions more users.
Niche advertising to web designers and bloggers becomes more relevant. They would be targeted to do something they already do but with more benefits.
People who download photos would link back to the site if they don't have to.
Many bloggers will list this new site as a resource in their guides to get free stock photos for new bloggers. This will lead many of them switch to steemit to post their content.
dPixify Mission
Add value to STEEM and steemit by providing valuable content to the blogging, web design, and graphic design communities in the form of royalty-free stock photos and graphics.
Attract bloggers, web designers and graphic artists to open steemit accounts and buy STEEM when they use the free photos and graphics from dpixify.com
To advance the Creative Commons Movement.
To help cryptocurrency go mainstream by providing and rewarding free digital assets.
Already existing features
The web site is not yet functional. However, you can preview the basic layout at dpixify.com. Here's a screenshot of what it looks like now: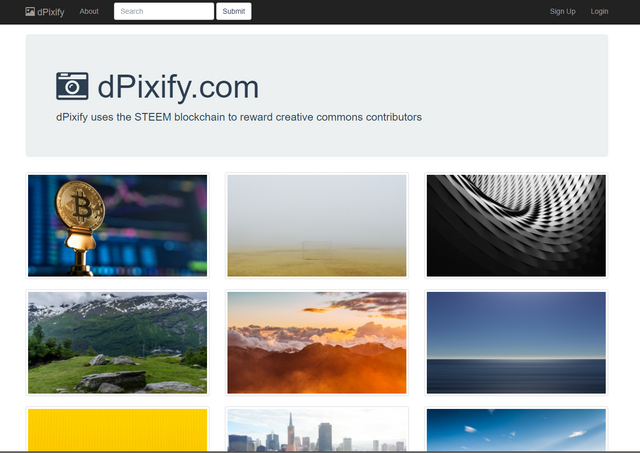 Technology Stack
Node, NPM, Express
Bootstrap
SteemConnect v2
Javascript, HTML, CSS
MongoDB
Hosted on heroku.com
Roadmap
Set up log in with steemconnect
Add ability for logged in users to upload images to the STEEM blockchain through dpixify.com
Add voting and comments from dpixify.com for logged in users
Add content to "about" and "faq" pages
Add a backend to image approval and curation before they're posted
Set up a bot with delegated steem power to upvote approved posts
Add moderators to approve posts
Search engine optimization to show up high search results for relevant terms
Targeted advertising to blogging, web design and graphic design communities
How to Contribute
My username on discordapp.com is leap8. You can direct message me there or join the dPixify discord channel at https://discord.gg/fNxZ237.
This open source project is on github at https://github.com/leapforward8/dpixify.
Any help with this project is greatly appreciated. It can be from steem power delegation to content or graphics.
About Me
I live in Florida, United States. I have B.S. in Computer Science and Master's in Business Administration (M.B.A.). I've been doing web development for a living for about 10 years but I'm new to blockchain development.

@leap8
---
Posted on Utopian.io - Rewarding Open Source Contributors
---