Only a few hours left until the first ever ISO (Initial Steem Offering) by @actifit takes place!
Are you excited? I sure am. We are the ones that are actively part of the future, transforming it, each one in their own way :)
This post is about explaining what steem engine is and how someone will be able to place an order for the upcoming ISO coming up by @actifit - the innovative dApp on the steem blockchain, that rewards users with AFIT tokens and STEEM for being active & healthy!
More info here
*What you will need to place your order? A steem account, liquid steem or other coins (such as Bitcoin, Litecoin, Doge, your posting and active key to log in or the chrome extension keychain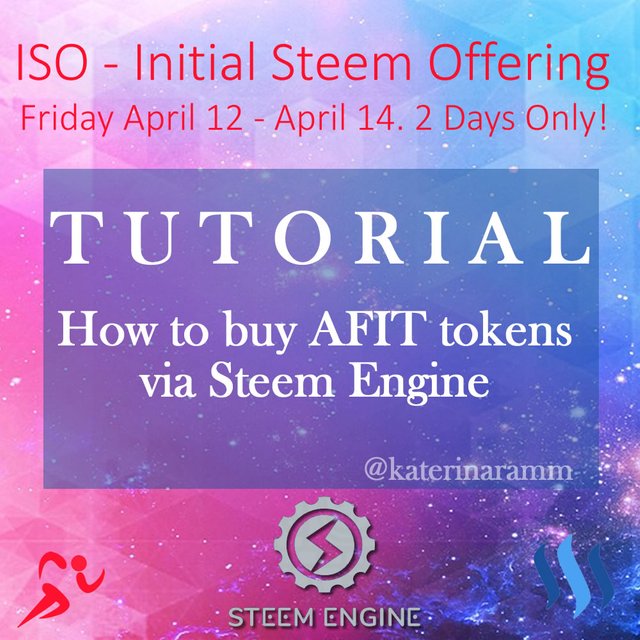 1. What is Steem Engine?


Steem Engine is a platform that empowers communities, project owners, fundraisers, developers, and businesses to quickly and easily make smart contracts on the Steem blockchain, The first smart contract being introduced is the ability to quickly and easily create custom tokens.
2. What will you need to enter and place your orders?
You need to have your posting key and active key ready. This is the way we will demonstrate here (you could also use keychain as a more seamless way to enter)

You know you have signed in when you see your name on the top right of your screen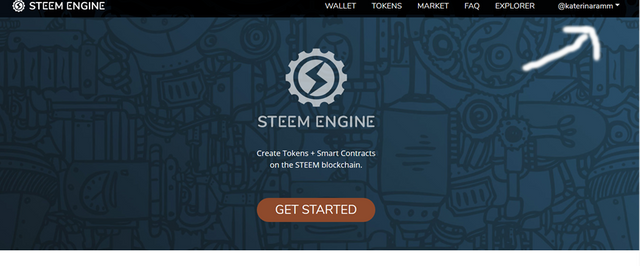 3. FAQs and more information


I recommend that you take a few moments to take a look at the FAQs
How do I buy or sell tokens?
To buy or sell Steem Engine tokens on the market, you can first find the token you wish to trade in the tokens or wallet page and click on the trade icon next to it (). This will take you to the market view for that specific token. If you would like to buy the token you will first need enough STEEMP tokens in your account to pay for them at the specified price. You can get STEEMP tokens by either selling other Steem Engine tokens for STEEMP on the market, or you can deposit STEEM and get an equal amount of STEEMP tokens in return using the "Deposit STEEM" button at the top of the market page.
When you are ready to place your trade, you can enter the price at which you would like to buy or sell the tokens and the amount you would like to buy or sell and then press the "Buy" or "Sell" button. You will then see a confirmation screen in which you can double check the details of your order and submit it. Once submitted, your order will appear in the "My Open Orders" section until it is either filled or cancelled.
Important!
There are no fees for using the Steem Engine market, however please note that as with anything on the Steem blockchain you will need to have enough Resource Credits available in your account to publish the required transactions. Also, as mentioned above, there is a 1% fee for any deposits or withdrawals of STEEM.
4. How to buy AFIT


Move over to the AFIT Market

To be able to buy AFIT, you need to have a balance - so head over to Deposit on the top of your screen

You will be able to deposit steem or any of the noted coins (BTC, LTC, BCH, DOGE)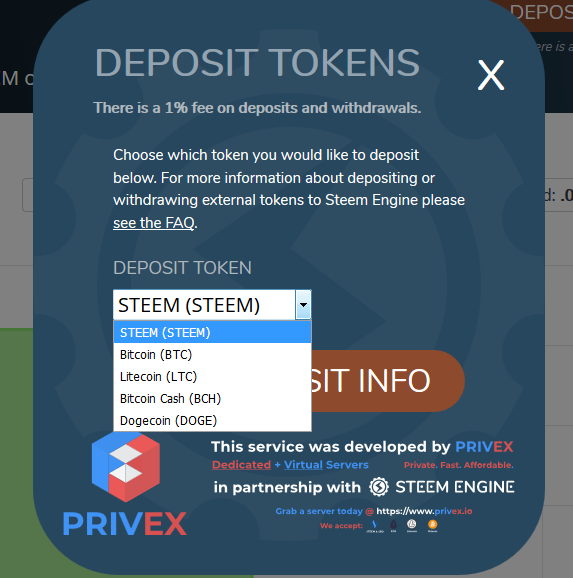 Click on 'Get Deposit Info' and then you will see a new screen where you get to choose the amount of steem to deposit and see your liquid steem balance
Remember that there is a 1% fee so, in my case - I will deposit 50 Steem and get 49.5 STEEMP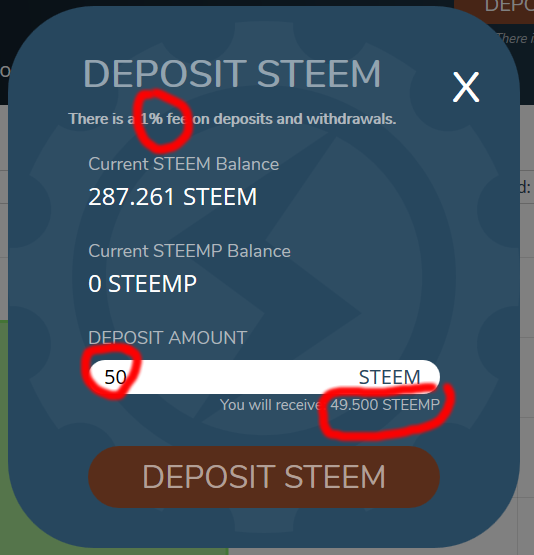 After I click 'DEPOSIT STEEM', I will be transferred to steem connect where I have to confirm my action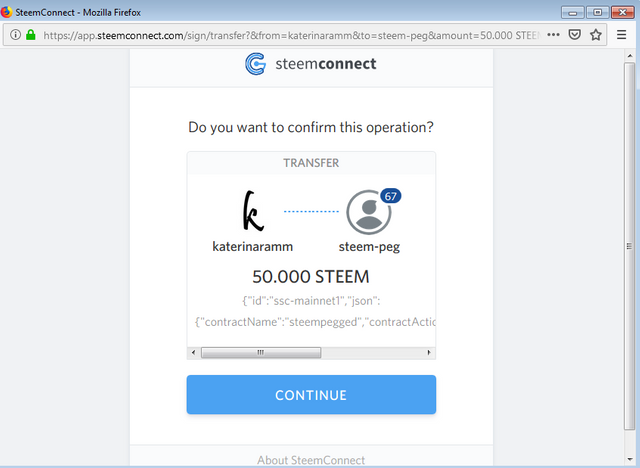 Clicking continue - you may have to enter your keys again (make sure you are on the steemconnect) and then you receive confirmation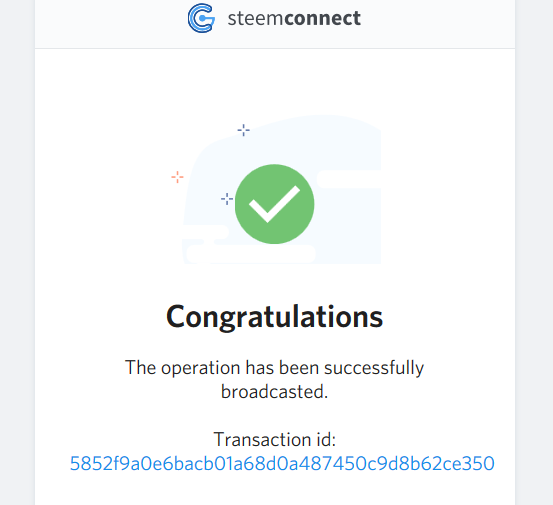 As per the recent announcement, the price you need to put for buying AFIT is 0.05
So adding the price at the first field, I then need to choose the number of AFITs to purchase.
In this case, I will purchase 800 AFIT tokens, at the rate of 0.05 Steem per token which equals to about 40 Steem (and I also have a small balance to play with steem engine later :)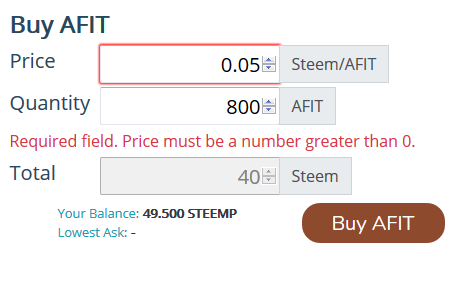 After your click Buy AFIT - You receive a prompt that you have to check and confirm in order to proceed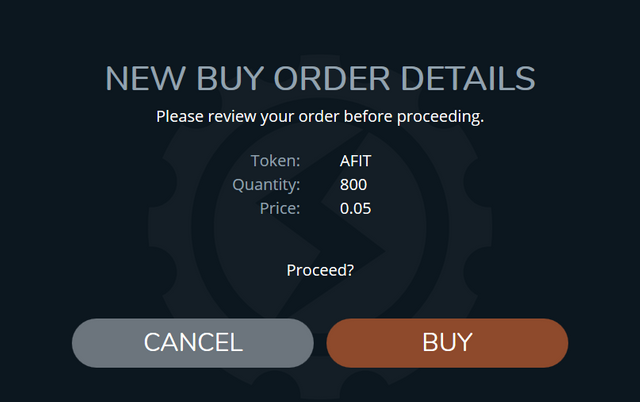 I will be buying of course!
After clicking BUY I am prompted once more to use steemconnect to place the order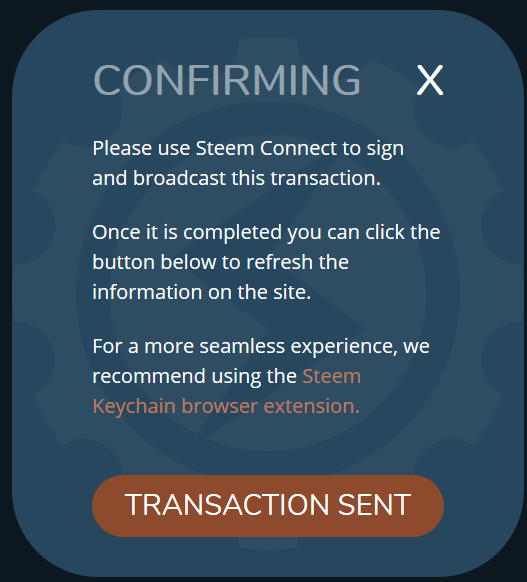 5. Congratulations!


At the end, you can see the orders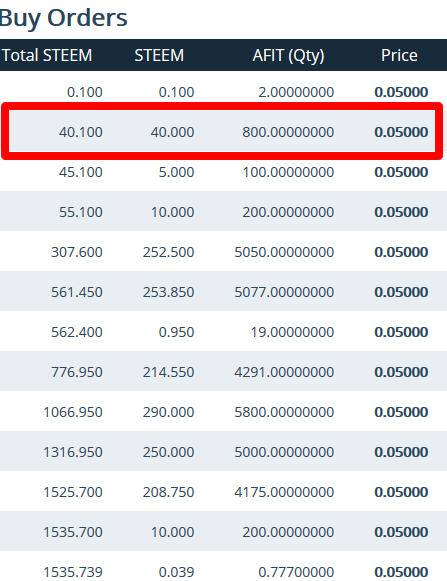 A note by @mcfarhat:
For the ppl buying now, they are placing a buy order now, since we did not put any AFIT for sale yet. Once we put the AFIT for sale on Friday, buy orders would get executed, and ppl who placed orders early would benefit the most.
Extra Info and Bonuses!
Added Bonuses: 180K AFIT tokens (equal to $4,320 USD at ISO price.. $6,480 USD at IEO price) and ENG tokens (Steem-engine's innate token - with current price at approx. 1 STEEM) will be distributed to token buyers as a giveaway, through 3 different types of bonuses, as follows:
Bonus 1: First 30 buyers of AFIT tokens with a minimum of $100 USD will each be rewarded with an extra 3,000 AFIT tokens, for a total of 90K AFIT tokens!
Bonus 2: Top 10 buyers will receive a total of 90K AFIT tokens, as follows :
Top Buyer #1: 40K AFIT.
Top Buyer #2: 20K AFIT.
Top Buyer #3: 10K AFIT.
Top Buyer #4: 5K AFIT.
Top Buyers #5 - 10: 2.5K AFIT each.
Bonus 3: All buyers with a minimum of $100 USD will each receive 20 ENG token!
I hope this was comprehensive, please let me know if you have any questions or join @actifit on discord or telegram!
---
Remember the facebook competition where you can easily win extra AFITs! Join the fun here!
---
DISCLAIMER
This is no financial advice. Do your own research and never buy with money you cannot afford to loose