Actifit ISO: First Ever "Initial Steem Offering" This Friday. Not To Miss Event: Discounted AFIT Price. AFIT + ENG Tokens Bonuses!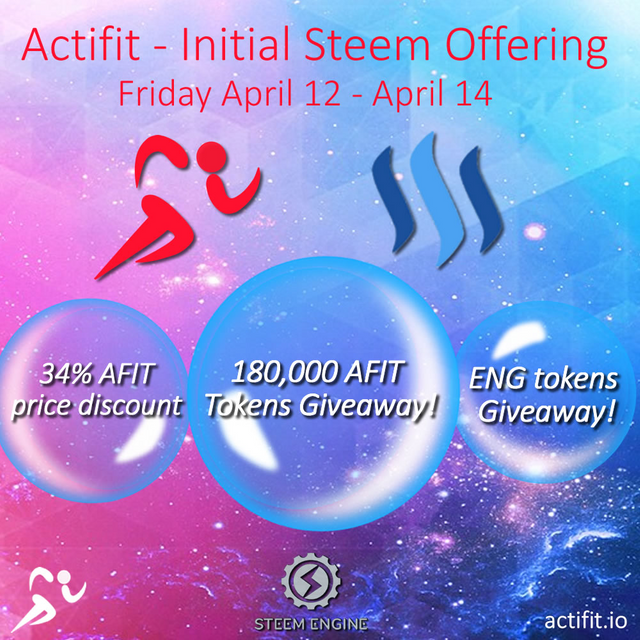 Actifit ISO is Here !
As we announced last week, Actifit is actively preparing for its first IEOs on ERC20 supporting exchanges. We had actually signed an agreement with one exchange (name to be announced later), while continuing discussions with other exchanges.
And as we hinted last week, we wanted to provide our amazing Steem & Actifit community with a first time major surprise, and that is prior to running our IEOs on exchanges.
We are excited to bring you the first ever ISO: Initial Steem Offering. The first token sale event on the Steem blockchain, providing the capability to buy AFIT tokens on Steem for a limited time!
For our ISO, we will be offering 3 Million AFIT tokens for sale for only 2 days, at much lower prices than our planned IEO prices, but also at lower prices than current AFIT tokens exchange rate for Steem upvotes. Not to forget, amazing bonuses too!
As our friends at steem-engine had already launched a DEX (Distributed Exchange ) recently, we decided to join hands together, and utilize their DEX to make this whole process easier.
Steem-engine team wanted to contribute in giveaways for this event, and threw in fantastic bonuses involving their ENG token as part of our ISO. More on that below.
So, this coming Friday April 12th, as of 1 PM UTC/GMT, Actifit official token sale will kick off at Steem-engine for only 2 days, as follows:
Pricing: Actifit is already enabling you to exchange AFIT tokens for upvotes in a slow process, at a rate of $0.036 USD per 1 AFIT token, which is our planned pricing for the IEOs. Part of making this an exclusive deal, our AFIT tokens will be offered at $0.024 USD instead, a 34% discount!!.
Added Bonuses: 180K AFIT tokens (equal to $4,320 USD at ISO price.. $6,480 USD at IEO price) and ENG tokens (Steem-engine's innate token - with current price at approx. 1 STEEM) will be distributed to token buyers as a giveaway, through 3 different types of bonuses, as follows:
Bonus 1: First 30 buyers of AFIT tokens with a minimum of $100 USD will each be rewarded with an extra 3,000 AFIT tokens, for a total of 90K AFIT tokens!

Bonus 2: Top 10 buyers will receive a total of 90K AFIT tokens, as follows :

Top Buyer #1: 40K AFIT.
Top Buyer #2: 20K AFIT.
Top Buyer #3: 10K AFIT.
Top Buyer #4: 5K AFIT.
Top Buyers #5 - 10: 2.5K AFIT each.
Bonus 3: All buyers with a minimum of $100 USD will each receive 20 ENG token!
Exchangeable AFIT tokens: As of conducting the ISO on Steem-engine, bought AFIT tokens will actually be the first completely liquid exchangeable AFIT tokens, available on the DEX, therefore can be later sold and/or bought. Down the road all AFIT tokens (Steem blockchain, Steem-engine, and ERC20 post exchange listing) will be exchangeable and consolidated together.
Make sure to check out steem-engine.com ASAP (login using your Steem account), transfer over your STEEM (other crypto: BTC, LTC, BCH & DOGE are also supported) so that you are ready to earn your bonuses early on !
If you have any questions or inquiries about the event, feel free to reach out to us on discord before or during the event
Top Daily Actifitters
Out of 588 activity reports submitted yesterday, our latest voting round included 442 rewarded activity reports.
Below are the top 20 actifitters from this round. Well done guys !!
A kind reminder to all actifitters: some versions of esteem app still cause issues when used to edit your reports, via removing essential info Actifit uses to identify proper reports. This prevents related reports from receiving rewards.
Until this issue is officially fixed via the esteem team, we advise that you use other Steem interfaces for editing, including our own actifit.io, steemit, busy or others.
Doubled UP Rewarded Actifitter
Today's Random Double Up Reward went to @dailyspam!
This lead to doubling up the AFIT token rewards and the STEEM upvote value.
Congrats!
| Rank | Actifit Member | User Rank | Activity Count | AFITs Rewarded | @actifit Upvote | Post Link |
| --- | --- | --- | --- | --- | --- | --- |
| #1 | @dailyspam | 30 | 9698 | 91 Tokens | 2.37% | post |
Will your rewards get doubled UP tomorrow? :)
Our Newest Actifitters
In case this is the first time you see this section, essentially it aims to introduce new actifitters to our amazing community.
During the last voting round, we were happy to welcome the below new actifitters, joining more than 2,300 unique users who had posted an actifit report.
Our recent joiners are: @d0zer, @jinuking, @christiands, @hyokhyok, @pepponegt90, @waw.worldopoly and @priyanarc.
Feel free to check out their recent reports and welcome them to the Actifit community!
Delegation Status
Actifit continues to receive great delegations and support by more members of our community.
Below is the recent delegation updates' list:
@outlinez(170 SP)
@runridefly(1,401 SP)
@cryptospa(809 SP)
@stats-generator(163 SP)
Accordingly, @actifit account is now at 399,682 SP
Thank you to all delegators for the wonderful support! To see the list of all our delegators, check out actifit.io/delegators
The amount of delegated SP has a large influence over not only the daily/weekly delegation reward, but also on the amount of rewards the actifitter receives on daily reports, as it constitutes a key element in User Rank.
Which is why being an Actifit delegator now has more influence on your rewards, coupled with number of AFIT tokens and other factors highlighted before.
Delegators share a max cap of 100K AFIT tokens according to their delegation amount, and also earn a 5% beneficiary reward from actifit posts' beneficiary earnings.
Since many ask, here we describe again an easy way to calculate your AFIT tokens for a full day of delegations:
(Your Delegated SP) * 100,000 AFIT MAX / (Actifit Account Delegated SP - without account own SP and any delegators who opted out).
So for instance if you had delegated 100 SP, your daily earnings would be around:
100 * 100,000 / 387,000 = 25.83 AFITs
We are appreciative of more delegations to be able to better award actifitters and support our project, so thank you for doing that !
When you are looking to increase your delegation, you need to use the new total amount as the delegation amount, and not only the increased amount. Otherwise only the new amount will be used, and the remaining amount will be undelegated.
---
@actifit Team

To delegate to Actifit, you can use any of the following links:
10SP, 20SP, 30SP, 50SP, 100SP, 250SP, 500SP, 1,000SP, 5,000SP, 10,000SP, 20,000SP, Custom Amount
Make sure you have at least 15 SP left on your account.
consider voting for Actifit as witness
Our Top Delegators
An additional big thank you to some of our top supporters
@cryptomancer | @freedom | @fitat40 | @oldtimer | @humanearl | @selfvotejustice | @taskmaster4450 | @wil.metcalfe | @jasonshick | @trumpman | @mobbs | @fedesox |

Our wonderful ambassadors
@akomoajong | @alexvanaken | @ervin-lemark | @flauwy | @jaraumoses | @jasonshick | @moncia90 | @rosatravels | @taskmaster4450 | @toocurious | @pearlumie

Our amazing moderators
@alfamano | @alokkumar121 | @ashikstd | @ciuoto | @ckole | @definethedollar | @katerinaramm | @kpreddy | @priyanarc | @rabihfarhat | @rogernfl | @stats-generator | @thereikiforest | @vishalsingh4997 | @sumit71428

Thanks to @katerinaramm for the daily image design
Haven't downloaded Actifit yet? download it from the playstore or from the app store and start your journey to fitness and rewards!