The RAC experiment - Finally some change?
Purpose of the experiment
I continue this experiment because it provides interesting facts. The ones who are very involved in gridcoin know that RAC can change and is not predictable for various reasons. This experiment shows this with real life data and can help newcomers by example.
RAC is the result of some math I explained here. Some say this experiment shows nothing because there are plans to change the gridcoin source to work with a point delta instead of RAC. But even if this change happens we can draw conclusion because I provide the raw point accumulation as well.
Evolution
How did the experiment evolve since last time? After about two months of downtrend maybe we're finally having some change. I don't want to get too high hopes but it has been a long wait for something significant to happen. Ther is now a clear big drop in team RAC and at the same time it seems rewarded points are increasing.
I previously explained that host normalization has an influence on the rewarded points but that it is impossible to actually measure this. We do know however that team gridcoin is the biggest team in this projectby a big margin.

If there are big changes in the team RAC there might be a correlation to the host normalization. This might be the first sign of a confirmation of this theory. But it's too early to tell. The good thing is that there's finally some change.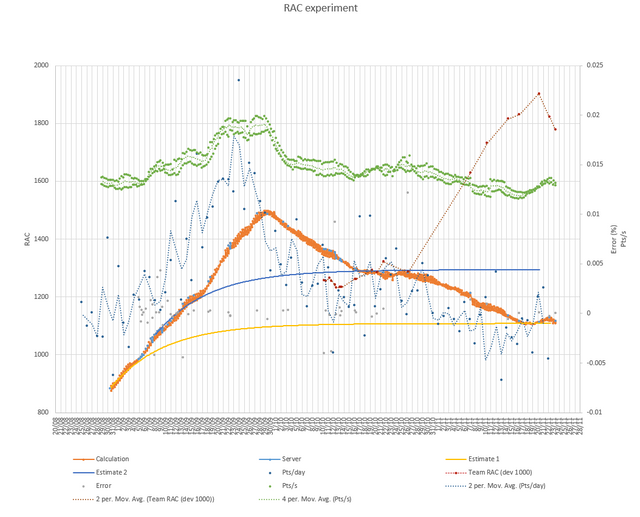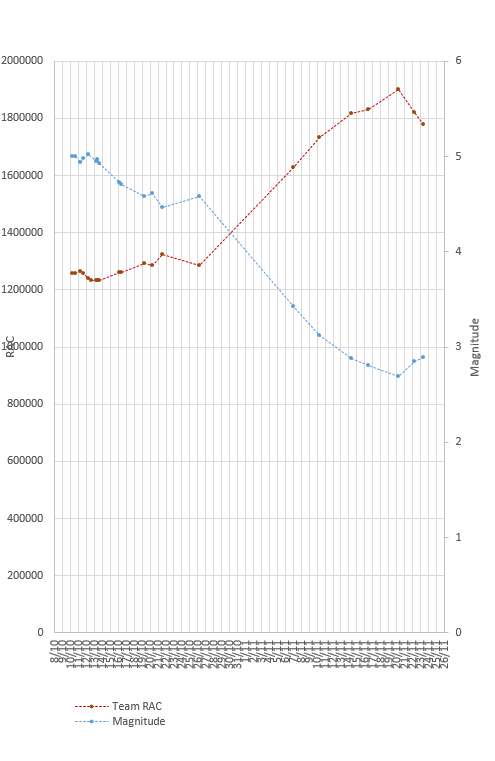 This post has most info about the first chart: The RAC experiment progress and request for help
This post has the motivation for the second chart: The RAC experiment continues
---
Posted on Utopian.io - Rewarding Open Source Contributors
---