In the last update I noted that seemingly @dutch was moving resources away from the VGTU project. I had to wait to see how this might impact the experiment. For quite a long time I have continued this experiment because I had a feeling that host normalization is playing quite a big role in the RAC and thus the Gridcoin mining.
Purpose of the experiment
I continue this experiment because it provides interesting facts. The ones who are very involved in gridcoin know that RAC can change and is not predictable for various reasons. This experiment shows this with real life data and can help newcomers by example to see how complex gridcoin mining is and give experience users some data to look at and confirm their understanding and insights.
This data is gathered on a virtualized Microsoft Windows Server 2012 R2 Standard x64 Edition running on a Intel(R) Xeon(R) CPU E5-2630 0 @ 2.30GHz [Family 6 Model 45 Stepping 7] core with 4GB of RAM. The computing preferences are set to use at most 50% of the cores at 100% of the time. The project being crunched is VGTU.
Host normalization
Four months ago I proposed the hypothesis that host normalization could play a major role in one of my experiment reports when I first noticed RAC was decreasing. The thing with a hypothesis is that it is just an educated guess. I only had very limited data of my own experiment and at that point in time that data was quite limited. I knew it would be hard to gather evidence but somehow I couldn't give up gathering data before I same some indication of my hypothesis in one way or another.
As fisherman say: patience rewards. Or as crypto lovers put it: HODL. In my case I just kept gathering data in the hope of some big change in data. It seems this is happening now.
This is an overview of the top 10 contributors on VGTU. We can clearly see that the RAC of dutch is dropping. Keep in mind that this drop will look similar to a half-life decay under fixed circumstances, this is only the beginning. Because dutch is such a big contributor the teams RAC is dropping significantly as well.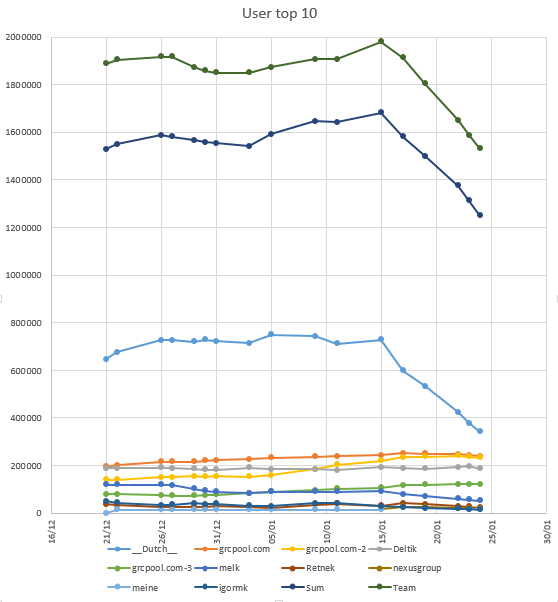 Now comes the interesting part. Have a look at the overview of my own host's RAC and compare the pattern starting January 15th. Team RAC going down and exactly at the same date my own RAC starts going up. Every gridcoin RAC explanation around will tell you RAC is a simple mathematical formula and it is very predictable. This experiment shows it is not.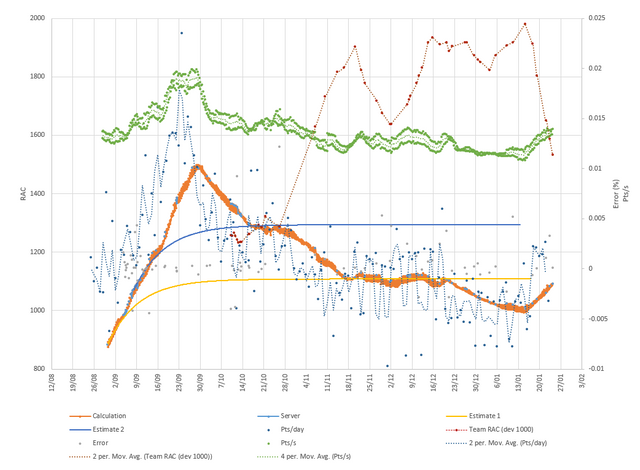 As I mentioned before the drop in my own RAC starting at the end of September might have coincided with dutch moving to VGTU. Unfortunately I was not aware of it and couldn't match them back then.
There was a second big drop between the end of October and mid November which coincides with a big increase in team RAC. This might be the same phenomenon. There are some other movements in team RAC that don't reflect in the host RAC. Host normalization is very undocumented and I need to look further into the details to better understand it.
The other standard charts
The magnitude evolution: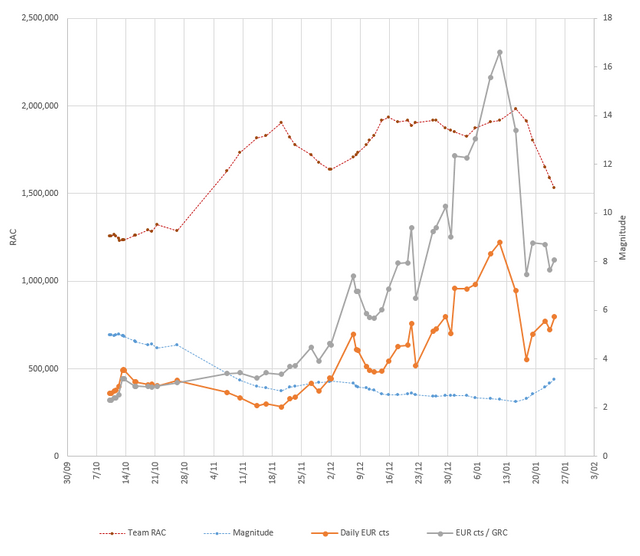 and the top 10 users zoomed in: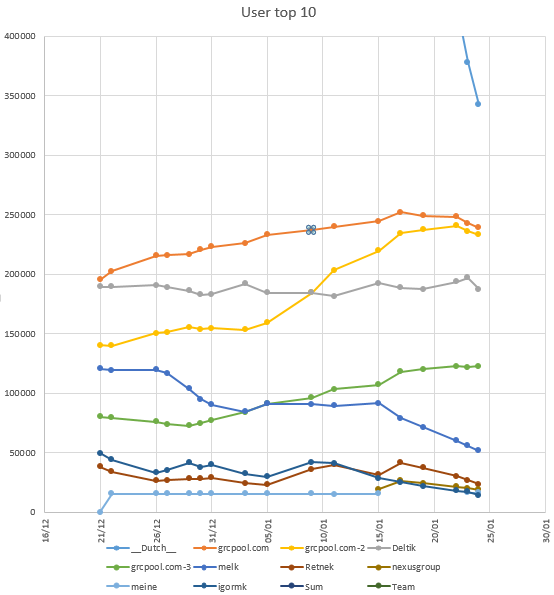 This post has most info about the first chart: The RAC experiment progress and request for help
This post has the motivation for the second chart: The RAC experiment continues
---
Posted on Utopian.io - Rewarding Open Source Contributors
---